A few weeks ago I wrote to the Argus about the diabolical SunMet raceday, and criticised Kenilworth Racing and Sun International for an underwhelming and poorly attended SunMet.
But this week I have to compliment Kenilworth Racing and their sponsor Vasco Taverna for a fun-filled and pleasurable Prawn Festival raceday, writes Michael Jacobs in the Sporting Post Mailbag.
Compared to the SunMet and L'Ormarins Queen's Plate which was elitist, over-priced and sidelined the ordinary people and regular racegoers, the Vasco Taverna Prawn Festival was a breath of fresh air, and welcomed all and sundry, from the Cape Flats to Constantia!
Everybody's taste was catered for and we enjoyed the prawns, the food trucks, the Summer market and of course the horseracing.
The racecourse was filled with families and racegoers, with plentiful umbrellas and seating for everyone, compared to Met day.
The sponsor also had spot prizes and a R20 000 grand prize – and entry was free! This is the way to encourage people to attend racing and to make everyone feel welcome and included.
Compared to the drab SunMet and Queen's Plate, I am sure that the Prawn Festival will become the flagship racemeeting of the Cape Summer racing season.
In the new South Africa horseracing has to embrace diversity and introduce new players and new participants – it cannot be the same old status quo where an elite crew run the show and the masses are on the outside looking in. If our money is good enough to bet with, then our faces should be good enough at the Met and Queens Plate. I think the Prawn Festival did a great job to change that status quo.
Horseracing can return to its former glory and bring back the crowds if the operators make racing inclusive and participatory, and use the big days like the Met, Queen's Plate, Guineas and Prawn Festival to attract the public and showcase horse racing as an exciting and fun day out.
‹ Previous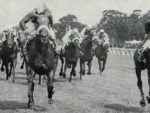 Form Guide Scales Paper Quality Down