The National Horseracing Authority confirms that Trainer Tobie Spies was afforded the opportunity to make representations to Executive Management of the NHA on Tuesday, 19 February 2019.
This was in relation to certain allegations made against the legitimacy of his training operations in South Africa. The allegations related to his satellite training yards in Port Elizabeth and Cape Town being operated by people to train horses under his name and licence, as a racehorse trainer, ("training under the lap").
Mr Spies provided documentation and supporting evidence proving that the allegations were false and that he employs licenced Assistant Trainers and Stable Employees in the said training yards to run operations in his absence.
The NHA confirms that Trainer Spies has the necessary registered licensed individuals to take care of the operations.  As he is domiciled in Gauteng and attends most frequently to his training operation based at the Vaal Racecourse, the NHA advised him that he should ensure that he undertakes more frequent visits, particularly to his satellite yard in Port Elizabeth.
This will be monitored by NHA Executive Management and the local Stipendiary Boards.
Press Release published on 19 February 2019 by the National Horseracing Authority
‹ Previous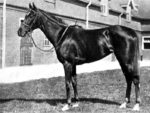 Diadem