Prominent Australian trainer Ben Currie has been charged with several serious welfare breaches, including the alleged use of a jigger on two occasions to give electric shocks to horses.
The Racing Post reports that Currie has been accused of using unauthorised shockwave treatments, failure to report bleeding horses and race-day treatment breaches contrary to the rules of racing, the Queensland Racing Integrity Commission said in a statement.

This follows the four-year ban given to fellow Australian trainer Darren Weir for possessing jiggers, which are Taser-type devices.
Currie trains at Toowoomba, 100km west of Brisbane, and is one of Queensland's leading conditioners.
Racing Integrity Commissioner Ross Barnett said the investigation began in April last year.
He said: "The very serious nature of the animal welfare allegations that have surfaced as a result of this investigation have left us with no choice but to act now in the interests of the Queensland racing industry."
Currie has been called to a stewards' inquiry on 18 February, but prior to that his runners have been given the green light to race this weekend.
‹ Previous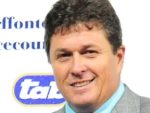 First-Timer – Stipes Satisfied