I am forever indebted to the great, now late, Les Carlyon for his wonderful words "When horses, or those who ride or train them, do rare things, they make the people who were present that day feel good," because they are cross-my-heart true.
However, it's not only the horses and the folks who ride and train them who qualify.  While horse folk really do cover the full spectrum, no matter which part they occupy, our best really are very good indeed – the horses demand it.  This means being around good horses and good horse people – regardless of discipline – is endlessly rewarding and it remains a privilege that in exchange for giving up a few hours' sleep and producing some hieroglyphics on a computer screen (my super power!), I get access to the best in the business – which means I get to borrow some of the gloss and, if I do my job properly, share it with all of you.
My most exciting recent find was Charlie Langton, equine artist extraordinaire, who attended Diadem day at Kenilworth a few weeks ago.  But then one meets all the best people at the races!
Who Is Charlie?
While the word 'artist' conjures up images of wild, colourful people, the unassuming young man with the blue eyes and shy smile introduced himself simply as Charlie, and it took a good bit of pressing and a stealthy Google session to figure out that this was, in fact, THE Charlie Langton, one of the most sensational equine artists of recent times.  The first surprise was that he is only 35, which seems almost absurd given his accomplishments, and the second that he is so down to earth and, well, normal.
But, as so often in life, the magic is on the inside.
Charlie's most recent high profile sculpture was the gorgeous tableau of HM Queen Elizabeth with her mare and foal, produced in conjunction with Etienne Millner, which graces Birdcage Walk in Newmarket.  However, he has either painted or sculpted some of the very best in the business, with his back catalogue including the likes of Giant's Causeway, Sadler's Wells, Galileo, Montjeu, Goldikova, Treve, the full size plus sculpture of Yeats that graces the parade ring at Ascot, Fastnet Rock and one of my personal favourites, Kauto Star.  He is also responsible for the breath-taking Pegasus, part of the memorial to those killed serving in the Parachute Regiment at the National Memorial Arboretum in Staffordshire.
Unable to pass up the opportunity to find out a bit more about his work, I strong-armed Charlie into an interview.  But where to take someone to who the best horseflesh and most beautiful facilities in the world come as standard?  If you're in Cape Town, there's only one choice – Mike Stewart's magnificent Dunes training outfit in Noordhoek.
Bucket List
Noordhoek's endless expanse of beach has always been something of a special place for me. I don't know much about ley lines or any of that stuff, but there is ancient magic in that particular stretch of mountains and wind and beach that clears the cobwebs and always leaves you feeling better than when you arrived.  Add a string of racehorses and one of the most stupendously talented people in the world and you're talking bucket list stuff.
Unfortunately, road works on the N1 conspired against my arriving on time, but there is a little internet meme that advises 'You are exactly where you need to be'.  Whether one believes in fate or karma or a greater plan or not, I always find it a comforting thought, particularly when I am stuck in traffic….  A little further ahead – or further back – and who knows, your day might end quite differently.  So I try not to sweat the small stuff.  It's the journey, right?  Plus, I did finally make it in time for second string and we spent some quality time chatting to Mike and watching him put his horses through their paces.
After thank yous and good-byes, we adjourned for an excellent 'Hangover Breakfast' at the newly opened Dark Horse, where I got to know the man behind the art.
Anatomy of an artist
Charlie grew up in Wiltshire and developed a fascination for horses at an early age, spending happy childhood days being dumped off a Welsh pony called Whizz.  Both his great uncle and mother bred Thoroughbreds and it was an easy transition into an appreciation for the racehorse.  What started out as doodling bits of horses in school class books, saw Charlie progress to studying fine art at Edinburgh and then spending a year and a half at the Charles Cecil Studios in Florence, which helped nurture and shape his Classical instincts as well as his interest in sculpting.   As soon as he got home, Charlie started taking portraiture commissions and applied himself in earnest to getting his career off the ground, focussing on equine work whenever he had a spare moment.
A sculpture he contributed to the Sir Peter O'Sullevan annual charity fundraiser was sold to J P McManus, not only raising a good sum for the charity, but giving Charlie the encouragement and conviction he needed to invest more in his sculpting.
In June 2008, Charlie took a huge leap of faith, taking a bank loan to finance his first solo exhibition at London's Tryon Gallery.  Taking arguably an even bigger leap, he contacted Coolmore and asked to study Galileo for a sculpture.  They said yes and Charlie spent a week studying the champion sire.  The resulting sculpture formed the centrepiece of his exhibition – which proved a runaway sell-out success – and the young man was well on his way.
One of the paintings sold at the Tryon caught the attention of Highclere Thoroughbred Racing's Harry Herbert, prompting him to commission a portrait of 2005 Epsom Derby winner, Motivator.  Herbert still lists the work as his favourite painting – and he has remained instrumental in Charlie's career.
Summer of amazing opportunity
It was Harry who mentioned that Ascot were planning to commission a life size sculpture of Yeats.  Charlie won the commission and the sculpture was unveiled by the Queen during Royal Ascot week in 2011.   It was a particularly poignant moment for Charlie as his father had passed in November 2010.  "It's the piece that got me through a pretty difficult time," he says quietly.  And it remains one of the pieces closest to his heart.
At around the time of the Yeats commission, the Epsom Derby was changing sponsors from Vodafone to Investec.  As the race had never had a permanent trophy, Charlie approached Investec with the idea of creating one.  Teaming up with Asprey, their combined talents saw him winning the commission for the new trophy (as well as one for the Epsom Oaks) which was officially inaugurated in 2011.  What is perhaps most remarkable is that Charlie achieved all that at the age of 25.
After that incredible three month period which he terms the summer of amazing opportunity, the commissions started rolling in and have led to him measuring – and being measured – because art is a two way relationship – by some of the greatest horses of our time.  Charlie feels it is important to have an accurate visual reference of our really great horses to record, preserve and share them for posterity.  But what makes it important?  Yes, one wants a physical representation in order to capture and record them in order to work out what made them great.  But I think it's possibly as simple as Churchill's wonderful words that there is something about the outside of a horse that is good for the inside of a man.
Amo amas amat
Many superlatives have been heaped on Charlie – 'ridiculously young and talented', 'supremely gifted', 'the most exciting sculptor of horses', 'the golden boy of equine art'.  One need only look at his work to know they are all true.  His work is extraordinary.  It is not only technically accomplished, it is elegant and painstakingly accurate.  But there's more.
Charlie loves horses.  He has done his entire life.  And horse people – the real ones – are different.  Once a horse has touched you, nothing is ever the same again.  Speaking as one of the afflicted, it happens down at cellular level and it's there for life.  As Ralph Waldo Emerson said, It is a grand passion. It seizes a person whole and once it has done so, he/she will have to accept that his life will be radically changed'.
In Charlie's case, that translates into an intense study of the horse's anatomy and physiology, the interplay of bones, muscles and sinews and the incredible feat of engineering that horses embody. Like the best of the old English masters (and fittingly, Charlie shares a birthday with George Stubbs), Charlie has made studying his subject his life's work.  If it is true that you are what you repeatedly do and that excellence is not an act, but a habit, then it is fair to say that Charlie is excellent at portraying horses in all his chosen mediums.
Of course, it is possible to get all the technical aspects correct and only end up with a very correct, but sterile piece.
Horse people know that if you don't give your whole heart, you don't get your whole horse and Charlie has learnt the art of giving his whole heart to each and every one of his subjects.  I think it is this singular distinction that makes him such a rare talent.
Digesting it all
They often say horses find you and it seems interview subjects are the same.  Like good art, good artists inform, enrich and most importantly, teach.  Our conversation meanders across art, horses, horse people and beyond and I leave reluctantly and with much to mull over.
The office day goes a lot faster with sandy toes, salty skin and fairy knots braided on the Noordhoek breeze.  As I head home and hit a traffic jam in the unseasonal summer rain, I sink back in my seat with a smile.  I am exactly where I am supposed to be.
Charlie will be back in South Africa later this year to work on a private commission.  For more information about Charlie and his work, visit www.charlielangtonart.com
‹ Previous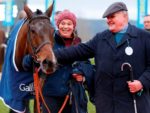 Walk In The Park Today