Mike de Kock's frustrations with the Export Protocols are nothing new.
On the eve of Super Saturday he says that the movement protocols within SA are costing jobs and affecting the business of racing.
Gr1 Daily News 2000 winner Surcharge only arrived last weekend after being stymied by a 2015 vaccination issue.
De Kock says that we have been under suspension for eight years and that our industry will collapse with breeders buckling and going out of business if things are not sorted out soon.
He says he is not going the Mauritius route again in future – too many things can go wrong and it takes too long.
Listen to his chat with James Goodman on the Winning Ways show:
‹ Previous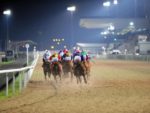 UK & Ireland Today