The first of nine races at the Vaal today is off at 12h10.
The Bipot gets under way at 12h40.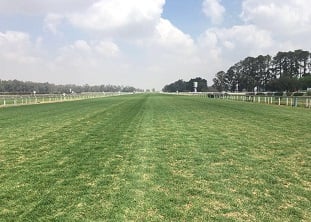 The false rail is set at 7m on the back straight and bend with a 7m spur at the 600m mark. Zero in from 1450 outside rail to pull up area.
First-timer / rested horses comments:
1 12:10 – ITSARUSH.CO.ZA WELCOMES YOU WORKRIDERS MAIDEN PLATE (F & M)
12 NEVAEH P A Peter: No comment given
2 12:40 – TAB PAYS THE FULL DIVIDEND, NO LIMITS MAIDEN JUVENILE PLATE
3 CAPETOWN AFFAIR A B Fortune: No comment given
5 DE LA CRUZ A B Fortune: No comment given
6 DESERT BANDIT P F Matchett: Will need the run
7 INVIDIA A B Fortune: No comment given
8 LIGHTHEARTED P A Peter: No comment given
9 MR HUGO G Terzi: Nice sort, has ability, may be green
10 PACIFIC WINTER A B Fortune: No comment given
11 PEPPERMINT TWIST S M Ferreira: No comment given
13 SNELLER P F Matchett: Will need the run
17 TREE TUMBO S G Tarry: No comment given
3 13:10 – ALL TO COME MAIDEN PLATE
3 SEA DANCE P A Peter: No comment given
13 ARABIAN SNIPER P A Peter: No comment given
14 ELUSIVE JACK J Van Eck: Will be green
15 HYDRO FORCE G V Woodruff: Nice sort but will need much further, may find a minor place
4 13:40 – JOIN US FOR THE JOBURG'S PRAWN FESTIVAL 30 MARCH MAIDEN PLATE (F & M)
9 ENYA L Kruger: No comment given
10 GLACIER GIRL M F De Kock: May need the run. Can place
11 HIGHGROVE B H Stidolph: Will need the experience and bred to go further
12 PUCKER UP B Webber: No comment given
13 QUEEN OF THE ROSES P A Peter: No comment given
5 14:10 – FREE KIDS ENTERTAINMENT 30 MARCH MR 92 HANDICAP
7 SILVER GOD S G Tarry: No comment given
8 16:10 – INTERBET.CO.ZA 0861 150 160 ASSESSMENT PLATE (F & M)
2 CHARIOT OF GOLD S G Tarry: No comment given
9 16:45 – NEXT VAAL RACEMEETING THURSDAY 4 APRIL MR 66 HANDICAP
7 SKIMINAC A G Laird: No comment given
-Thanks to Phumelela Publishing