At Greyville on Sunday, the odds on shot Roy's Physco was (once again) a beaten favourite.
Tony Ridgway of Cape Town writes in the Sporting Post Mailbag that several months ago, upon studying the KZN card, he found that, after noticing the spelling of Sunday's beaten favourite in the newspaper as "PHYSCO", the race card also spelled it thus, as did the Computaform, and Tellytrack.
All the racing presenters and commentators pronounce/d the name "ROY'S SIGH-KO" (which is logical and assumedly how the horse's name should be pronounced) – however, "sigh-ko" is phonetic for the word PSYCHO.
.The word "PHYSCO" does not exist, and, if it did, would be pronounced "FIZZ-KO".
Am I the only person who noticed this, or have others, who just don't regard it as an issue?
Quite clearly this horse has been registered with a misspelled name! (Ed – or misspelt?)
Now, if that had to happen to any thinking person, looking at his faulty ID, he would do his damndest to correct it. Right?
Did this horse get "incorrectly" registered in Australia, or here in South Africa? I find it quite absurd that this happened, and would very much like to know why this happened and why it has never been corrected.
Moreover, this obviously talented horse has yet to find the winners' box – perhaps when he hears the commentator mis-pronouncing his name (according to his registration certificate) he says: screw that, and doesn't give of his best at the race end. Not even with Anton Marcus up.
For all he cares, Anton Maracas could be on his back… it matters not, eh?
Let's hear from the connections… would Mr Roy Moodley not be offended if his name was spelled Ray Madley in the papers? Or how about Allison Wrong?

I know XXXX is "beer" in Australian, so I assume the mistake came from 'dyan unda', where they can't even pronounce Redouté properly.
I reckon: correct the horse's name – and he'll win a race or three!
Grammar matters!
‹ Previous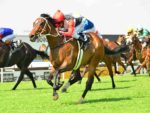 When A Plan Comes Together