The wait has probably been longer than he would have liked, but what really mattered was that South African jockey Juan Paul van der Merwe was able to finally taste his first Singapore success on Friday night.
A late January arrival, the winner of around 700 races back home (including 18 coming at his first overseas stint at South Africa's neighbouring Mauritius last year) had not really been perched atop many quality sorts at Kranji even if he was getting a good spread of support from quite a few trainers.
The statistics told the story: One paltry third in 32 rides, but Loving You was to be the horse to turn the nought in his win column into his first stick in the $50,000 Class 4 Division 2 race over 1200m.
"It's been a while, but it's good to finally get that first win. I'd like to thank the support from the trainers," said van der Merwe.
"It's not been easy. I had to go back home for some personal issues, but I've done my homework on this horse and saw that she was more a Polytrack horse than a grass horse.
"Barrier 14 broke my confidence but Mr Clements was confident. The horse jumped two lengths clear and we came across.
"I thought I'd let her come back underneath me, but she seemed happy in front and I just let her stride along.
"In the straight, she kept finding and won a nice race."
Debut winner Salvador (Noh Senari) had every chance after tailing Loving You ($28) right on her heels, but could not quite muster that kick to peg the leader back. He did pull some ground off late when Loving You, obviously in need of that first run after a 101-day break, to run up to three-quarter length of the US-bred four-year-old mare's flanks.
Camped on the girth of Loving You from the start, Super Talent (Benny Woodworth) showed plenty of gumption when he drew first blood upon straightening, but the Young Keah Yong-trained-and-owned galloper had to settle for third place another half-length away.
The winning time was 1min 11.27secs for the Polytrack mile.
Clements was delighted he had provided van der Merwe with his maiden Singapore winner, the Zimbabwe-South Africa ties adding to the patriotic bias no doubt, never mind if Kranji's longest-serving expat trainer is now a naturalised Singaporean.
"Credit to JP. He is a hard worker and I've been watching his races and he rides very well," said Clements.
"It was a tricky barrier from 14, but Loving You showed a lot of pace. JP just rode her quiet in front, they controlled the race from that point onwards.
"She has really strengthened up during the break. She had some good condition on her and her form was pretty good last prep, although she was entitled to get a bit tired first-up.
"The key with this mare is to keep her comfortable, just get cover if she doesn't lead. She is bred to go further."
With that third win (all on the all-weather) from nine starts, the daughter of Twirling Candy has now taken her stakes earnings past the $120,000 mark for the Falcon Racing No 7 Stable.
‹ Previous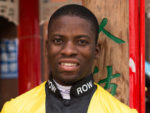 Bling Can Ride Today