In a shock result to the Listed East Cape Fillies Nursery at Fairview on Friday, Chase Maujean rode a powerful finish on Tara Laing's maiden Captain Anne Bonny to upstage the hot favourite Brandina in an exciting finish to the afternoon's feature.
The winner gave Klawervlei sire Captain Of All a first stakes victory.
And the story behind the gutsy filly named by trainer Tara Laing after Anne Bonny, who was an Irish pirate operating in the Caribbean, and one of the most famous female pirates of all time, is a feelgood tale that makes racing what it is.
Tara told the Sporting Post that she trained the winner's dam Coco, a beautiful daughter of Royal Air Force, for Mayfair Speculators.
"She was my favourite. One day she hurt herself on the track. I phoned Derek Brugman and he said patch her up and look after her – and when she is ready send her back to Klawervlei."
A few weeks later, Tara got the call that ultimately produced Friday's fairytale feature winner.
"John Koster and Derek decided that seen as I had cared so well for Coco, they were going to send her to Captain Of All for me. She got into foal and I brought her up to Ashley Parker's Ascot Stud. The foal was such a tough little thing I had to find a not so girlie name for her – hence Captain Anne Bonny!"
Tara's partner Gavin Venter then comes into the story.
"Gavin has been a pillar of strength over the years and after thinking about racing her myself – I had already designed my innovative Scottish flag silks – I gave her to Gavin and said, race her – she won't disappoint. And look how the fairytale has turned out! And I'm so happy for John Koster at Klawervlei – she's a first stakes winner for Captain Of All. It's just a positive and happy story!" said the elated lady trainer who has been enjoying a decent season.
After the fancied Brandina, whose form looked head and shoulders above her opposition, was given every chance and stormed home looking a winner, Chase Maujean produced Captain Anne Bonny into the mix.
After a brief duel, Maujean's fine judgement and strength told as he wasn't letting the fairytale slip away as he drove Captain Anne Bonny forward to beat the favourite by 0,25 lengths in a time of 68.89 secs.
Dan Katz' Cape raider Chasing Green was always thereabouts and ran a decent race to grab third cheque 3,50 lengths away, with the runner-up's stablemate Mendocino back in fourth.
Officially bred by Klawervlei, the winner is out of the Royal Air Force mare Coco – she started her life out as Chanel Five with Joey Ramsden.
Read about her name change puzzle here
She has won 1 race with two places from three starts for stakes of R107 400.
Bred by the Riverton Stud, her sire Captain Of All was crowned South Africa's Champion Sprinter of 2014-2015.
The handsome bay won or placed in 11 of his 12 outings, for earnings well over R2 000 000, with Captain Of All's principal victories including the  2013 Gr1  Tsogo Sun Medallion, the 2015 Gr1 Tsogo Sun Sprint and 2015 Gr1 Mercury Sprint.
Tara is excited about Coco's Bold Silvano yearling at Ascot Stud. We can't wait to hear the name!
"Chase rode a great race. My staff work so hard. This win just means so much to me from so many angles.Racing is a team sport and maybe sometimes we forget that!" she said in closing.
‹ Previous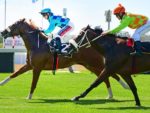 Vercingetorix' Exacta In Fairview First