The Fairview turf tracks hosts nine races today with the first off at 12h10.
The Bipot starts in the second at 12h40.
The day's feature, the Listed Ibhayi Stakes is the first leg of the East Cape Sophomore Challenge, which offers owners of a horse that can win all three legs a R250 000 bonus.
The false rail is set at 4m off zero to the 1200m mark, increasing to 9m to the 800m mark, with a 9 spur.
First-timers/rested horses:
1 12:10 – ITSARUSH.CO.ZA WELCOMES YOU MAIDEN JUVENILE PLATE
1 ADIOS GRINGO JVA Strydom: Will need the run
2 AEMILIANO G D Smith: Nice type can be there, if not too green
4 AMBER TREE Y Bremner: No comment given
7 FRED THE RED G W Uren: No comment given
8 KING CAPONE JVA Strydom: Will need the run
9 RANGO Y Bremner: No comment given
2 12:40 – ALL TO COME MAIDEN JUVENILE PLATE (Fillies)
6 ELISABETTA A C Greeff: No comment given
8 IM GLOBAL G D Smith: Working well and can be there, if not too green
14 SHE'S COOKING S B Kotzen: First run for stable, shows a bit of pace, will need the experience
3 13:10 – SUPABETS – 0861 76 22 37 MAIDEN PLATE (F & M)
11 RULETTA Y Bremner: No comment given
12 MAID SO FAR JVA Strydom: Will need the run
13 MISSISIPPI QUEEN S B Kotzen: Going to need much further, educational run
14 PIPER CUB G D Smith: Will be green and will need further
5 14:10 – WWW.TABONLINE.CO.ZA MR 72 HANDICAP
3 DYNASTY'S BOY A C Greeff: Will run well if not too short
8 RICKETEE Y Bremner: No comment given
-Thanks to Phumelela Publishing
‹ Previous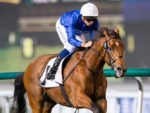 Dubawi Galloper Impresses