When it comes to training winners of the SA Derby and SA Oaks, Ormond Ferraris has no peer. He has trained eight Derby winners and has watched his owners lead 10 Oaks winners into the No 1 box.
It could well become No 11 at Turffontein today when he saddles Blossom in the Grade 2 Wilgerbosdrift SA Oaks over 2450m. While all the winners have been important, there will be something special about Blossom should she win the race as Ferraris also trained her mother, Cherry On The Top, who won all three legs of the Wilgerbosdrift Triple Tiara in 2013.
"Blossom has got the same nature as her mother," said Ferraris. "A dog could bark under her belly and she would not turn a hair. She doesn't get worked up or sweat up. The only difference is that her mother was a big, strong filly while Blossom is smaller. She's a typical Silvano."
Ferraris was more than satisfied with her last run in the Grade 1 SA Classic where she ran on strongly to finish third, beaten just one length by Return Flight. "I was very pleased. That was a very good run and hopefully she can reproduce that run this time. The concern is the distance because the furthest she has been so far is 1800m."
Blossom has also not been blessed with a good draw. "She has drawn wide in all three Triple Tiara races. This time she jumps from draw No 9 of nine runners."
Richard Fourie rode her last time and he will be aboard on this occasion as well. "Actually, Gavin Lerena is the first-choice jockey for the Slack family but in the Gauteng Fillies Guineas he selected to ride one of their other horses and to get Fourie I had to offer him the ride in all three legs.
"But he is a nice rider, a patient rider."
Blossom is owned by Mauritzfontein and Wilgerbosdrift studs, whose respective nominees are Jessica and Mary Slack.
What makes Ferraris' success most remarkable, is that for most of his training years he was not engaged by any of the big-name owners. Paddy Hinton and Peter Dimakogiannis were two of his stalwart patrons but that changed when his wife died.
"When I lost my wife Graham Beck gave me some horses. He called me to say he had imported a whole lot of fillies from the UK and that I should go to Cape Town and choose what I wanted.
"I picked out about a dozen and I won 44 races with those fillies, one of them being Overarching. However, after Beck passed away, I didn't get much from the stud farm.
"I got my first horse from Mrs Oppenheimer in 2003 and that was Erin. I won six races with her and then later Mrs O also sent me Cherry On The Top."
Ferraris admits that the arrival of his grandson, Luke, as an apprentice jockey has reinvigorated him. "It definitely has given me extra pleasure, but it is a little worrying. I pick up where he makes mistakes but he is still young and one must expect that. I give advice where I can and, I must say, he does listen. His got the right temperament, doesn't get excited and he's got a nice pair of hands.
"When I don't have that many runners I sit down and watch his riding. It gives me an extra keenness for the game."
Ferraris has three other runners on the Turffontein card: Jet Star in Race 10, Romany Prince in Race 11 and March To Glory in Race 12.
"Jet Star is not a bad filly, she's very genuine. I made Peter Dimakogiannis keep her mare, Jet Mark. I liked her breeding and this is her first foal."
Romany Prince gave Ferraris his 2,500th winner when winning the Listed Drum Star Handicap in March 2016 but he feels his charge is not at his best right now.
"They need to drop his merit rating further but, by the time they bring it down, the horse is past its best."
He is expecting a good effort from March To Glory in the final race of the meeting. "He ran a nice race last time; had to ease him a bit late in the race. But he should run a decent race."
www.tabnews.co.za
‹ Previous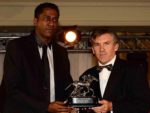 Bonski On The Dubai World Cup