Piet Steyn's dire predictions about the future – or rather lack of it – for the Western Cape's small trainers had already come home to roost for Riaan van Reenen when Steyn issued his heartfelt plea for support of others like him.
Michael Clower writes on www.goldcircle.co.za that the Philippi trainer quietly handed in his licence eight days before Steyn's Tellytrack interview sent shock waves through the South African racing industry, warning that there would only be a handful of trainers left in Cape Town in a couple of years.
The general public knew nothing about Van Reenen's surprise decision until he appeared alongside Glen Puller for Fee Ramsden's interview and explained his position after the Robert Khathi-ridden Celestial Storm had defied top weight in the Interbet.co.za Handicap at Durbanville on Saturday.
Shortly before the race he said to the writer: "I only had ten horses at the end and it just wasn't financially viable to continue but the writing was on the wall a long time ago. The market has gone to the big trainers.
"I have joined Glen as his assistant so I am no longer in the Premier division but my clients moved over to him. Really, I don't mind because my health was being affected by the strain. I felt it was either join Glen or get a heart attack and die."
Van Reenen had been training for almost 15 years and he met with immediate success, winning the Winter Classic, Winter Derby and Final Fling with Sweet Virginia. A Daughters Legacy won the Final Fling twice, the Victress and Ladies Mile and he trained Diana's Choice to win a string of races including the Olympic Duel before she was sold to race in Dubai. At one stage he had over 35 horses but more recently he went into a training partnership with Carl Burger in an abortive effort to rebuild the numbers.
He said: "I was doing well and I was competitive for a long time yet I couldn't survive. I ask myself how are those who are not doing well going to manage?"
www.goldcircle.co.za
‹ Previous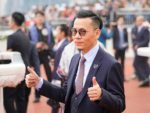 Lor Causes A Furore!