As a young racing photographer the opportunity to photograph the Dubai World Cup was just a pipe dream. Thanks to the Sporting Post and Hollywood Bets my pipe dream came true a fortnight ago!
Chase Liebenberg writes that it was his first overseas travel experience and the daunting prospect of being alone and catching connecting flights was frightening. But it turned out well.
I did have a small moment of worry when we could not land in Dubai on Friday morning and had to land in Muscat, which is the capital of Oman. But I can at least say I have been to Oman.
Arriving at Meydan on Saturday was something of a surreal experience. The scale of the grandstand dwarfs Cape Town international Airport. Lines and lines of people in the classiest attire standing ready and waiting to move through the security gates into the grandstand.
Once inside it is extremely organised – you move to the media section where there are countless amounts of journalists rooms. I have to say thanks to Liesl King for guiding me through it.
After set-up, the first goal was finding a spot on the rail and, being my first year I was pretty far down – but you make the most of it and figure out the best way to make your spot work for you, while the hundreds of other media angle for the same shot.
A few moments in the day stood out for me.
Coal Front's win beating the ever consistent Heavy Metal and Jose Ortiz's emotional reaction to his win through tears of joy.
And seeing Marinaresco again! The 'little trooper' was in the parade ring with his team of Bernard Fayd'Herbe, part owner Marsh Shirtliff and his former trainer and also co-owner Candice Bass Robinson. I found the moment extremely sentimental and could not avoid the slightest lump in my throat as he went onto the track. He was not disgraced, running fifth to the Melbourne cup winner over a new trip.
The amazing filly Almond Eye, ridden by Christophe Lemaire, was the stand out of the day.
There is a sudden flurry of excitement before the World Cup and the on-course attendance seems to double.
With every stride Thunder Snow made history becoming a back to back world cup champion beating Gronkowski. The roar of the crowd continued as the winner was led in. That's when the biggest fireworks display I have ever seen erupted and Gwen Stefani turned up the volume.
I had a phenomenal time and the bug has bitten.
A massive thank you to Liesl King, the Mike De Kock racing team for making me feel so welcome in Dubai, and also to Sporting Post and Hollywood Bets for opening the door.
I have booked for 2020!
‹ Previous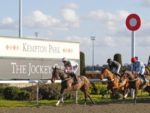 UK Action At Four Venues Today