When John Freeman and the late Peter Kannemeyer selected the future superstar Dynasty , who sold as the second highest priced lot at the 2001 National Yearling Sale, the echo of the fall of the auctioneer's hammer signalled the emergence of a 21st century equine legend – and the introduction to South Africa of Fieldspring Racing.
On the eve of our National Yearling Sale, John Freeman recalls that the R475 000 paid late in the sale on the Monday for Wilgerbosdrift's lot 450 – named Dynasty – defied the sometimes unwritten law that high priced horses don't go on to honour their investment.

"I turned to Jack Mitchell – a man with a good eye – and asked him if he'd like to take a half share. He said, 'no thanks'."
He recalled how the late John Newsome, a man who was fairly 'anti-establishment', placed great importance on professional opinion.
"We had to score the yearling – on conformation and then also on pedigree. John Newsome was an astute businessman who expected us to deliver a plan. He wanted three horses. We had to shortlist five. We had meetings and we would discuss it at length with him."
It's quirky how fate sometimes plays a hand in life. A meeting with the legendary Michael Stoute, who trained Commodore Blake – Dynasty's dam sire  – formed part of John Freeman's assessment of the good looking youngster. He knew Dynasty's one-time winning dam Blakes Affair was a 'midget'.
"Michael confirmed Commodore Blake as a heck of a racehorse. His own sire was a Derby winner. That stayed with me. And I knew that he stood in the Free State and didn't get too many chances. So when it came to the damline possibly being a bit iffy, I was not too concerned. It is in any event often a negotiable consideration in the overall assessment. Two of our three vets were a bit sceptical too."
John Freeman says that Dynasty's was an 'interesting pedigree' with a predominance of Hyperion.
"Joy Petite was Dynasty's granddam. She was inbred to Lavendula 11. Whose sire Perfume 11 was the  dam of Joy 11. I won't go into all the ins and outs of it, but Fort Wood had a propensity to Hyperion line mares."
At the sale, Fort Wood's 14 yearlings sold for R4,5 million and averaged R318 929.
John recalls that he spent over R1 million during that Monday final session for three Fort Wood yearlings – all destined for Dean Kannemeyer's yard.
"I loved Fort Wood – I thought he was the greatest sire in the country. And after the insane prices of the Saturday evening, I was thrilled with my trio."
Dynasty was amongst the first crop of foals born on Mary Slack's new farm below the Piketberg.
"A superb achievement for a brand new farm. We loved him as a specimen – despite the 'negatives'!"
John says that his fondest memories are not about winning the July or any other of Dynasty's big victories on the turf. But they are about the wonderful temperament and character of the 'person' Dynasty and his incredibly kind nature.
"I visited him every week while he was in training in Cape Town, sometimes more than twice a week and got to know and respect him. Dynasty had great rivalry for attention in Barn One of the Kannemeyer yard with the stable's other leading-light at the time; Free My Heart, a gelded son of Jallad (co-owned by the late Graham Beck and Dynasty's owner), was four years older. He had already earned his stripes as a Horse Of The Year and was a well-established favourite in the barn."
Dynasty's sensational yearling sale figures confirmed the respect of those that mattered most; trainers and buyers and the breeders-  R5.75m, R5.2m (National Yearling Sales 2018), R5.2m, R4.5m (National Yearling Sale 2018), R4.5m, R4.5m, R4.25m, R3.8m, R3.7m, R3.6m, R3.1m, R3m (CTS Premier Sale 2018), R3m, R3m – and the list goes on.
An Astute Owner – Freeman's Notebook
John Newsome passed away on 9 April 2008.
In just nine racing seasons and buying only 3 yearlings per year his Fieldspring Racing achieved a formidable stakes winning strike rate that included two Horses Of The Year and three other champions who amassed 21 Gr1 wins between them.
They included:
– Dynasty (Horse of the Year and Equus Champion three-year-old; 4 Gr1 wins) – bought by JF
– Free My Heart (Horse of the Year and dual Equus Award winner; seven Gr1 wins) – bought by JF
– Rabiya (the only horse bred in John's own name in SA (Equus Champion three-year-old with 3 Gr1 wins) – a mating that JF planned for him
– Eyeofthetiger (Equus Champion three-year-old, a record-breaking Gr1 Durban July) – JF had nothing to do with the purchase
– Russian Sage (dual Gr1 winner) – JF bought for Snaith to train
– Roman Charger (Cape Champion two-year-old) – JF bought for Jack Mitchell and John
– Honour the Guest (two Gr1 wins) – JF bought for John
– and many other stakes-winning horses including Wonderlawn (record priced yearling ever sold – R3.3m – he won a few races and an offer of R3.75m was made from Dubai – but Fieldspring wouldn't sell), Royal Opinion, West Coast Gold, National Title, Ivy Green and Spring Lilac (dam of Snow Dance).
Dynasty was best of all. His racing achievements, often debated as being the best of all time – at least the Kannemeyer's and JF thought so – even after Horse Chestnut won the Met; because Dynasty won the July even more impressively.

At stud he was an undisputed star, a complete all-rounder. The youngest of the 'old-guard' to have serial Gr1 winners and multiple champions despite always having fewer runners than the sires ahead of him by stakes. Quadruple Equus Outstanding Sire and with his sire Fort Wood, one of only three sires ever to sire 3 horses of the Year.
He finished the 2017/18 season once again as leading sire on the general log by the qualitative number of stakes winners and by number of stakes races won. He also headed the same general log by AEPR and his 49.3% winners keep him once again in hot contention.
‹ Previous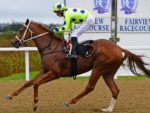 A Jet Powered Icebreaker