The R110 000 Northern Cape Stayers Handicap heads the nine-race programme at Flamingo Park today.
Former Glen Kotzen galloper New Fort, now trained by Corrie Lensley, has his first run in the Northern Cape and could be the one to beat if he adapts to the surface.
The first race jumps at 12h20 – the Bipot starts in the second at 12h50.
First-timers / rested horses comments:
1 12:20 – ITSARUSH.CO.ZA WELCOMES YOU MAIDEN JUVENILE PLATE (Fillies)
1 CODE BLACK T Spies: 26 lengths behind on Vaal debut 04/04/19
2 COUNTY DONEGAL C J Lensley: Will need the experience
4 EARTH STAR C J Lensley: Will need the experience
6 HAZEL EYES J V Rugg: Will need the education
9 LADY SHEA WGC Miller: May need the run
10 PROMISE OF DAWN WGC Miller: May need the run
11 ROCK TO THE MUSIC S Von Willingh Smit: May be green
2 12:50 – ALL TO COME MAIDEN PLATE (F & M)
11 CARIBBEAN STORM WGC Miller: May need the run
13 CORISCA WGC Miller: May need the run
14 LIGHT LAKE WGC Miller: May need the run
3 13:25 – HSH PRINCESS CHARLENE ROYAL RACEDAY 13 APRIL MR 71 HANDICAP
2 CARABINIERI WGC Miller: No comment given
7 IMPERIAL QUEST M N Prinsloo: Nice horse but will need the run
4 14:00 – TAB PAYS THE FULL DIVIDEND, NO LIMITS MAIDEN PLATE
8 MAWJOOD C J Lensley: Working Well
12 ALI PASHA M N Prinsloo: Will need the run
7 15:40 – NORTHERN CAPE STAYERS HANDICAP (Non-Black Type)
6 AMERICAN CAPTAIN WGC Miller: May need the run
7 FIREFOOT S Miller: No comment given
9 16:40 – NEXT FLAMINGO PARK RACEMEETING MONDAY 15 APRIL FM 64 HANDICAP (F & M)
13 KAHLUA ROSE S Miller: Showing no ability at home
16 IRA J V Rugg: No comment given
Thanks to Phumelela Publishing
‹ Previous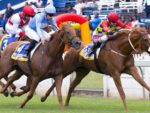 Kotzen Filly Swoops