"For the most part, the day was wonderful," says Clyde Basel, Executive: Racing & Events for Phumelela Gaming after Saturday's action packed raceday at Turffontein.
"Derby Day was well attended and everybody enjoyed the Prawn Festival.
"However, they came to the course for two reasons, for the prawns and to watch Hawwaam, so having him scratched from the race was disappointing."
Turffontein Racecourse was awash with people, paints and prawns as the public came to celebrate,
The SA Derby was the final leg of the SA Triple Crown for three-year-old colts, while the Wilgerbosdrift SA Oaks was the conclusion of the Triple Tiara for three-year-old fillies. No horse was in line to win the respective bonuses, but that did not detract from a wonderful day's entertainment.
The day's cuisine was dominated by prawns as the public flocked to Turffontein to enjoy the Joburg Prawn Festival. Mouthwatering smells from the grillers wafted across the grounds as people piled prawns onto their plates, many combining the feast with a glass of ale in the Beer Garden.
The Kids Zone was full of youngsters having their faces painted.
And, of course, there were the horses.
People flocked to the course to watch the expected duel between star Legal Eagle and the pretender to his throne Soqrat in the Grade 1 HF Oppenheimer Horse Chestnut Stakes over 1600m. They also wanted to see Hawwaam, rated the 10th best horse in the world, romp to victory in the R2-million SA Derby.

Neither thrill materialised. Soqrat did win the Horse Chestnut Stakes but Legal Eagle failed to run a place. And Hawwaam was spooked in the parade ring when another horse dumped his rider.
The Mike de Kock trained runner got free from his handlers and took off riderless to the start and was withdrawn from the race.
"These things happen when one is dealing with highly strung thoroughbreds but we are hoping Hawwaam comes back for Champions Day on 4 May, for the R4m Champions Challenge," said Basel.
He went on to point out that Champions Day would host the Gins N' Roses Festival.
"It is something where through a bed of roses we are going to have more than 25 gin brands strutting their stuff and detailed pouring and tasting with cocktail bars and a festival to enjoy aligned with high class racing. There will be an After Party after the last race with some big name artists in attendance," added Basel.
Entrance to the course is free but the early bird special is R150pp into the demarcated area which comes with special packaging for each person.
The fast growing Royal Raceday, featuring the  Princess Charlene Empress Club Stakes, is the next big day – that will be run at Turffontein on 13 April.
‹ Previous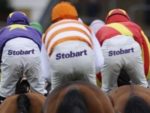 Fresh Vote For Jockey Sponsorships