Past Vodacom Durban July winning trainers have a total of 29 of the 49 first entries announced on Wednesday for the R4,25 million 2200m spectacular to be contested at Greyville on Saturday 6 July.
There are 13 Gr1 winners in the 2019 renewal!
The past winner entry charge is led by the defending title holder (2018 top three!) and SA Champion Justin Snaith (9), followed by Mike de Kock (7), Sean Tarry (6), Geoff Woodruff (2), Glen Kotzen (2) and Joey Ramsden (2), while multiple July winner Dean Kannemeyer has registered a single entry.
Snaith, who won the race last year with Do It Again, Legislate (2014) and Dancer's Daughter in 2008, has a powerful hand, which includes last year's historic Sun Met winner Oh Susanna – whose racing future is said to be in some doubt.
Mike de Kock, who won the July in 2002 with Ipi Tombe, in 2004 with Greys Inn, and then in consecutive years with Bold Silvano (2010) and Igugu (2011), has a power hand led by 3yo's Hawwaam and the dark horse, Barahin.
A notable absentee in the De Kock arsenal is Buffalo Bill Cody, who was scratched from the Queen's Plate and has not been seen since.
KZN trainers are led by Summerveld based Frank Robinson with 4 entries, followed by Robbie Hill and Ashburton kingpin Duncan Howells with 2 apiece, while Dennis Drier, Paul Lafferty and Alyson Wright have one each.
Candice Bass-Robinson, who made history when Marinaresco won the July in 2017, is the only active trainer to win the big race in the 21st century without an entry this year.
The 49 Vodacom Durban July entries
0
Alyaasaat (AUS)
Mike de Kock
105
0
Arianos Shadow
Frank Robinson
93
0
Atyaab (AUS)
Mike de Kock
105
0
Banner Hill
Geoff Woodruff
99
0
Barahin
Mike de Kock
108
0
Bunker Hunt
Justin Snaith
100
0
Camphoratus
R A Hill/S R Hill
105
0
Charles
Brett Crawford
104
0
Dark Moon Rising
Paul Lafferty
105
0
Dawn Assault
St John Gray
106
0
Divine Odyssey
J A Janse van Vuuren
105
0
Do It Again
Justin Snaith
125
0
Doosra
J A Janse van Vuuren
104
0
Doublemint
Justin Snaith
104
0
Elusive Silva
Justin Snaith
103
0
Eyes Wide Open
Glen Kotzen
111
0
Fiorella
Duncan Howells
100
0
Flichity By Farr
Alyson Wright
94
0
Fresnaye
Joey Ramsden
108
0
Hawwaam
Mike de Kock
121
0
Head Honcho
Andre Nel
122
0
Hero's Honour
Gary Alexander
107
0
Herodotus
Glen Kotzen
101
0
Lady In Black
Dennis Drier
117
0
Legal Eagle
Sean Tarry
118
0
Made To Conquer
Justin Snaith
108
0
Magnificent Seven
Justin Snaith
104
0
Miyabi Gold
Justin Snaith
105
0
Noble Secret
Mike de Kock
105
0
Oh Susanna (AUS)
Justin Snaith
118
0
Platinum Prince
Justin Snaith
97
0
Protea Paradise
Mike de Kock
92
0
Rainbow Bridge
Eric Sands
124
0
Red Chesnut Road
R A Hill/S R Hill
101
0
Return Flight
Sean Tarry
106
0
Roy Had Enough (AUS)
Frank Robinson
109
0
Roy's Riviera (AUS)
Frank Robinson
95
0
Run Red
Andre Nel
94
0
Samurai Warrior
Weiho Marwing
105
0
Secret Potion
Geoff Woodruff
102
0
Shenanigans
Sean Tarry
89
0
Silva's Bullet
Dean Kannemeyer
91
0
Silver God
Sean Tarry
87
0
Thanksgiving
Duncan Howells
97
0
The Dazzler
Mike de Kock
99
0
Tilbury Fort
Sean Tarry
110
0
Top Classman
Frank Robinson
85
0
Twist Of Fate
Joey Ramsden
115
0
Zillzaal
Sean Tarry
105
(49)

First Declaration: Close 11:00 Monday, 13 May The July Timeline
First Supp. Entries: Close 11:00 Tuesday, 14 May
Second Declaration: Close 11:00 Monday, 3 June
Final Supp. Entries: Close 11:00 Tuesday, 18 June
Weights Published: Tuesday, 18 June
Final Declaration: Close 11:00 Monday, 24 June
Final Field and Draw: Tuesday, 25 June
Public Gallops – Thursday 27 June at 07h00
Check the Hollywood Vodacom Durban July ante-post market here
‹ Previous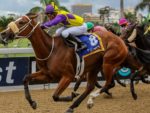 Thabiso Strikes With First Winner