The National Horseracing Authority confirms that at an inquiry held in Durban on 4 April 2019, Apprentice Jockey Jason Gates was charged with a contravention of Rule 62.2.7.
This arose in that as the rider of EFFORTLESS REWARD (AUS), he failed to ensure that he did not cause interference to other runners in the closing stages of Race 7 at the Scottsville Racecourse on 31 March 2019.
Apprentice Jockey Gates pleaded not guilty to the charge.
The Inquiry Board found Apprentice Jockey Gates guilty and after considering the degree of interference and his record of contravening this Rule, imposed a penalty of a suspension of 14 days.
Apprentice Jockey Gates waived his Right of Appeal and was granted permission to take his suspension from 11 April to 24 April 2019, both dates inclusive.
‹ Previous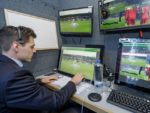 Hawk-Eye Is Smart