The European sub-committee of the International Cataloging Standards Committee and the Society of International Thoroughbred Auctioneers has agreed upon changes to a pair of catalogue rules.

From 1 January 2020 all fourth-position finishes will no longer count as placed.
The change will not be retrospective, so fourth-place finishes prior to 1 January 2020 will still be described as placed in catalogues.
From 1 January  2019 certain Graded AQPS flat races have been admitted to Part IV of the International Cataloguing Standards and performances and can therefore be allocated Restricted Jumps Black Type in Jumps/ National Hunt Catalogues from 1 May 2019.
This change will be retrospective to include 2018 AQPS Graded Races.
www.thoroughbreddailynews.com
‹ Previous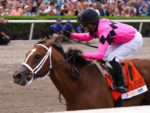 Florida Derby Lockdown!