In an innovative move that research shows may well be a world first, South African jockeys could be given the green light to be sponsored by one of the 48 political parties in the build-up to the national elections on 8 May.
The move comes amid recent shifts by even state owned entities to use the relatively cost-effective platform of jockey sponsorships to lift their public image.
There was an immediate positive spin-off earlier this year when Eskom led the way and sponsored a PE apprentice. They apparently put the lights out on a first-timer who was backed at long odds and shocked the opposition when winning like a good thing.

National Horseracing Authority rule 21.6 says that no jockey shall carry any form of advertising material on any part of his clothing or equipment on a racecourse during a racemeeting save on the terms and conditions as approved by the racing operators from time to time.
According to Sy Mamabolo, chief electoral officer of the Electoral Commission of SA (IEC), the total of 48 parties to contest the 2019 renewal is 19 more than the number that contested the 2014 general elections. This represents a major opportunity for some of the unsponsored jockeys to grab a short-term contract.
"A sponsorship can have varied terms and financial benefits but we are all under the cosh financially and with petrol going up R1-30 a litre this week, I think it's a wonderful opportunity for some of the guys to earn some pocket money. Even though I haven't heard of about 45 of the 48 parties that will stand, it could be a lot of fun. But I hope the lads won't be grandstanding in the post-race interviews with long political speeches. That could get boring," said retired champion jockey Andrew Fortune, a man known to have an opinion or three.

An ANC spokesman said they'd be keen to sign up a jockey who could get himself out of tight corners in a race and who had the ability to make his post-race excuses seem believable so that owners would keep paying the bills and believing things would eventually get better.
DA Spokesperson Trevor Waffler said that the concept was an interesting opportunity to get into an industry that he had heard was already saturated by broken promises, ineptitude and inflated egos.
"That sounds like the perfect marriage for politics. As far as jockeys go, champion Piere Strydom could be our man. He showed at Turffontein on Saturday that he doesn't let the pacemaker keep getting away. We are tired of our perennial bridesmaid second cheques, frankly," he added.
A spokesman for the Good Party said that they weren't prepared to sponsor a bad jockey. "That would just not be good enough for us," he added.
The Women Forward party said that PE-based Justine King would be their jockey if they could choose.
"Horseracing is a good example of how men can mess things up. How many women are in positions of real power in the sport? I believe that beyond the appointment of Colleen Goodman as CEO at Tellytrack, at least none this century," said a spokesperson.
Racing is at Greyville on election day, Wednesday 8 May, which has also been declared a public holiday.
‹ Previous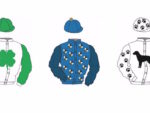 BHA Handicapping Review