The power of the foreign buying bench has always been a strategic balancing factor in the thoroughbred sales scheme of things. And the awesome impact was underlined in dramatic style on the opening day of our National Yearling Sale yesterday.
The previous record for any horse sold in a South African sales arena was smashed when Sheikh Hamdan bin Rashid al Maktoum paid R9 million for what most observers thought was an absolutely perfect Silvano colt called Masaki from the world-class Wilgerbosdrift Stud.

Mike de Kock and the Hong Kong Jockey Club's Mark Richards were amongst the sparring bidders as the electronic scoreboard climbed to new highs in front of an awestruck audience. Like many battles, there is a conqueror and the final shot was fired with the pendulum swinging in favour of South African horseracing's greatest ambassador of all time.
De Kock planted his flag and soberly pointed out that they have spent more elsewhere, while conceding that the price tag was also not insignificant in international terms.
At current rates of exchange the purchase price equates to something in the region of US$ 620 000, A$ 840 000 and £ 480 000.
While comparisons can be tailored to suit arguments and probably serve no real purpose, it's worth noting that In February this year, a Brazen Beau colt, knocked down for A$ 550 000, became the highest-priced yearling ever sold in the 50 years of an Inglis Classic Sale. The previous high was A$ 480 000 set in 2018.
In 2018 the Goffs UK Premier Sale hosted a new record price of £380 000 for a smashing Gleneagles colt.
When interviewed by Michelle Wing who put it to the straightshooting veteran that it was a 'tremendous moment', De Kock quipped:
"It's a tremendous moment yes. And it will be a tremendous moment too when he wins. He's a November foal so I will throw him out. He won't be an early horse," said the man who trains our current boom 3yo Hawwaam – also a son of Silvano – who races in the same internationally renowned blue and white finery.
Masaki was the penultimate lot on a day that actually started quite nervously – four of the first six lots offered failed to make their reserves.
If nothing absolutely sensational happens over the next two days – and he was touted by De Kock as the horse of the sale – Masaki will be the fourth straight top-seller at South Africa's most important sale to be acquired by international interests – that after Sugar Girl got the ball rolling back in 2016, followed by Ghaalla and Track Attack in 2017 and 2018, respectively.
Bloodstock SA's Gary Grant acknowledged the importance of international interest in the South Africa racing industry.
"It is important to acknowledge the role that the Maktoum family have played in allowing the South African thoroughbred industry to showcase their product on the international stage. The tremendous support by the Eastern market was also notable and much appreciated at Wednesday's sale."
While the big league players are not overly distracted by rands and 'sense' – who knows which way our currency marches after next month's national elections – the omnipresent dark shadow of our export protocols bogey has not appeared to chase too many away – with overseas buyers actually accounting for more than 30% of the first day turnover of R73 855 000.
That figure showed a decline on last year's R77 420 000. To be fair, 25 horses failed to sell this year, as opposed to 27 in 2018. Both the average and median prices dipped, with the average dropping from R545 211 to R535 181 and the median falling from R325 000 to R250 000.
Read more – click on the image below
A total 17 yearlings fetched R1 million-plus on the first day.
There are two days left – anything could happen.
‹ Previous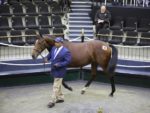 Dynasty Filly Tops The Charts