The 43rd renewal of South Africa's best established complete yearling sale commenced at the TBA Sales Complex in Germiston on Wednesday and continued yesterday.
Today is the final session – commences at 11h30.
The role of honour of this star-studded platform of champions includes a host of SA Horse Of The Year title holders – from recently deceased outstanding stallion Dynasty, to his champion sons Futura and Legislate, as well as magic miler Legal Eagle and Equus Champion Do It Again. The latter, a bright star on our racing landscape, is set to defend his 2018 Gr1 Vodacom Durban July and 2019 Gr1 L'Ormarins Queen's Plate titles.
And then there's the exciting 3yo's of the ilk of Mike de Kock's R1 million graduate, the newsmaking future star Hawwaam, and the Eastern Cape giantkiller National Park – a peach of a buy at R240 000.
Click on the image below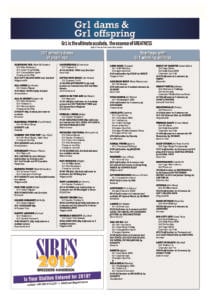 They all have one thing in common. They withstood the glare of the bright lights in the adrenaline charged National Yearling Sale arena – and there are a further 565 hand-picked youngsters waiting for that shrewd lifechanging bid. It's simple – our future stars are all in the book!
As was the case in 2018, the Emperors Palace National Yearling Sale has been apportioned into a first and second session over the three days of trading:
Lot 1-240 are subject to a minimum bid of R100 000
Lot 241-565 are subject to a minimum bid of R50 000
Click on the image below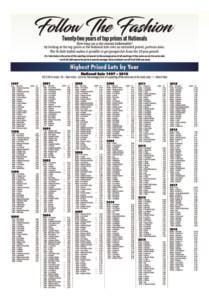 Day 1 will cover lots 1-185, Day 2 continues with lots 186-400, while Day 3 winds up the action and takes buyers through to the curtain call on lot 565. Long hours. Lots of headscratching. But all worth it.
South Africa's top sires of recent times are again all represented, with the likes of Captain Al, Dynasty, Gimmethegreenlight, Querari, Silvano, Trippi, and the evergreen Var all well accounted for.
Click on the image below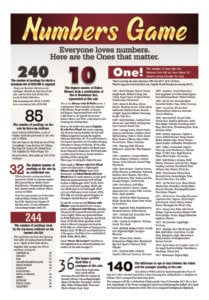 Exciting stallions with yearlings on offer for the first time this year include Dynasty's Cape Guineas winning son Act Of War, Tapit's smart son Coup De Grace, Galileo's blue blooded son Flying The Flag, Dynasty's Horse Of The Year sons Futura and Legislate (both past graduates!), Dubawi's SA Nursery winner Willow Magic, and Galileo's multiple graded stakes winner Global View.
The sale also boasts an intriguing international flavour, offering buyers the chance to acquire stock by unbeaten legend Frankel, multiple classic winner and popular young sire Camelot, champion Rock Of Gibraltar – sire of more than 100 stakes winners, and multiple Australian Gr1 winner Press Statement.
Click on the image below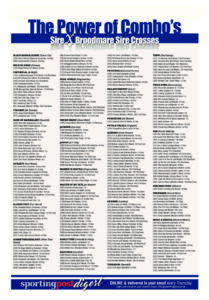 There are at least 20 Gr1 winning mares with progeny on the National Sale, which also offers buyers the chance to buy relatives to a host of Gr1 winners.
We have done some of the groundwork!
Click on the image below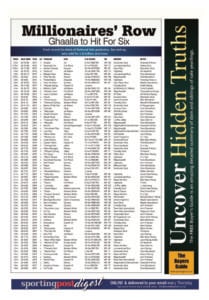 Now it's your call!
The sale starts each day at 11.30am
Day One – Wednesday 24 April: Lots 1-185
Day Two – Thursday 25 April:  Lots 186-400
Day Three – Friday 26 April: Lots 401-526
ACT OF WAR
Son of outstanding sire Dynasty and Broodmare Of The Year Si Senorita, his eight wins included six graded victories including the Gr1 Cape Guineas, this is his first crop
Lot 301 – this colt is out of a winning half-sister to Gr1 SA Classic hero Love Struck, stakes winner Fakazi and 2yo Kamadeva, who recently ran second on debut
Lot 510 – this filly is a half-sister to 3 winners notably Gr3 Strelitzia Stakes winner Royal Pleasure
Lot 539 – a ½ brother to a winner, this colt is out of a winning own – sister to Gr1 winners Solo Travellerand Redberry Lane and second dQam is Broodmare Of The Year Strawberry Lane – whose sire Jallad's daughters have done so well when mated to Dynasty – the sire of Act Of War!
BLACK MINNALOUSHE
Dual Gr1 winning son of Storm Cat responsible for such Gr1 winners as Dancing In Silks, Louis The King, Kochka, Black Mamba, Ash Cloud, Jokers Wild, and Gold Onyx
Lot 258 – this colt is a half-brother to East Cape champion and multiple stakes winner Madame Speaker
Lot 369 – this filly is out of a four time winning daughter of Silvano and Gr3 winner Golden Shina
Click on the image below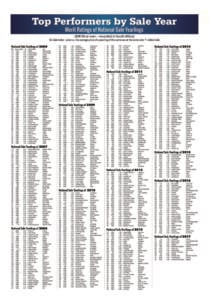 BOLD SILVANO
An Equus Champion, and one of four Vodacom Durban July winners sired by champion sire Silvano, his best include Gr1 winner Bold Respect, exported Gr2 performer Bold Rex, Golden Slipper runner up Mazari and Guineas hero Flasher On The Run
Lot 192 – bred on a similar cross to Gr1 winners Marinaresco and Nightingale, this colt (a ¾ brother to Golden Slipper runner up Mazari) is a half-brother to 3 winners notably Gr3 Kings Cup runner up Royal Armour
CAMELOT
Champion and four time Gr1 winning son of the great racehorse and sire Montjeu, his early crops have yielded such Gr1 winners as Latrobe, Athena and Wonderment
Lot 222 – this colt is out of a daughter of a Gr1 performer at two, and third dam is a ½ to Gr1 Prix Maurice de Gheest winner and sire Bold Edge
CAPETOWN NOIR
Equus Champion and triple Gr1 winner, he is a son of triple champion sire Western Winter and Broodmare Of The Year Akinfeet, made a pleasing start with early runners thus far including the very smart filly Brandina
Lot 450 – this colt, a ½ to a winner, is out of a Galileo own sister to top class performer Eye Of The Storm and half-sister to group winner Satchem
Lot 458 – this colt is a half-brother to five winners notably the stakes winning dam of Gr3 Prix du Cap winner Rose In Bloom, and his dam is a daughter of champion sire Jallad and Champagne Stakes winner Eternal Dancer
Lot 459 – this colt, whose dam is a full-sister to Darley Arabian winner Jet Jamboree, is a half-brother to multiple winner Pilgrim's Progress and Gr2 Gauteng Fillies Guineas runner up Running Brave, his dam is also a ¾ sister to Love Is In The Air – who dead-heated for first place in the 2010 Gr1 Majorca Stakes
Lot 545 – this colt is out of useful stakes placed six time winner Supercede, from the family of Gr1 winners Al Nitak, The Sheik, Shoe Express, Top Seller, and legendary champion Policitian
CAPTAIN AL
Deceased champion sire and 8 times champion sire of 2yos, the sire of more than 90 stakes winners' current flagbearers include star sprinter Kasimir, top 3yo One World and the exciting two – year – olds Cousin Liz and Captain Of Stealth
Lot 11 – this colt is out of Gr3 Acacia Handicap winner Whatalady, a Jet Master half-sister to talented, but short-lived, Gr2 winner Fort Vogue, his Gr1 placed granddam is a half-sister to Equus Champion Highland Night and multiple Gr1 winning sire Warm White Night, he is bred on the same Captain Al/Jet Master cross as exciting prospect Captain Of Stealth, family of recent Gr3 winner Tristful
Lot 19 – closely inbred to Lassie Dear, this filly is out of a winning half-sister to Gr2 Colorado King Stakes winner Halve The Deficit, and second dam is a Gr3 winning daughter of Fort Wood – whose daughters have excelled when mated to Captain Al, the family of major champions Vaguely Noble, Lombard and Minding to name but two
Lot 21 – this colt is out of a Cape Cross half-sister to seven time group winner Maraahel, from the family of Italian Gr1 winner Ventura Storm and popular Gr2 winning young sire Gutaifan
Lot 31 – this colt, also closely inbred to Lassie Dear, is out of a half-sister to Merchants winner Triptique
Lot 44 – this filly, out of a winning daughter of Silvano, is a ¾ sister to the Captain Al sired graded stakes winners Fragrant Al and Captain's Flame and is also very closely related to Captain Al's very smart Gr1 performer Barbosa
Lot 56 – a half-sister to winners overseas, this filly (inbred to the mighty Roberto) is out of a Red Ransom half-sister to high class international stakes winners Black Rock Desert and Toyo Seattle, and second dam is a stakes winning own sister to multiple Gr1 winner and successful sire Slew City Slew
Lot 61 – this regally bred colt (closely related to multiple Gr3 winner Captain Splendid – by Captain Al and bred on the same cross as Gr1 winners Carry On Alice and Tap O' Noth) is a half-brother to 3 winners, notably Gold Medallion second Varallo and the stakes placed Scandola, and his Gr1 winning dam is a half-sister to champion Promisefrommyheart (dam of promising young sire Master Of My Fate), another half-sister to Covenant produced Breeders' Cup winner and sire Pluck
Lot 87 – this colt is out of a stakes placed daughter of Var and his Gr3 placed granddam is a Jallad half-sister to Gr2 SA Fillies Nursery winner Dash For Gretna, the family of champions Jay Peg and Kochka
Lot 115 – bred on the same cross as Gr1 winners Captain America and William Longsword, this colt is a full-brother to multiple Gr3 winner Captain Splendid, and his stakes winning dam is a half-sister to multiple Gr2 winner and promising sire Master Of My Fate, the colt on offer is also a ¾ brother to the dam of Gr3 winner – who sold for R5 000 000 at the 2017 National Sale
Lot 152 – a full-sister to the useful Runaway Gal, this filly is out of a winning Silvano half-sister to triple Gr1 winner Captain America (by Captain Al) and Gr3 winner Aquitaine (by Captain Al's sire Al Mufti), her second dam is a stakes placed daughter of Fort Wood, whose daughters have excelled when mated to Captain Al, and this filly is directly descended from legendary tap – root mare Queen Of Light
Lot 153 – a half-sister to 3 winners, this filly is out of a winning own sister to globetrotting stakes winner Mr Brock and a ¾ sister to legendary racehorse Horse Chestnut
Lot 165 – this colt is out of a Gr3 winner and Gr1 Golden Horseshoe runner up daughter of Trippi, and his second dam is a Kingmambo full-sister to four time Gr1 winner and short – lived sire Campanologist, the family of Glorious Song, Rahy, Singspiel, Saint Ballado and Rakeen
Lot 210 – a ½ sister to 3 smart winners including Mauritian star Scotsnog, this filly is out of a winning Fort Wood half-sister to Oaks winner Studio Fifty Four (dam of champion Jeppe's Reef) with the filly on offer being ¾ sister to versatile dual Algoa Cup winner Disco Al
Lot 218 – this colt is an own brother to multiple Gr1 winner Snowdance and the smart fillies Juniper Spring and Victorian Secret, and he is also a ¾ brother to the Gr1 winning sisters All Is Secret and The Secret Is Out, as well as recent stakes winner Canukeepitsecret and Guineas winner Secret Captain
Lot 237 – this colt, a ¾ brother to Gr1 performer and Irridescence Stakes winner Captain Gambler, is out of a stakes placed own sister to Winter Derby winner and Dubai scorer Liquid Mercury
Lot 240 – this colt is out of a Galileo daughter of US champion and Gr1 Breeders' Cup Juvenile Fillies winner Eliza – granddam of Gr1 Florida Derby winner and promising sire Dialed In
CAPTAIN OF ALL
An Equus Champion and triple Gr1 winner, the son of champion sire Captain Al has made a promising start to his stud career, with his early runners including East Cape Fillies Nursery winner Captain Anne Bonny, and the winners What You Are and Guantanamo Bay
Lot 260 – this filly is a half-sister to 3 winners including the smart stakes performer Top Of The Class and recent juvenile winner Tutorial and hails from a very speedy female line
Lot 273 – this colt is out of a half-sister to 4 stakes winners included the Gr3 winner Boston Globe, and this is the family of Gr1 winning siblings Counter Action, Divine Fashion and Perfect Order
Lot 347 – this colt, a ¾ brother to a winner, is out of a ½ to Gr3 winner and top class producer Encircle, who produced a trio of stakes performers to the cover of Captain Of All's sire Captain Al
Lot 381 – this colt is a ¾ brother to Summer Juvenile Stakes winner Only Emily and is also very closely related to the Captain Al sired Gr1 winner Undercover Agent
Lot 406 – this filly is out of a winning own sister to Gr2 Betting World 1900 winner Jet Explorer
Lot 493 – this colt is out of a winning Fort Wood own sister to Peninsula Handicap winner, and former record price yearling, Wonder Lawn and second dam is Gr1 winner Velvet Green
Lot 521 – bred on a similar cross to the likes of Emerald Cove and Fiorella, this filly is out of Listed Lady's Pendant winner Servilia – and granddam is Gr2 winner Lady Celeste
Lot 557 – this colt is out of Kahal sired Gr3 performer Theta – a sister to SW Carbon Leader
COUP DE GRACE
The only son of multiple US champion sire Tapit in South Africa and half-brother to Gr1 winning 2yo Dancing Rags, he was a multiple graded stakes winner whose wins included both the Gr2 Amsterdam and Gr3 Bay Shore Stakes, 2nd dam won the Breeders' Cup Distaff
Lot 10 – this colt, closely inbred to champion Key To The Mint, is a half-brother to five winners notably Equus Champion and Gr1 Gold Medallion winner Link Man
Lot 268 – this filly, a ½ to 3 winners including a recent 2yo scorer, is out of a winning Jet Master ½ sister to Gr1 winning sprinter O Caesour
Lot 298 – this filly is out of a stakes winning daughter of Trippi, and granddam is a speedy stakes winning daughter of Rock Of Gibraltar, fourth dam won the French 1000 Guineas
Lot 304 – this colt, is a half-brother to four winners, including the dam of Gr3 Final Fling winner Brave Move, and his dam, by top class broodmare sire Goldkeeper is former Zimbabwean star Bold Bidder
Lot 314 – this colt, a ½ to 2 winners, is out of Gr3 performer Carina Coleman and he is directly descended in female line from the great mare Pretty Polly
Lot 334 – this filly is a ½ to 3 winners notably game Gr2 performer Rodeo Sioux
Lot 405 – this colt is a half-brother to 2 winners notably East Cape champion and stakes winner Sir Duke and he is from the immediate family of Equus Champion Jeppe's Reef
Lot 438 – this colt is out of a winning Western Winter ½ to Gr3 Strelitzia Stakes winner Fine Feather
Lot 444 – this colt is out of a three time winning Trippi own sister to CTS Million Dollar winner Illuminator and second dam is a stakes placed ½ to Gr1 Allan Robertson Fillies Championship winner Silver Arc
Lot 490 – a ½ to 2 winners, this colt is out of a stakes winning daughter of Gr1 winner Cool Success
Lot 542 – from the famous "E" family, this colt is a ½ to 4 winners notably Gr3 Umzimkhulu Stakes winner Eventual Angel and Gr3 Cup Trial hero Exit Here (like the colt on offer by an A P Indy line sire)
Lot 548 – this colt is out of a speedy stakes placed daughter of French Derby winner Celtic Swing
CRUSADE
The grandson of Gone West won the Gr1 Middle Stakes at two, and the half-brother to dual Oaks winner Seventh Heaven has since proved a prolific sire of winners with his notable stakes winners including Covered In Snow, Butchie Boy and Alfeo
Lot 271 – closely inbred to Storm Cat, this colt is out of a winning Var half-sister to 3 stakes horses, and his stakes winning granddam is a ½ sister to the stakes placed dam of triple Gr1 winner Captain America and Gr3 queen Aquitaine
Lot 272 – also inbred to Storm Cat, this colt is a ½ or full to 4 winners notably dual Gr3 Spring Spree runner up Angel's Power and is from the family of Met winning siblings Pocket Power and River Jetez
DUKE OF MARMALADE
Cartier Champion whose progeny include five individual Gr1 winners, his first local crop made a splash with the likes of Cape champion Temple Grafin, stakes winner Princess Irene, promising filly Seville Orange and Gr1 contender Santa Clara
Lot 26 – this colt, whose dam is an own sister to champion Ice Cube and Gr2 winner Jagged Ice, is a ½ brother to 7 winners notably Settlers Trophy hero Arezzo and Jacaranda Hcp winner Insignis
Lot 51 this filly is a ½ to 2 winners notably Gr1 performer, and Diadem runner up, Speedpoint and his Gr3 winning dam is a full-sister to Equus Champion and Vodacom Durban July winner Big City Life
Lot 70 this colt is out of a winning Dynasty ½ to champion Big City Life and Gr3 winner Cash Register
Lot 108 – this colt is out of a dual stakes winning own sister to Horse Of The Year Irish Flame
Lot 132 – this filly is out of Gr2 Tibouchina Stakes winner and millionaire Louvre, from the family of Gr1 winners Rodoille, Pointing North, Sand And Sea and Wainui
Lot 147 – this colt is out of a winning Var own sister to exported Gr1 Mercury Sprint winner August Rush and to Gr3 Tommy Hotspur Hcp winner Miss October, third dam is July winner Devon Air
Lot 155 – this colt is out of the Jallad sired Gr3 Flamboyant Stakes runner up Murmering Sky, whose second dam is Gr1 Flower Bowl Handicap winner Far Out Beast
Lot 215 – inbred to Lassie Dear, this filly is out of a winning ¾ sister to Perfect Promise Sprint winner The Merry Widow,  and granddam is a own sister to Gr1 winning two – year – old Talahatchie
Lot 221 – a half-brother to promising 2yo Emerald Band, this colt is out of a Western Winter four time winning own sister to Gr3 winner Bulleting Home – from the family of Western Winter
Lot 252 – a ½ to debut winner Fearless Warrior, this filly is out of a stakes placed daughter of Captain Al who is a ½ sister to a stakes winner, from the family of French classic winner Houseproud
Lot 269 – this colt is out of a stakes winning daughter of champion sire/top broodmare sire Jallad
Lot 329 – a half-brother to KZN Guineas Trial winner Stream Ahead, this colt's 3 time winning dam is a Western Winter ½ to stakes winner Himalayan Hill, granddam is the stakes winner Riviersonderend
Lot 331 – this colt is out of Gr3 Prix du Cap winner Cuvee Brut, family of East Cape champ Ziplock
Lot 336 – this colt, a ½ brother to numerous winners and closely inbred to Danzig, is out of an Anabaa ¾ sister to French Gr3 winner and sire Dalghar, the family of champion ½ brothers Daylami and Dalakhani
Lot 384 – this colt, from the family of champions Jay Peg and Kochka, is a ½ brother to 7 winners notably millionaire and dual Gr2 Hawaii Stakes winner Whiteline Fever
Lot 395 this colt is out of a Gr3 placed daughter of Fillies Guineas winner State Treasure – the granddam of Gr1 winners Bilateral and Little Miss Magic, and East Cape champion Blaze Of Fire
Lot 401 – a ½ to 2 winners, this filly's dam is a half-sister to SW Kiribati and Gr1 performer Archipeligo
Lot 410 – a ½ to 4 winners, this colt is out of a 3 time winning Silvano half-sister to Derby winner Set To Music, with the mare very closely related to high class Silvano runners Janoobi and Sedge
Lot 512 – this filly, whose dam is closely inbred to Sadler's Wells, is out of a stakes winning daughter of top class sire Dynasty, and her third dam is a Sadler's Wells half-sister to the great racehorse and stallion Sunday Silence, the filly's second dam is by a son of Halo – who sired Sunday Silence
DYNASTY
Sadly deceased Horse Of The Year and multiple Equus Outstanding Stallion, his 15 Gr1 winners are headed by the Equus Champions Futura, Irish Flame, Legislate, Beach Beauty, Bela – Bela, Lady In Black, It's My Turn and Just Sensual, as well as the likes of Act Of War, Jackson, Eyes Wide Open and Liege
Lot 5  – this colt, a half or full brother to 4 winners, is out of a stakes placed winner of four
Lot 24 – a sister to a winner, this filly (very closely related to champion Bela – Bela) is out of multiple Gr1 winning champion All Is Secret, a full sister to both Gr1 winning 2yo The Secret Is Out and recent Lady's Pendant winner Canukeepitsecret
Lot 25 – this colt is out of a ½ sister to Gr2 winner and successful US sire Jump Start and the dam of unbeaten Gr1 winner and Claiborne sire Mastery, the family of top class stallions Miswaki and Southern Halo (sire of More Than Ready)
Lot 34 – a ½ to a winner, this colt is out of Gr1 SA Fillies Classic winner Bambina Stripes
Lot 52 – this filly is out of a half-sister to Oaks winner Carolina Cherry, dam of Triple Tiara winner Cherry On The Top (herself dam of Gr1 performer Blossom) and Gr3 winner Cherry On The Cake
Lot 54  – this colt is a full-brother to Horse Of The Year and multiple Equus Champion Legislate, with that four time Gr1 winner now standing at stud, his dam is a four time winning own sister to stakes performer Asprey and ½ sister to Gr2 winner Black Skimmer, family of Gr1 winner Roxanne
Lot 64 – this colt, out of an own sister to multiple Gr1 winner Ebony Flyer and ½ to champion Captain's Lover, is a half-brother to East Cape Oaks winner Eros's Girl and the very promising Vardy
Lot 77 – this colt is out of the Rock Of Gibraltar sired multiple Gr1 winner Europa Point (a half-sister to Gr2 winning sire Harbour Watch) and fourth dam is the immortal Fall Aspen, whose four Gr1 winners include champion SA sire Fort Wood – the sire of, among others, Dynasty!
Lot 98 – this filly, a ½ to a multiple winner, is out of the Dubawi sired multiple Gr1 winner Happy Archer
Lot 111 – this filly is out of Gr2 Merchants winner Jackodore
Lot 144 – bred on the same Dynasty/Jet Master cross as champion Lady In Black, this colt is out of Jet Master's stakes winning daughter Maximum Jet, second dam is Gr2 winner Capo Maxi
Lot 146 – this colt is a half-brother to 8 winners, five stakes winners, and three graded stakes winners – notably Equus Champion and multiple Gr1 winner Val De Ra, exported Gr3 winner Cue The Music, and retired millionaire Tevez
Lot 148 – this filly is a ½ to 3 winners overseas including the dam of Gr1 performer Jash (a leading Gr1 hope for 2019) and her dam is a ½ sister to multiple Gr1 winner Hibaayeb (dam of Breeders' Cup winner Wuheida), closely related to multiple classic winner Oh So Sharp, she is directly descended from one of the greatest mares of all time – Mumtaz Mahal
Lot 158 – this colt is a full-brother to multiple Gr1 winner and Equus Champion Bela – Bela, and half to six other stakes winners including Gr1 winning champion Rabiya, his dam was Broodmare Of The Year and is also granddam of Gr1 winners All Is Secret, Snowdance and The Secret Is Out
Lot 176 – this colt is out of a Captain Al sired Gr1 placed ½ sister to Gr1 winning sprinter Contador
Lot 177 – this colt is out of a Var sired Oaks winning half-sister to fellow Oaks winners Ash Cloud (SA Oaks) and Arcola (SA Oaks), with the latter also dam of Fillies Guineas winner Fiorella
Lot 198 this colt, a ¾ sibling to Horse Of The Year Legislate, is out of a stakes placed Trippi half-sister to Gr1 Thekwini Stakes winner and stakes producer Roxanne
Lot 201 – a full-brother to very promising performer Bunker Hunt and ½ to Fillies Guineas second Silver Thursday, this colt is out of a Captain Al sired stakes winning ½ sister to  Golden Slipper winner Princess Sassi from the family of champion sprinter Mythical Flight
Lot 212 – this colt, who represents a notable sire strike, is a half-brother to no fewer than four stakes winners including the graded stakes winners Royal Badge and Priceless Jewel, and he is a ¾ brother to Stormsvlei Mile winner Crystal Cavern (also sired by a son of Fort Wood)
ELUSIVE FORT
The triple Gr1 winning champion has already sired a host of high class performers including the Gr1 winners Siren's Call and Lauderdale, R2.6 million plus earner Safe Harbour, and graded stakes winners Secret Potion, Elusive Heart and Freedom Charter
Lot 188 – this colt is a full-brother to Gr3 Prix du Cap winner Elusive Heart and ½ to recent 2yo winner Ferrari Red
Lot 274 – this colt is out of a 3 time winning ½ to Gr1 winner Van Halen, and his Gr1 placed granddam is an own sister to Gr2 winner Hit Song and champion Rock Opera (dam of French Gr1 winner Royal Meeting and millionaire Heavy Metal), also family of Gr1 winning sprinter Gulf Storm
Lot 294 – this colt, a ½ or full to 4 winners, is from the same family as July winner Gondolier
Lot 349 – this colt, whose winning dam is bred on similar lines to multiple Gr1 winner Rio De La Plata, is out of a daughter of a champion, and is inbred to Elysee (the ancestress of Elusive Fort himself)
Lot 370 – this colt is out of a stakes winning half-sister to Gr1 winning 2yo Chestnuts N Pearls, whose sire, like Elusive Fort, was sired by Fort Wood, he is from the great Party Time family
Lot 393 – this colt, bred on a similar cross to Gr1 winner Lauderdale, is a half-brother to debut winner Fly Away, and is out of a winning ½ sister to the stakes placed Span Die Seile, second dam is a stakes winning daughter of Jet Master
Lot 394 – this colt is out of a mare who won four times up to 1800m
Lot 409 – a ½ sister to 4 winners, this filly is out of a winning own sister to champion and Gr1 winner Battle Maiden (dam of Ready To Run Cup winner Lineker granddam of Singapore star Lim's Cruiser)
Lot 412 – a ½ sister to 4 winners including Gr2 performer Princess Julietta, this filly is directly descended in female line to Suburban Hcp winner Busanda (the dam of champion and outstanding sire/broodmare sire Buckpasser), family of Bernstein, Outstandingly and Sky Mesa
Lot 437 – a ½ to the smart Pen – Chan, this colt is out of a winning ½ to a stakes performer and to the dam of graded stakes winners Magical Wonderland and Magico
Lot 451 – this filly is out of a 3 time winning Silvano half-sister to graded stakes winners Magical Wonderland and Magico, as well the stakes placed 6 time winner Marchant
Lot 471 – this colt is out of a half-sister to Golden Slipper winner Princess Sassi and Syringa Handicap winner Secret Obsession (dam of Fillies Guineas second Silver Thursday and the smart Bunker Hunt)
Lot 498 – this colt is out of a Trippi half-sister to PE Gold Cup winner Plano
Lot 504 – out of a stakes placed daughter of Rock Of Gibraltar, this colt's third dam is Gr1 Flight Stakes winner Danerani (and this colt's dam is very closely inbred to the mighty sire Danehill)
Lot 519 – this colt is out of a winning half-brother to 2 stakes performers (one of which was sired by Elusive Fort's own sire) and second dam is multiple graded stakes winner Secret To Success
Lot 527 – a ½ to a multiple winner, this colt is out of a 3 time winning ¾ sister to high class stakes winners Princess ofthe Sky, Jet Jamboree, Careful Landing and Gr1 winner Love Is In The Air
Lot 550 – an own brother to a useful winner, this colt is out of a 3 time winning Silvano ½ to Gr3 performer Bois De Var and second dam is the Dancing Champ sired SW Sheltering Trees
Lot 558 – a half-brother to 3 winners, including the stakes placed Carla The Rebel, this colt's four time winning dam is an own sister to multiple stakes winner Omega Code from an outstanding female line
FLOWER ALLEY
A Gr1 winning son of champion sire Distorted Humor, he made his mark as the sire of Kentucky Derby/Preakness Stakes winner I'll Have Another and fellow Gr1 winners Lilacs And Lace, Lukes Alley and Bullards Alley
Lot 18 – this colt is out of a 3 time winner who is a ¾ sister to Horse Of The Year Yard – Arm
Lot 30 – a ½ to 2 winners, this filly is out of a Gr3 placed ¾ sister to both multiple Gr1 winner and Equus Champion Princess Victoria and to Gr2 Sceptre Stakes winner Princess Royal
Lot 57 – closely inbred to Danzig, and a ½ to a winner, this filly is out of a winning daughter of top class sire Exchange Rate, and third dam is a Gr1 winning daughter of immortal broodmare Fall Aspen
Lot 59 – this colt, inbred closely to champion Forty Niner, is a ½ to 6 winners notably Gr1 Summer Cup winner Wagner and Hong Kong Gr3 winner Nassa, from a top Argentine family
Lot 65 – inbred to Sadler 's Wells, this colt is out of a winning Sadler's Wells ½ to Irish Gr3 winner Maharib and he is from the family of outstanding milers Polish Precedent and Zilzal
Lot 85 – this colt is out of a ½ to Horse Of The Year, four time Gr1 winner and sire Futura and recent winner Scribner, from the family of Gr1 winners Aslan and Angelina
Lot 93 – this filly is out of a winning ½ to champion, Gr1 winner, and sire Kildonan, who, like Flower Alley, was sired by a son of Forty Niner
Lot 104 – inbred to Sadler's Wells, this colt is out of an SA Oaks winning daughter of Fort Wood and multiple Gr1 winning champion Ilha Da Vitoria (also granddam of Gr1 winner Orchid Island)
Lot 105 – this colt is out of a stakes winning Giant's Causeway mare whose dam is a sister to Gr3 winner Kings Point, the family of the charismatic Gr1 winner Sergeant Cecil
Lot 118 – this colt is a ½ to 4 winners notably Gr3 performer Fear Not and speedy stakes performer Free State, second dam is a champion daughter of Fort Wood, and this colt is from the same family as Flower Alley's Gr1 Ashland Stakes winner Lilacs And Lace (dam of Gr1 winner Lucky Lilac)
Lot 207 – a ½ to 3 winners, this filly is out of a Silvano sired stakes winning half-sister to Cape Fillies Guineas winner Indiscreet Fantasy and 2 other stakes performers
Lot 229 – this colt's dam is a winning own sister to Gr3 performer Beat The Retreat and half-sister to multiple Gr1 winner Snowdance and the speedy stakes winner Victorian Secret
Lot 242 – a half-sister to 5 winners including Gr3 winner Wonder Lawn (a former record priced yearling), this filly is out of the Roy sired Gr1 Garden Province Stakes winner Velvet Green
Lot 267 – out of a stakes winning daughter of Rock Of Gibraltar, this colt is a half-brother to 3 winners notably high class galloper Broadway Trip (like the colt on offer by a Forty Niner line sire)
Lot 321 – this colt, whose dam is a Silvano ½ to speedy filly Champery, is from the family of international Gr1 winners Paradise Creek, David Junior, Eden's Moon and top sire Theatrical
Lot 364 – inbred to Sadler's Wells and a ½ to a multiple winner, this colt is out of a ½ sister to Gr1 Paddock Stakes winner Emblem Of Liberty, remarkably his first 3 dams are all ½ sisters to Gr1 winners!
Lot 379 – this colt is out of a Mastercraftsman ½ sister to a former Epsom Derby contender, and is from the same female line as Gr1 winners Val Royal, Vahorimix, and Sisterhood
Lot 380 – a ½ to a winner, this filly is out of a daughter of Fillies Guineas winner State Treasure
Lot 396 – out of a ½ sister to a stakes performer, this filly's granddam is champion Rat Burana
Lot 421 – out of a ½ sister to 3 stakes horses, this filly is from the immediate family of Gr1 winners Marie Galante, Young Rake, Master Plan and champion filly Along Came Polly
Lot 431 – a ½ to a winner, this filly's granddam is a ½ to short lived Cape Guineas winner Face North
Lot 432 – this filly is a ½ sister to Oaks Trial winner Bize, this filly's dam is a half-sister to Gr1 winning 2yo Exhilaration, the family of July winner Power King and Gr1 winning filly Wendywood
Lot 514 – this filly is out of a winning daughter of Thekwini Stakes second Los Angeles
Lot 546 – out of an own sister to Gr2 performer Lightning Lecture, this colt's dam is also a half-sister to the dam of exported champion and multiple Gr1 winner Edict Of Nantes
Lot 552 – this colt is out of a 3 time winning daughter of former top US sire and broodmare sire Dixieland Band, and is from the family of Gr1 winner and successful sire Salt Lake
FLYING THE FLAG
A Gr3 winning son of the world's premier sire Galileo (sire of top class sires Teofilo, Frankel, New Approach and Australia), he is a full-brother to triple Gr1 winner Rhododendron and to Gr1 Qipco British Champions Fillies & Mares Stakes winner Magical dam won the Irish 1000 Gns
Lot 161 – this colt is out of a 3 time winning Silvano half-sister to dual Guineas winner and sire Noordhoek Flyer, who was sired by Pivotal – the broodmare sire of Flying The Flag
Lot 263 – this colt is out of a winning Red Ransom daughter of Aus Gr3 winner Lucky Diva
Lot 276 – this colt is out of a five time winning half-sister to Gr1 SA Fillies Classic third She's A Dragon and second dam is a winning own sister to Gr3 winner and Hong Kong Sprint second Cerise Cherry
Lot 284 – a ½ to 2 winners, this filly, inbred to Nureyev, is out of a mare who was third in the Gr2 The Fillies Nursery, the family of Gr1 winning fillies Blue Bunting and Miss Satamixa
Lot 292 – inbred to Sadler's Wells, this colt is a ½ to 4 winners including smart Gr2 performer Amazing Strike, and his first three dams are all black type performers
Lot 378 – a ½ to 6 winners (from as many runners), this filly (inbred to Sadler's Wells) is out of a winning own sister to top class racemare Cover Look (dam of British Gr3 winner Shipmaster)
Lot 389 – this colt is a ½ to 3 winners include smart winners Just As I Said and Lock Him Up
Lot 494 – this colt is a half-brother to 6 winners including Michaelmas Handicap winner King Neptune and Gr2 performer Stella Mia, and his dam is a ½ sister to Gr1 winners Stellite and ZIiconeum
Lot 502 – this colt is out of Gr3 placed half-sister (who won five) to Gr3 winner Chico Azul
Lot 516 – this colt, a ½ to 3 winners one of whom won 8, is out of a Gr3 placed winner of four and is from the family of Horse Of The Year and four time Gr1 winner Legislate (who, like this colt, was sired by a Sadler's Wells line stallion)
FRANKEL
Unbeaten legend, the ten time Gr1 winner is the highest rated horse in Timeform history, already sire of the Gr1 winners Cracksman, Without Parole, Soul Stirring, Dream Castle, Mozu Ascot and Call The Wind
Lot 182 – this colt is out of a winning ¾ sister to four time Gr1 winner and top class sire Mastercraftsman, Gr1 2yo Famous and US Gr3 winner Genuine Devotion, from the family of US champion sire Broad Brush, Arc hero Sakee, and US champion and successful sire Capote
FUTURA
A son of deceased top sire Dynasty, he was a Horse Of The Year and multiple Equus Champion, who won four Gr1 races, and his first yearlings have already made up to R1 200 000
Lot 38 – this colt is out of a winning Trippi half-sister to stakes winner, and sire, Galileo's Night (also by a Sadler's Wells line sire), and Prix du Cap winner Croc Valley (by Western Winter – the sire of Futura's granddam)
Lot 97 – this filly is out of a stakes winning daughter of Trippi and Gr1 winning Equus Champion Bold Ellinore – a full-sister to short lived Gr1 performer Emperor Napoleon
Lot 166 – closely inbred to Fort Wood, this colt is a ½ to 3 winners including the Gr3 performer Loadshedder and he is out of a 3 time winning Danehill Dancer daughter of stakes winner Strelitzia
Lot 295 – a ½ to a multiple winner, this filly is out of a 3 time winning own sister to Gr2 winner Lazer Star and granddam was second in the Gr1 Cape Fillies Guineas
Lot 296 – out of a ½ sister to  multiple Gr1 winning champion Blossoming Fields, this filly is a half-sister to 8 winners notably Singapore star Flax and the stakes placed, seven time winner Seven Spring
Lot 307 – a ½ to 3 useful winners, this filly (closely inbred to Fort Wood) has a Fort Wood own sister to Gr3 winner Over Bearing as a granddam (and the latter is also ½ to Gr1 winners Alpha Omega and Final Claim – dam of Golden Slipper winner Final Judgement)
Lot 310 – this filly, whose broodmare sire Candy Stripes also ranks as damsire of great sire Candy Ride, is a ½ sister to 3 winners including Gr2 performer Vous Et Var
Lot 312 – this colt is out of a 3 time winning own sister to Syringa Handicap winner Secret Obsession (dam of Fillies Guineas second Silver Thursday and the smart Bunker Hunt, who, like Futura, was sired by Dynasty)
Lot 318 – this colt is out of a stakes placed 3 time winner, and second dam is a stakes winning daughter of Western Winter – whose daughter Winter Fox is granddam of Futura
Lot 345 – this filly is out of Brazilian Gr2 winner Energia Elegante
Lot 346 – out of a stakes placed daughter of Captain Al, this colt is from the famous E family
Lot 463 – this colt, closely inbred to Western Winter, is out of a winning own sister to Gr2 performer Full Mast and ½ sister to stakes winner Grandalea, and granddam is a ¾ sister to Equus Champion and promising sire Capetown Noir and Gr3 winning millionaire Across The Ice
Lot 559 – out of a 7 time winner, this colt is from the same female line as international standouts Exclusive Native, Poet's Voice, Charismatic, General Assembly and George Vancouver
GIMMETHEGREENLIGHT
More Than Ready's rising star sire son has already produced a plethora of high class performers including the Gr1 winners Surcharge and Gunner, and fellow graded stakes winners Gimme Six, Barahin, National Park, Green Plains, Green Pepper, Hack Green and Gimme One Night
Lot 42 – this colt is out of a 3 time winning own sister to SA Fillies Classic winner Caughtintheslips, whose progeny include multiple stakes winner Doosra and the Gimmethegreenlight sired Gr1 performer Green Top, second dam is a stakes winner of six
Lot 45 – a ½ to 2 winners, this colt's winning dam is a ½ to Gr1 Champions Cup winner Orbison
Lot 60 – this filly is out of a winning sister to stakes winners Rebel Queen and Uncle Tommy, and ½ to Champion Sprinter, and sire, Rebel King, family of Gr1 Summer Cup winner Liege
Lot 69 – this colt is out of a Gr1 placed stakes winner of four, whose sire Dubai Destination is also damsire of world class performers Golden Horn, Postponed and Thunder Snow, the same family as Gr1 winner and young sire National Defense and 1000 Guineas winner Billesdon Brook
Lot 76 – this colt is out of Kahal's Gr3 Yellowwood Handicap winner Enchanted Kingdom
Lot 102 – this filly, from the same family as champion filly Spook Express, is out of a winning half-sister to Charity Mile winner Seattle Ice and Falcon Sprint winner Profit Report
Lot 106 – this filly, whose granddam is Met winning champion Imperious Sue, is out of a half-sister to Gr1 Woolavington 2000 winner Imperious Star and Winter Oaks winner Blue Heather
Lot 114 – this colt is out of Gr2 Sceptre/Gr3 Diana Stakes winner Joshlin
Lot 129 – this filly is out of speedy multiple stakes winner Little Genie, a ½ sister to 3 black type performers, and she is from the family of Fillies Guineas winners Flying Snowdrop and Sparkling Gem, this filly is directly descended in female line from Hydroplane II – dam of US Triple Crown winner Citation
Lot 135 – this colt, bred on the same cross as graded stakes winners Hack Green and Green Pepper, is a ½ to 4 winners including Gr3 performer Acaciawood, dam is an own sister to Gr2 winner Syon
Lot 151 – this filly, closely inbred to Halo, is out of a stakes placed mare who won five
Lot 163 – this colt, an own brother to the smart Gimme A Wave, is out of a 3 time winning half-sister to Gr3W Blue Voyager, stakes winning second dam is also 3rd dam of dual Gr1 winner and sire Rabada
Lot 228 – this filly is out of a winning ½ sister to Gr3 winner Saluki, and second dam is the Fort Wood sired Fillies Guineas winner Dog Rose – a half sister to multiple Gr1 winner Lord Shirldor
Lot 261 – this colt is out of a five time winning ½ to Gr2 winner and millionaire Blake
Lot 275 – a ½ to 3 winners, this colt's stakes winning third dam (granddam of group winners Permian, and Silkwood and third dam of Gr1W Old Persian) is an own sister to champion Miesque (dam of French classic winners East Of The Moon and outstanding sire Kingmambo, and successful Cape sire Judpot), also the family of Breeders' Cup winners Karakontie and Six Perfections
Lot 293 – this colt is out of a winning ½ to Gr1 winner Fighting Warrior and Gr2 winner Royal Zulu Warrior and granddam is a 4 time winning ½ to Gr1 Levin Classic winner Prussian Blue
Lot 343 – this filly is a ½ sister to Gr2 Ipi Tombe Challenge runner up Sea Shadow and is bred on similar lines to Gimmethegreenlight's Gr2 winner Hack Green and Breeders' Cup winner Pluck
Lot 376 – this colt is out of the Trippi sired Equus Champion and millionaire Hammie's Hooker
Lot 443 – this colt is out of a Gr3 placed half-sister to Gr2 Cape Merchants winner Silicone Valley
Lot 503 – a half-sister to 2 winners, and out of a winning Fort Wood ½ to Gr2 winner River Crossing, this filly is from the same female line as Northern Dancer, Danehill, Machiavellian and Halo to name a few!
Lot 507 – a hal-sister to 2 winners, this filly is out of a ½ sister to Gr1 performer Infinite Spirit from the family of US champion and dual classic winner Little Current and current top US 3yo Improbable
Lot 517 – bred on the same cross as Gr3 winner Gimme One Night, this filly is out of a winning ½ sister to August Stakes winner Storm Crossing, from the family of Horse Of The Year Irish Flame
Lot 524 – a ½ to 2 smart winners, this colt's first 3 dams are all stakes performers
Lot 525 – a ¾ sister to stakes performer Green Lantern, this filly is out of a ½ to Gr2 winner Dash For Gretna, and is from the family of champions Jay Peg and Kochka
Lot 528 – a ½ or full sister to 3 smart winners (including promising galloper Trip To The Sky), this filly is out of a 3 time winning Jet Master daughter of Gr3 Diana Stakes winner Slinky Malinky
GLOBAL VIEW
A multiple graded stakes winning son of the world's premier sire Galileo from the same family as top class sires Green Tune and Storm Bird, his first crop have already made up to R1 300 000
Lot 2 – inbred to Storm Cat and Sadler's Wells, this filly is a ½ to 2 winners including short – lived Gr3 winner Zen Arcade, her second dam is the Oaks winning champion Monyela
Lot 15 – this colt is out of a winning daughter of outstanding sire Red Ransom (whose son Intikhab is damsire of Galileo stars Igugu and Found) and is from the immediate family of Gr1 winning 2yos Hayil and Shalaa
Lot 16 – closely inbred to Sadler's Wells, this filly is out of a stakes placed own sister to Woolavington Hcp winner Benjan and this is the E family of Sadler's Wells line champion Elusive Fort
Lot 37 – this colt's dam, a ½ to Triple Crown winner Abashiri, is an own sister to Dubai stakes winner Drift Ice and the dam of Zim star Simona and ¾ sister to Horse Of The Year Yard – Arm
Lot 47 – this filly is a ½ to 3 winners including Gr3 Final Fling winner and Gr1 performer Silvan Star and her winning dam is a half-sister to July winning champion and Gr1 sire Bold Silvano
Lot 121 – this colt is out of a stakes placed daughter of Breeders Guineas winner La Poste
Lot 124 – closely inbred to Sadler's Wells, this colt is out of Gr1 Thekwini Stakes winner Lauderdale and is from the same female line as Kentucky Derby winners Majestic Prince and Real Quiet
Lot 136 – this colt is out of an 8 time winning ½ sister to stakes winner Lielums
Lot 174 – out of a stakes placed winner of seven, this filly is a half-sister to 4 winners notably Mauritian star Disa Leader and Cape Fillies Guineas second Our Destiny
Lot 191 – this colt is a ½ brother to 4 winners notably Gr1 winning sprinter Gulf Storm and Gr3 Sycamore Sprint winner Seattle Singer, the family of 2019 classic hope and Gr1 winner Royal Meeting
Lot 193 – this colt is out of a stakes placed winning ½ sister to high class sprinter National Flame and to the dam of multiple Gr1 winner Eyes Wide Open (who, like the colt on offer, is by a Sadler's Wells line stallion), his dam is an Al Mufti ¾ sister to Met winner Alastor
Lot 196 – this filly is out of a ½ to July winning champion and Gr1 sire Bold
Silvano
Lot 235 – this filly is a ½ to 6 winners notably Gr2 Dingaans runner up Thanksgiving and Gr3 performer Stormy Affair (both of whom are by a Sadler's Wells line sire), family of Edict Of Nantes
Lot 277 – this colt is out of a stakes placed winner of four – whose granddam is champion Joie De Grise, and this is the famed Denise's Joy family responsible for such outstanding performers as More Joyous, Thorn Park, Sunday Joy, and Bentley Biscuit
Lot 280 – a half-brother to 2 useful winners, this colt is out of a Gr3 placed daughter of Danehill Dancer and SA champion, and multiple Gr1 winner Arabian Lass, the family of Gr1 winners Arabian Beat, Smart Banker and Casamento, as well as the outstanding Minding – who was sired by Galileo – the sire of Global View, dam bred on similar lines to Minding's Gr1 winning dam Lillie Langtry
Lot 283 – closely inbred to Sadler's Wells, this colt is out of a winning ½ to Gr2 winner Polar Moon and three – parts sister to Horse Of The Year and four time Gr1 winner Legislate
Lot 319 – this filly is out of a Var sired five time winning half-sister to course record holders, from the great Soho Secret family which is responsible for champions London News, Promisefrommyheart and Kings Gambit
Lot 325 – a ½ to 2 winners including useful Gr3 performer Sail For Gold, this colt (inbred to Sadler's Wells) is out of a ½ sister to international Gr1 winner and Equus Champion Sun Classique
Lot 335 – this filly, whose dam is a ¾ sister to Investec Oaks second Architecture, is from the family of outstanding international Gr1 winning racemares Miesque, Six Perfections, Alpha Centauri and East Of The Moon, as well as breed shaping sire Kingmambo
Lot 338 – this colt is out of a 5 time winning own sister to 3 black type performers
Lot 351 – this filly is from the same E family as champions Empress Club, Elusive Fort, Eventuail, Ecurie, Hermoso Mundo, and Escoleta Fitz
Lot 352 – a ½ to a five time winner overseas, this filly is out of a half-sister to Gr1 winner Echelon (dam of Gr1 winner Integral) and her Gr1 winning second dam is a half-sister to 2000 Guineas winner Entrepreneur (who was sired by Sadler's Wells – the grandsire of Global View)
Lot 363 – bred on a similar cross to Gr1 winner Line Of Duty, this filly is out of a winning own sister to speedy stakes winner Uber Rock and her third dam won the French 1000 Guineas
Lot 414 – a ½ to 3 winners, this colt's dam is a ½ to Met winning champion Smart Call
Lot 468 – this colt is out of a Jallad ½ to Gr2 winning 2yo Winterinthewoods, family of recent Gr3 winner Tristful
Lot 486 – this colt, inbred to Storm Cat, is out of a ½ to Gr1 SA Derby dead – heater Royal Bencher
Lot 489 – a half-brother to promising Gr1 contender Herodotus, this colt is out of a ½ to Flamboyant Stakes winner Silver Empire from the family of multiple Australian Gr1 winner Sea Siren
Lot 529 – this colt is out of a 3 time winning ½ to stakes winner Battlestar Express, and his dam is also a ¾ sister to Cape Guineas winner and champion sire Captain Al
Lot 536 – inbred to Sadler's Wells, this filly is out of a stakes winning own sister to stakes winner Fort Petersburg and ¾ sister to Gr3 winner Storm Destiny and stakes winner Stormy Eclipse
Lot 564 – this colt, whose siblings include multiple scorer Seattle Swing, is out of a stakes winning daughter of Silvano whose relatives include top performers Cirillo, Captain's Gal and Dutch Philip
GO DEPUTY
Gr1 winner and millionaire, whose offspring include Triple Crown winner Abashiri plus graded stakes winners Flying Ice, Icy Trail, Royal Badge, Pessoa, Current Event, Changingoftheguard as well as recent Jacaranda Handicap winner Insignis
Lot 456 – a half-sister to 2 winners, including the smart Kazaar, this filly is out of a half-sister to graded stakes winning fillies Mochachino and Mocha Java as well as the dam of Gr1 performer Barahin, she traces back in female line, as does Go Deputy and outstanding sire Fappiano, to the mare Cequillo
GREYS INN
Champion and July winner, whose notable progeny includes dual Horse Of The Year Legal Eagle and fellow Gr1 winners King Of Pain and Royal Bencher
Lot 90 – this colt is out of a stakes placed half-sister to stakes winner Admiral's Daughter
Lot 131 – a ½ to 2 smart winners, this colt is out of SA Oaks third London Fashion – a half-sister to Gr1 performer Lubricator and to the dam of the useful Last Of The Legend
Lot 149 – this colt is out of stakes winner who won seven, and second dam is a Gr2 winner by Greys Inn's lightning fast close relative Zeditave, family of champion sprinter Sacred Kingdom
Lot 162 – this colt is out of a stakes winner of five, from the family of Gr1 winners Talinum, Jeune and Atlante
IDEAL WORLD
The stakes winning son of Kingmambo and Dansili's champion sister Banks Hill is already responsible for two Met winners (Smart Call and Rainbow Bridge), SA Derby winner Samurai Warrior and Equus Champion Hermoso Mundo, plus graded stakes winners Cape Speed, Zante, and Inverroche
Lot 23 – bred on the same cross as Rainbow Bridge, this filly is out of Jet Master's Gr1 winner All Afire
Lot 35 – this filly is out of a stakes placed Fort Wood daughter of Gr1 winning champion Rat Burana
Lot 112 – also bred on the same Ideal World/Jet Master cross as Rainbow Bridge, this filly (a ½ to smart filly Cha Cha Chorizo) is out of a Gr1 placed own sister to Gr3 winner Jet Set Go
Lot 224 – this filly is out of a winning Invincible Spirit ½ sister to the stakes winning Cameron Highland and granddam is a winning own sister to Canadian Horse Of The Year Arravale
Lot 231 – this filly is an own sister to the Oaks winning Zante and ¾ sister to the very smart filly Helen's Ideal, 2nd dam is a ½ to SA Oaks winner Serena – dam of US Gr1 winner Broadway Flyer
Lot 251 – a ½ to 3 multiple winners, this filly is out of a winning ¾ sister to champion Special Parade
Lot 255 – this filly is out of a 10 time winning own sister to the smart stakes performer Big City Angel and her dam is also bred on very similar lines to Gr3 winner Run Angel Run
Lot 262 – out of an own sister to Gr2 winner Prestic, this filly is an own sister to East Cape champion Kimberley Star, the family of Gr1 winning sprinter, and sire, Tobe Or Nottobe
Lot 322 – a ½ to 3 winners, this colt, bred on the same cross as Zante, is out of a ½ to Gr3 Jacaranda Hcp winner Peggy Jay and second dam is the Gold Cup winning champion Colonial Girl
Lot 367 – this colt is out of a Gr2 placed half-sister to exported dual Gr1 winner Slumdogmillionaire, Gold Vase winner Cycad and Settlers Trophy winner Trade Specialist
Lot 392 – this colt is out of a winning own sister to Gr1 winner Zeeno and ½ to young sire Skitt Skizzle
Lot 400 – a ½ to 4 winners, this colt's dam is a ½ to the dam of stakes winner Gambado, who, like the colt on sale, was sired by a son of Kingmambo
Lot 415 – this filly is out of a full-sister to exported Gr2 Victory Moon Stakes winner Zambucca and ½ to the graded stakes winners Zambomba and Almah (dam of high class Gr1 performer Sensible Lover)
Lot 435 – this filly is out of a winning Fort Wood ½ to Gr2 winner and millionaire Trophy Wife
Lot 469 – this filly, a full-sister to Derby winner Cape Speed, is out of a five time winning ½ sister to graded stakes winners Cork Wood and Close The Gap, from the family of Horse Chestnut – damsire of Ideal World's Met winning champion Smart Call
Lot 500 – out of a winning Trippi ½ to a stakes performer, this filly is a sister in blood to champion and multiple Gr1 winner Smart Call, granddam is a ½ to July winning champion and Gr1 sire Greys Inn
Lot 520 – an own sister to a multiple winner, this filly is out of multiple stakes winner Miss Mischief, and is from the family of US Gr1 winner Citronnade (also sired by a son of Kingmambo)
Lot 523 – this filly, whose 4 time winning dam is by outstanding sire/broodmare sire Shamardal, is from the same family as 1000 Guineas winner Virginia Waters (like Ideal World, sired by Kingmambo) and outstanding performers Dubawi, In The Wings, and Oscar Schindler
Lot 535 – a ½ to an Italian stakes winner and to the dam of a British 2YO stakes winner, this colt is out of a Sadler's Wells own sister to Gr1 performer Olympian Odyssey and ½ to a Gr3 winner sired by Ideal World's close relative Dansili, second dam won the Gr1 Prix de la Foret
INDIGO MAGIC
The classically bred son of Gone West left his mark as the sire of graded winners Go Indigo and Shades Of Indigo, as well as BSA Million winner Fullfillyourdream and he is also damsire of graded winners Elusive Heart, Hard Day's Night, and Cat And The Moon
Lot 478 – this filly is an own sister to Lady's Slipper Stakes winner Darling Moon and to the smart Prince Of Orange, and half-sister to multiple graded stakes winner Astro News
JACKSON
Triple Gr1 winning son of Dynasty from the family of Smart Strike, his early runners include Gr1 filly Can You Feel It, Gr3 performer Mr Crumford and smart Zimbabwean galloper Action Jackson
Lot 58 – this colt is a half-brother to 2 winners notably Gr1 winner Coral Fever (who has earned over R4 million) and his dam is a winning half to 3 graded stakes winners including SA Derby winning sire Ravishing and the Dynasty sired Gr2 Betting World 1900 hero Dynastic Power
Lot 139 – this filly is out of a stakes placed half-sister to Cartier Champion and multiple Gr1 winner Stradivarius, from the family of Melbourne Cup hero Protectionist and great Arc winner and successful sire Peintre Celebre
Lot 187 – this filly is out of a winning half-sister to 3 stakes performers (all of whom were sired by Jackson's grandsire Fort Wood), the family of Fort Wood sired legend Horse Chestnut
Lot 232 – a ½ to 2 winners, this colt is out of the Jallad sired Gr2 winner Tempte
Lot 333 – this colt is out of a stakes winning daughter, and East Cape champion, of Jackson's close relative Sail From Seattle and is from the same female line as Jackson and Sail From Seattle themselves!
Lot 467 – this colt is out of Hibiscus Stakes winner Ngakuta, dam of a stakes performer by Sail From Seattle and granddam of another black type performer by Sail From Seattle
Lot 492 – this colt is a ¾ brother to Gr2 performer Speed Rocket and ½ to Gr3 Diana Stakes winner Promises To Keep, out of a 3 time winner by West Man (who is from the same family as Jackson's sire Dynasty)
Lot 511 – a ½ to 5 winners, this filly is out of a stakes winning sister to champion Young Rake
Lot 554 – this filly is out of a 3 time winning daughter of Captain Al,  and her granddam was a stakes placed winner of seven
JUDPOT
Kingmambo's half-brother has enjoyed success in South Africa through his champion daughter Along Came Polly, and the Gr1 winners Coral Fever, Forest Indigo, and Juxtapose, as well as recent Gr3 Tommy Hotspur Hcp winner Down To Zero and impressive Egoli Mile winner Drop Kick
Lot 236 – this colt is out of a Jet Master sired stakes winning half-sister to six stakes winners, notably Equus Champions Rabiya and Bela – Bela, as well as the dams of Gr1 winners All Is Secret, The Secret Is Out and Snowdance
Lot 246 – from the same family as Lot 236, this colt, a half-brother to debut winner Master Of Illusion, is out of a stakes winning Captain Al own sister to multiple Gr1 winner Snowdance and the smart Gr2 perfomer Juniper Spring
Lot 300 – this colt is a ¾ brother to Gr2 Emerald Cup winner Deputy Jud (by Judpot), with his dam not only a ½ to Deputy Jud but also short lived Gr1 winner War Horse
Lot 316 – this colt is out of a ½ to 4 black type performers notably champion Kochka
Lot 354 – this colt's dam is a ¾ sister to champion and St Leger winner Rule Of Law, granddam is a stakes winning own sister to Gr3 Prestige Stakes winner Circle Of Gold, the Horama family, this colt is inbred to the outstanding racemare and producer Miesque
Lot 373 – bred like Gr1 winner Forest Indigo, this colt is a ½ to 5 winners including Gr3 Cape Classic winner Eighth Wonder
Lot 375 – also bred like Forest Indigo, this colt is out of a winning Fort Wood half-sister to 3 graded stakes winners notably US/SA Gr1 winner Gypsy's Warning and millionaire Romany Prince
Lot 420 – this colt is a full-brother to Devon Air Stakes winner Maleficent and SA Derby runner up Rocketball and half-brother to Gr2 performer Blackball
Lot 440 – this colt is a ½ to 7 winners notably the stakes placed Carlito Brigante
Lot 506 – this colt is out of a winning sister to Gr3 performer Imperial State, and his granddam is Fillies Guineas winner State Treasure (also granddam of Gr1 winners Bilateral and Little Miss Magic)
Lot 551 – this colt is out of a half-sister to Gr2 winner Carry On Katie – the dam of multiple Equus Champion and five time Gr1 winner Carry On Alice, the family of champion Kildonan
KINGSBARNS
Deceased son of the world's premier sire Galileo (sire of top class sires Teofilo, New Approach and Frankel) whose wins included the Gr1 Racing Post Trophy
Lot 14 – this filly is out of Ready To Run Cup winner and millionaire Winter Star
Lot 245 – a 1/2 to 3 winners (and closely inbred to Sadler's Wells), this colt is out of a full-sister to Gr3 winner Over Bearing and 1/2 to Gr1 winners Alpha Omega and Final Claim (dam of Golden Slipper winner Final Judgement), second dam was Broodmare Of The Year
Lot 291 – a 1/2 to 2 winners, this filly is from the immediate family of international Gr1 winners Hayil, Shalaa and Wild Rush
Lot 397 – this filly is out of a 3 time winning half-sister to Gr2 winner Senor Versace
Lot 509 – this colt is out of a smart Gr3 placed Jallad half-sister to SA Oaks winner Idle Fancy from the top female line of 1000 Guineas winner Glad Rags II, Union Rags and Declaration Of War
LEGISLATE
Horse Of The Year and multiple champion son of late top sire Dynasty, the record breaking champion won four Gr1 races, including the Cape Derby, Daily News 2000 and July – all won previously by Dynasty himself
Lot 72 – this filly, a ¾ sister to Dynasty sired stakes winner Francia, is out of Gr2 Fillies Championship third Earth's Orbit and is from the family of champions Foveros and Hinterland
Lot 220 – bred on a similar cross to Gr1 winners Liege, It's My Turn and Eyes Wide Open, this filly is out of Gr2 SA Oaks second Star Safari – a ½ sister to another Oaks runner up in Sky Pirate
Lot 306 – a half-sister to 4 winners including the stakes placed filly Fantasy Quest, this filly is out of Gr3 Prix du Cap winner Bridal Lace, from the family of Gr1 winners Proud Pilgrim and Noble Warrior
Lot 340 – this filly is out of a winning ½ to two Australian stakes winners inc Gr2 winner Famous Roman
Lot 553 – this colt is out of a winning Western Winter half-sister to Gr3 winner Current Event (and own sister to the dams of smart performers Flichity By Farr and Neartic Dancer) and ¾ sister to five time Gr1 winner and Horse Of The Year Yard – Arm
MAMBO IN SEATTLE
The ¾ brother to champion and top class sire Lemon Drop Kid has consistently produced smart performers with his best including dual Gr1 winner Same Jurisdiction, Golden Slipper winner Desert Rhythm, high class Gr1 performer Majestic Mambo and Oaks Trial victress Bize
Lot 350 – this colt is out of a 7 time winning stakes placed daughter of successful sire Kahal
Lot 359 – closely inbred to Broodmare Of The Year Weekend Surprise, this filly is out of ten time winner and stakes winner Follow The Piper – a ½ to dual Gr3 winner Katy's Lane
Lot 411 – out of a stakes placed winner of 3, this colt is an own brother to Kenilworth Cup winner Smart Mart and his dam is a ½ to Gr3 winner Master Of Note
Lot 477 – bred on the same cross as Same Jurisdiction, this colt is out of a stakes winning daughter of Captain Al who is very closely related to Captain Al sired Gr1 winner Undercover Agent
Lot 485 – this filly is out of a stakes winning daughter of top class broodmare sire Horse Chestnut, who is a ½ sister to Gr3 Kings Cup winner Pessoa
MASTER OF MY FATE
Dual Gr2 winning son of champions Jet Master and Promisefrommyheart has made a great start to his stud career with his early crops producing millionaire Twist Of Fate, Kenyan star Silverstone Air, Derby Trial victor Gift For The Gap, promising performer Triple Fate Line and Ruffian Stakes heroine Basadi Faith
Lot 1 – this filly is out of a stakes winning half-sister to four graded stakes winners, including Gr1 winners Nania and Red Ray, and half-sister to multiple stakes winning filly Adobe Pink
Lot 62 – this colt is out of a winning half-sister to Ladies Mile winner and successful producer Catalina, from the immediate family of the Met winning siblings Pocket Power and River Jetez, both of whom, like of Master Of My Fate himself, being sired by Jet Master
Lot 80 – a half-sister to the very smart Flichity By Farr, this filly is out of a four time winning half-sister to Gr3 winner Current Event, and ¾ sister to Horse Of The Year Yard – Arm and Dubai stakes winner Drift Ice
Lot 103 – this filly is out of a speedy stakes placed 7 time winner who won up to 1200m
Lot 116 – this filly is out of a 4 time winning ¾ sister to Triple Crown winner Abashiri
Lot 145 – this filly is out of a stakes placed, 5 time winning own sister to triple Gr1 winner, Equus Champion and promising sire Capetown Noir and to Gr3 winning millionaire Across The Ice
Lot 156 – this filly is out of a Gr1 placed stakes winning half-sister to the graded stakes winners Mento and Royal I Q, second dam was a stakes winner of four
Lot 181 – a half-brother to East Cape champion Queen Forever, this colt's Jallad sired dam is a half-sister to 3 graded stakes winners notably US Gr1 winner Gypsy's Warning and millionaire Romany Prince
Lot 199 – this filly is out of a winning Silvano half-sister to five stakes horses (one of whom being sired by Master Of My Fate's own sire) including Gr2 Gold Bowl scorer Herod The Great
Lot 208 – out of a Ladies Mile winner, this colt is a half-brother to 6 winners notably Fillies Mile runner up Uptothemoon and the stakes placed Size Does Count
Lot 216 – this filly, a ½ to 7 winners from 7 runners, is out of Bauhinia Handicap winner Sovereign Beat, a daughter of champion National Emblem and Merchants heroine True Tempo
Lot 244 – a half-brother to 5 winners, this colt is out of a Gr3 placed own sister to the stakes winners Red Ray, Nania, Valor Red, Brutal Force and Bishop's Bounty
Lot 249 – this filly, closely inbred to Elliodor, is out of a Var ½ sister to stakes winning racemare Rush For John and her four time winning second dam is a half-sister to Selangor Cup hero Roman Charger
Lot 254 – this colt is a ½ to 4 winners notably Gr3 winning 2yo Hot Affair
Lot 266 – this colt is out of a 4 time winning daughter of multiple champion sire Hussonet and Golden Slipper/Monrovia Hcp winner Alexandra Rose – a full-sister to Syringa Handicap winner Alexa
Lot 279 – a ½ to 7 winners notably the stakes placed pair of Rap Attack and Atair, this filly is out of a stakes winning own sister to triple Gr1 winner Set Afire and ¾ sister to Gr1 winners Red Ray and Nania
Lot 299 – this filly is out of a five time winning ¾ sister to Gr1 winning 2yo Exhilaration
Lot 303 – out of a multiple stakes winning daughter of champion sire Jallad, this filly is a half-sister to 8 winners notably East Cape champion Yoshie and the short lived stakes performer Fairy Gold, from the family of speedy stakes winner Comet Chaser (like Master Of My Fate sired by Jet Master)
Lot 308 – bred on similar lines to the Jet Master sired Gr1 winner Little Miss Magic and inbred to the magnificent mare Glorious Song, this colt's winning dam is an own sister to Gr1 winning 2yo Bilateral
Lot 390 – a ¾ brother to a 6 time winner, this colt is out of a 4 time winning Western Winter ½ sister to Gr1 winner and high class producer Kournikova and Gr3 winner and successful producer Princess Faberge
Lot 403 – this filly is out of a winning own sister to stakes performer Nova Zembla and ¾ sister to multiple Gr1 winner and Equus Champion Argonaut
Lot 419 – this filly is out of a Gimmethegreenlight half-sister to 2 stakes winners, including Top Jet (like Master Of My Fate a son of Jet Master)
Lot 424 – inbred to the top class racemare and producer Soho Secret, this filly is a ¾ sister to Gr1 Summer Cup third Master Switch and is out of a winning own sister to Gr1 winner Lady Brompton – the dam of multiple Gr1 winning champion Kings Gambit, family of Master Of My Fate himself
Lot 483 – a ½ to a 9 time winner, this filly is out of a winning daughter of champion sire Acatenango (also damsire of the likes of Animal Kingdom and Querari) from the female line of Caesour, top class sire Exchange Rate, and champions Arazi, Ajdal and Noverre
Lot 540 – this colt, a ¾ brother to Gr1 performer Mljet, is a half-brother to nine winners including Gr1 filly Felix The Cat and is from the same female line as Irish Derby winner Law Society
Lot 560 – this filly, bred on the same cross as Basadi Faith, is out of a Captain Al sired Gr2 winning ½ sister to Gr1 winner Regal Ransom
NOBLE TUNE
A graded stakes winner at two and three, he is an Unbridled's Song half-brother to US champion and multiple Gr1 winner Honor Code, early crops have yielded the winners Play Another Tune, Frozen Tune, Awesomely Tuned, and the stakes placed White Lightning
Lot 247 – a full-sister to the useful Paths Of Victory, this filly is out of a winning half-sister to 4 stakes horses, notably graded stakes winners Imbongi and Spring Garland, from the family of William Longsword
Lot 288 – this filly is out of a winning ½ to Gr1 winner The Hangman and to top sprinter and R2 million plus earner Trip To Heaven, from the family of classic winners Al Bahathri and Haafhd
Lot 358 – this colt is out of a four time winning Trippi half-sister to 2 stakes winners and granddam is a winning half-sister to Gr1 Computaform Sprint winner Shoe Shac
Lot 454 – this filly is a ½ sister to 2 winners notably One Cool Dude who downed Horse Of The Year Futura when victorious in the 2014 Gr3 Cup Trial
Lot 464 – this colt is a ½ to 3 winners including Equus Champion and Gr1 winner Lady In Black
Lot 466 – this colt is out of a stakes winning ¾ sister to Gr3 winner Extra Zero
Lot 534 – this colt is out of a Hussonet sired stakes placed 4 time winning half-sister to Australian Gr1 performers Sabrage and Pinnacles and his first four dams are all stakes performers
Lot 556 – closely inbred to Storm Cat, this colt is out of a stakes winner of seven races, and his stakes placed granddam is a half-sister to Gr1 Cape Flying Championship winner Simonside
ORATORIO
Triple Gr1 winner and European champion whose 50 plus black type winners include eight Gr1 winners (including recent Gr3 winner Van Halen) and recent Gauteng feature race winners Mardi Gras and Divine Odyssey
Lot 160 – this colt, a ½ brother to stakes performer Viking Trail and millionaire Nordic Warrior, is out of a seven time winning daughter of champion sire/broodmare sire Fort Wood
Lot 169 – an own brother to Gr3 performer Cloud Break and ½ to 2yo winner Ground Control, this colt is out of a stakes winning daughter of multiple champion sire Jet Master from a superb family
Lot 211 – this colt is out of a winning ½ to November Hcp winner Likeithot and Gr3 winner Ivor Thirst
Lot 250 – this filly is a ½ to 2 winners notably Gr1 Rising Sun Gold Challenge winner King Of Pain
Lot 259 – this colt, whose dam is a stakes placed winner of four, is from the same family as champions National Currency, Harry's Charm, Enchantress and Laverna
Lot 265 – a ½ to 2 winners, this filly is out of a winning half-sister to an a Gr2 winner (by a son of Danehill) and promising sire, as well as to an Australian Gr3 winner (whose sire, like Oratorio, is by Danehill) who is dam of Gr1 winning champion Bounding as well as leading 2019 Gr1 hope Anthony Van Dyck
Lot 289 – this colt is out of a Gr3 placed full-sister to Equus Champion and multiple Gr1 winner Mother Russia, the dam of dual Gr1 Empress Club Stakes winner Nother Russia
Lot 313 – this filly, whose dam is a half-sister to a British Gr1 performer, has French Gr3 winner Blushing Gleam (a ½ sister to two group winners) as a granddam and this is the family of recent French Listed winner Folamour (whose third dam is Blushing Gleam)
Lot 337 – this colt is a half-brother to 7 winners notably July winning champion Big City Life and Gr3 winner Cash Register (dam of top class sprinter Speedpoint)
Lot 339 – this filly is out of a winning Oasis Dream half-sister to millionaire and Ready To Run Stakes winner Zambezi River, from the family of Epsom Derby winners Lammtarra and Pour Moi
Lot 344 – from the famous "E" family, this filly is out of Cape Fillies Guineas winner Emerald Beauty
Lot 365 – this colt is a half-brother to 5 winners (from 5 runners) including Listed Bauhinia Handicap winner Crown Of Roses, from the family of French Gr1 winner Gravelines
Lot 377 – this filly is out of a ¾ sister to Horse Of The Year and four time Gr1 winning sire Futura
Lot 442 – bred on the same cross as Oratorio's Gr1 winner Beethoven, this colt (a half-brother to 3 winners) is out of a full-sister to Oaks/Dubai City Of Gold winner Front House
Lot 445 – a ½ to the stakes placed Keep The Faith, this filly is out of a winning Var half-sister to Gr2 winner Cartel and Gr3 winner Viva (the dam of graded winners Live Life and Cold As Ice)
Lot 472 – a ½ to 4 winners, this colt is out of a Selkirk ½ to stakes winner Atlantic Storm
Lot 482 – this colt is out of a winning half-sister to globetrotting Equus Champion and promising sire The Apache, third dam is Gilbeys Stakes winner Bold West
Lot 505 – this colt is a ½ to 7 winners (notably stakes winner Jet Jamboree) and to the dam of Fillies Guineas runner up Running Brave, his granddam won the SA Oaks
PATHFORK
Irish Champion and Gr1 winner, he is a half-brother to current star US 3yo War Of Will and from the same family as superstar Almond Eye, his best includes Gr1 winner Mighty High and graded stakes winners My Friend Lee and Red Chesnut Road, Gr1 performer Marchingontogether and recent Tattersalls Summer Juvenile Stakes winner Miss Honey
Lot 28 – this colt is a half-brother to 4 winners including exported Gr2 Gauteng Guineas winner Monks Hood (who won a barrier trial in Hong Kong recently), and he is out of a stakes placed winner of 3
Lot 150 – this filly is a ½ to 4 winners notably Golden Horseshoe hero Barahin and seven time scorer Expresso Martini and her winning dam is a full-sister to Gr2 winner Mochachino
Lot 190 – a ½ to 3 winners, this filly is out of a 3 time winning half-sister to Gr1 winning sire Potala Palace and to Gr1 Cape Fillies Guineas winner Front And Centre, as well as the dam of graded stakes winners Excellent Result and Midnight Crossing
Lot 399 – this filly (closely inbred to Sadler's Wells as is her dam) is out of a stakes placed daughter of top sire Dynasty and hails from the same female line as US graded stakes winner Careless Heiress
Lot 522 – also inbred to Sadler's Wells, this colt is out of a Dynasty half-sister to Gr3 winner Fair Rosalind – the dam of Gr3 Magnolia Handicap winner Schippers
Lot 526 – this colt is out of the Kahal sired Gr1 Thekwini Stakes runner up Silent Call
Lot 533 – this colt, whose first 3 dams are all stakes performers, is out of a stakes placed daughter of speedy stakes winner The Eden Project
PHILANTHROPIST
Former Leading All Weather Sire in the USA, and his best includes champions Pender Harbour and Phil's Dream, Hong Kong star Singapore Sling, Gr1 performer Pack Leader and Gr3 winning filly She's A Giver
Lot 49 – this colt, a half-brother to stakes winner Merysagos and Gr3 performer Baritone, is out of a Gr3 winning Singspiel half-sister to unbeaten Gr1 winner and outstanding stallion Candy Ride
Lot 183 – from the same female line as the likes of Danehill, Machiavellian and Northern Dancer, this filly (whose Gr3 winning dam is a full-sister to the dam of Gr1 SA Derby winner Bouquet – Garni) is a half-sister to 3 winners notably Gr2 filly Royal Utopia and the promising Palace Green
Lot 209 – from the family of champions Mashaallah and Mark Of Esteem as well as recent US Gr1 winner Secret Spice, this filly is a half-sister to Dubai winner and Gr3 Winter Derby winner Liquid Mercury, the Gr1 placed filly Captain Gambler and stakes placed Trip Poker
Lot 241 – this colt (bred like She's A Giver) is out of Var's Gr2 Merchants winner Varikate
Lot 243 – a ½ to Gr3 placed Gold Image, this filly's dam is an own sister to Gr2 winner Reflective Image
Lot 302 – this colt, whose dam is by top broodmare sire Dubai Destination, is out of a Gr3 placed half-sister to Somerset 1200 hero Sky Link and to the dam of Gr1 winner Mighty High
Lot 305 – this filly is out of a stakes placed winner of six from the family of top US filly Composure
Lot 317 – this filly is out of a winning ½ to the Oaks winning dam of Triple Tiara winner and champion Cherry On The Top (dam of very smart filly Blossom) and Gr3 winner Cherry On The Cake
Lot 323 – a ½ brother to speedy stakes winner Victoria Lavelle (also by a Roberto line sire), this colt (bred on the same cross as Singapore Sling) is out of a stakes winning Western Winter mare
Lot 453 – bred like She's A Giver, this filly is out of a Var ½ to Gr2 winner Reflective Image
Lot 479 – a ½ to 2 winners, this filly is out of a 3 time winning ½ to 3 graded stakes winners
Lot 480 – this colt is out of a full-sister to triple Gr3 winning Punta Arenas (who earned over R2 000 000) and his dam is also a ¾ sister to the stakes winning Plano
Lot 491 – this colt is a ½ to 3 winners notably Gr3 Matchem Stakes winner Reim
Lot 549 – this filly is out of a half-sister to 4 black type horses, notably Gr3 winner Doosra
Lot 562 – bred like She's A Giver, this colt is out of a seven time winning daughter of Var
POMODORO
Multiple Gr1 winning son of Jet Master, and Leading First Crop Sire of 2017 – 2018, his best progeny include Equus Champion and multiple Gr1 winner Return Flight and R4 million plus earner Cirillo
Lot 75 – a ½ to 2 winners, this colt is from the immediate family of multiple Gr1 winner Lillie Langtry – the dam of Horse Of The Year and seven time Gr1 winner Minding, further back this is the family of Arc winner Vaguely Noble and outstanding SA broodmare Lorehana
Lot 123 – this filly is out of a winning own sister to Gr1 Singapore Cup hero Lizard's Desire
Lot 402 – this colt is a ½ to 3 winners notably Gr2 Southern Cross Stakes winner Jo's Bond
Lot 532 – this filly, a ½ to 4 winners including Gr3 filly Miracle Rising, is out of a winning Al Mufti half to 2 stakes winners notably former East Cape star Stormy Appeal (whose four stakes winners include Gr3 Three Troikas Stakes winner Storm Destiny)
Lot 538 – a ½ to 4 winners, this colt is closely inbred to Rakeen and his five time winning dam is from the same female line as international Gr1 winners Magna Grecia, Frenchpark and Pearly Shells
POTALA PALACE
The Gr1 winning half-brother to Cape Fillies Guineas winner Front And Centre made a pleasing start with his first crops producing the likes of Gr3 winner Palace Of Dreams, and the likes of Senatla, Palace Chapel, Russian Prince, Dalai's Promise and Watsonia
Lot 326 – closely inbred to Sadler's Wells and Fall Aspen, this colt (whose granddam won the Gauteng Fillies Guineas) is a half-brother to 6 winners including the stakes placed Smart Colleen (dam of useful performer Miss Smarty Pants) and Hong Kong scorer Travel Comforts
Lot 328 – a full-brother to the smart Dalai's Promise, this colt is out of the stakes winner Competitor
PRESS STATEMENT
The grandson of Fastnet Rock, and half-brother to Gr1 winning 2yo Pressday, was a top class racehorse who was a Gr1 winner at two (JJ Atkins Stakes) and three (Caulfield Guineas), his first crop are yearlings
Lot 362 – a direct descendant in female line of the great Mumtaz Mahal, this filly is a half-sister to Australian Gr2 winner Tarka and her Galileo sired dam is a full-sister to Igugu
QUERARI
The Gr1 winning Oasis Dream half-brother to Quasillo and Quidura has quickly become one of SA's most consistent sires, with his progeny including the graded stakes winners Querari Falcon, Monks Hood, Wonderwall, Kangaroo Jack, Head Honcho and Pinnacle Peak
Lot 3 – this colt, whose Var sired dam won 3, is a half or full brother to 2 winners including Gr3 performer Laurent Du Var, and is from the same Pretty Polly female line as Irish Derby winning sire Soldier Of Fortune and top sprinter Double Form
Lot 39 – a half-sister to the useful Kahula, this filly is out of the Fort Wood sired SA Oaks winner Bedloe's Island – a half-sister to Gr1 winners Buy And Sell and Count The Money
Lot 46 – this filly is out of the very quick stakes performer Blizzard Belle, a full-sister to Gr2 Camellia Stakes winner Bichette and ½ sister to Gr1 Woolavington 2000 winner Viva Maria
Lot 55 – a half-brother to the very smart Blossom, this colt is out of Equus Champion and Triple Tiara winner Cherry On The Top and his second dam is Fort Wood's Oaks winner Carolina Cherry
Lot 81 – a ½ to six time winner Secret Star, this filly is out of a winning daughter of Western Winter and Gr3 winner Waterwise (also granddam of Gr3 Strelitizia Stakes winner Neptune's Rain)
Lot 120 – this filly, whose dam is intriguingly inbred to La Colorada, is a ¾ sister to Querari's Gr3 Tony Ruffel Stakes second Inexhaustible and her granddam is a half-sister to German champion and top class sire Lomitas (sire of Silvano and Danedream among others)
Lot 122 – this filly is out of a winning Silvano ½ to champion and Gr1 winner Historic Lady
Lot 128 – this colt is out of a 3 time winning Silvano ½ to 3 Gr1 winners, notably champions Succesful Bidder and Gold Flier, and second dam is former Broodmare Of The Year Loyal Linda
Lot 140 – this filly is a ½ to five winners notably Gr3 Victress Stakes winner Star Express and East Cape Horse Of The Year Star Burst Galaxy, from the family of star sprinter Bull Valley
Lot 179 – this colt is out of a 3 time winning ½ sister to Gr2 winner Hawker Hunter
Lot 180 – a ½ to a winner, this colt is out of a winning Dynasty ¾ sister to stakes winner Pecan Nut and half-sister to Gr3 winner Pessoa, second dam is top class performer Printemp
Lot 185 – this filly is a full-sister to millionaire and multiple graded stakes winner Kangaroo Jack
Lot 202 – a ½ to useful multiple winner Jamra, this colt is intriguingly inbred to the mare Courtly Dee – his own fifth dam and granddam of Green Desert, the grandsire of Querari, this is the same female line as US champion California Chrome and top class sire Arch
Lot 203 – a ½ to 2 winners, one of whom won six, this filly is out of a Western Winter half to 3 stakes winners, notably champion Monyela, the family of SA legend Horse Chestnut
Lot 217 – this colt is a full-brother to the smart stakes performer Spring Wonder and his dam is a winning half-sister to multiple Gr1 winning sire Crimson Waves and top class producer Sublime Surge, the dam of graded stakes winners Unparalled and Straight Set
Lot 226 – bred on the same cross as smart performers Melliflora and Arianos Shadow, this colt is out of a 3 time winning half-sister to Gr3 Kings Cup winner Pirate's Gold
Lot 264 – this colt is out of a winning Silvano ½ to the dam of stakes winning millionaire Red Barrel
Lot 287 – a ½ to a multiple winner, this filly is out of a 3 time winning half-sister to Met winner Martial Eagle and dual Algoa Cup winner Nebula, the family of Cherry On The Top and Blossom
Lot 357 – this colt is out of a half-sister to Gr1 SA Derby winner Seal and stakes winner Fifty Cents
Lot 366 – this filly is out of a Silvano daughter of Gr3 Prix du Cap winner Golden Shina
Lot 386 – this colt is out of a half-sister to Oaks winner Sweetie Pie and Queen Palm victress Treaj Pots and this is the family of US champion and multiple Gr1 winner Riboletta
Lot 423 – a full-sister to the useful Bonnie Dawn, this filly is out of a half-sister to Gr1 winner and sire What A Prospect and second dam is a stakes placed daughter of breed shaping sire Sharpen Up
Lot 425 – this colt is a full-brother to Gr2 Merchants runner up Romi's Boy and half-brother to the stakes placed In Limine and his winning dam is a daughter of outstanding sire Montjeu, second dam is a full-sister to Australian Gr1 winners Anacheeva and Headturner
Lot 433 – this colt's 3 time winning dam is a Silvano ½ sister to speedy stakes performer King James
Lot 436 – a ½ sister to 3 winners including stakes placed Another Idea, this filly is from the family of champions Whistling Dixie and Ice Cube as well as high class international performers Singapore Sling and Grand Emporium
Lot 452 – a ½ to 3 winners, this filly is out of a four time winning Elliodor mare who is very closely related to the dam (by Elliodor son Model Man) of Equus Champion Along Came Polly
Lot 474 – this colt is out of a winning Jet Master half-sister to Castle Tankard winner Roman Discent
Lot 499 – a ½ to a multiple winner, this colt is out of a half-sister to four stakes winners, including the dam of champion Al Qasr and Gr3 Cowdin Stakes winner Boston Bull
Lot 501 – out of a winning ½ to Gr3 performer Red Flame and ¾ sister to Gr1 Summer Cup hero Rudra, this colt's second dam is a 4 time winning own sister to triple Gr1 winner Set Afire and to stakes winner Aquila Rapax
Lot 531 – out of a stakes placed winner of three, this colt is from the outstanding female line of breed shaping sires Danehill, Machiavellian and Northern Dancer, as well as more recent Gr1 winners Ace High and Bouquet – Garni
Lot 561 – bred on the same cross as graded stakes winners Wonderwall and Cosmic Light, this filly is out of a Silvano ½ to stakes winner Triton and ¾ sister to Gr2 Premier Trophy winner Arion
ROCK OF GIBRALTAR
Cartier Horse Of The Year and seven time Gr1 winner whose 100 plus stakes winners include South African standouts Alboran Sea, Seventh Rock, Europa Point, and Gibraltar Blue
Lot 470 – closely inbred to Danehill, this colt's second dam is a half-sister to dual Gr1 winning 2yo and successful sire Dutch Art and to Gr2 Blandford Stakes winner Up
SILVANO
Triple Gr1 winner and multiple champion sire, whose over 20 Gr1 winners include hot young sire Vercingetorix, four Vodacom Durban July winners and current sensation Hawwaam
Lot 4 – this filly is a full-sister to Gr3 winner and Gold Cup second Balance Sheet and is bred on the same Silvano/Al Mufti cross as Gr1 winners Al Sahem, Kings Gambit and Bold Silvano
Lot 7 – a ½ to 3 winners, this filly is out of Gr2 The Fillies Nursery winner Waywest Goddess
Lot 8 – this filly, bred on the same cross as Gr1 winner Orchid Island, is a ¾ sister to July winning Equus Champion Marinaresco and hails from the family of Horse Of The Year Celtic Grove
Lot 9 – a ½ to a useful winner, this colt is out of the Oasis Dream sired Gr2 winning millionaire Welwitschia, and is from the same family as US Gr1 winner, and sire, Stroll
Lot 29 – another bred on the very successful Silvano/Al Mufti cross, this filly is a half-sister to 3 winners notably Gr1 SA Nursery winner Arabian Beat and her dam is a full-sister to champion and multiple Gr1 winning filly Arabian Lass, the family of champions Minding and Vaguely Noble
Lot 43 – bred on the same cross as high class performers Black Arthur and Wind Chill, this filly is out of Gr2 winner Bichette – a half-sister to Gr1 Woolavington 2000 winner Viva Maria
Lot 63 – a full-brother to the smart Daffiq, this colt is out of a full-sister to the dam of multiple Gr1 winner and Equus Champion Smart Call and half-sister to July winning champion and Gr1 sire Greys Inn, the family of Gr1 winners Melito, Zeditave, and Norzita
Lot 89 – this filly is out of a KZN Fillies Guineas winning Rock Of Gibraltar half-sister to Irish Gr3 winner Scream Blue Murder (dam of promising Irish 3yo Wargrave)
Lot 141 – this colt, who is from the family of top class sires Holy Roman Emperor, Night Shift, Flying Spur and Encosta De Lago, is out of a Smart Strike half-sister to Maine Chance Farms' multiple Gr1 winning sire Erupt and second dam is a Gr3 winning daughter of champion sire Caerleon
Lot 157 – this colt is a ½ to 4 winners notably Gr2 Selangor Cup winner Hard Day's Night and he is a ¾ brother to the stakes winning Silver Bluff
Lot 175 – bred on the same cross as Hawwaam, this filly, a half-sister to a multiple winner and ¾ sister to debut winner Padre Pio, is out of a winning half-sister to Gr2 winner Polar Moon, the family of Gr1 winning filly Roxanne
Lot 178 – an own sister to a multiple winner, this filly is out of the multiple Gr1 winning Equus Champion Princess Victoria, a ¾ sister to Gr2 Sceptre Stakes winner Princess Royal
Lot 184 – this colt, whose dam is a Gr3 winning own sister to SA Guineas winner Heir Apparent, is a full-brother to Gr1 winner Nightingale and Oaks runner up Oriental Oak
Lot 189 – a ¾ sister to Gr2 winner Miyabi Gold and stakes winner Konkola, this filly is a half-sister to Equus Champion and multiple Gr1 winner French Navy as well as the stakes placed Resolution
Lot 214 – another bred on the potent Silvano/Jet Master cross, this colt is a half or full brother to 3 winners, and he is out of Gr1 Garden Province Stakes winner Soft Landing
Lot 219 – this colt is out of a half-sister to Gr1 Hollywood Futurity winning sire Tactical Cat
Lot 234 – a direct descendant of La Troienne, this colt (bred like Hawwaam) is out of a winning Jet Master half-sister to millionaire Kavanagh from the family of Kentucky Derby winner Super Saver
Lot 257 – bred on the same cross as Gr1 winners Marinaresco and Nightingale, this colt is out of a winning half-sister to dual Gr3 winner Super Elegant
Lot 327 – this colt is out of a Jet Master own sister to Gr1 Empress Club Stakes winner Stratos
Lot 353 – this colt is out of a Jet Master half-sister to stakes performer Sacred Oration, from the family of major classic winners Canonero and successful sire/broodmare sire Kendor
Lot 563 – a half or full sister to 4 winners, this filly is out of a Pivotal daughter of champion Kundalini
SOFT FALLING RAIN
Deceased Equus Champion, from the family of Smart Strike, who won in 3 different countries, his early runners include Gr3 Pretty Polly/Ruffian Stakes second Gin Fizz and the winners Mawsool and Pierina
Lot 13 – this filly is out of a stakes winning daughter of Western Winter and Gr1 Thekwini Stakes winner Royal Fantasy (also dam of Gr3 winner Simply Royal and Guineas third Royal Crusade)
Lot 20 – this colt is a half-brother to 3 winners including Gr1 contender Pacific Trader and his Gr2 winning granddam is a half-sister to champion and Gr1 Cheveley Park Stakes winner Embassy
Lot 22 – this colt is out of the Rock Of Gibraltar sired Equus Champion and multiple Gr1 winner Alboran Sea, who accounted for the likes of Carry On Alice and Captain Of All during her career
Lot 33 – this filly is a ½ to 7 winners including Oaks winner Sweetie Pie and stakes winner Treaj Pots
Lot 67 – a ½ to 2 winners, this filly is out of Oaks runner up Dancing Lady, who shares her sire with the outstanding racehorse and sire Candy Ride
Lot 84 – a half-sister to a stakes placed winner of five, this filly is out of a full-sister to Gr3 winner Cherry On The Cake and half-sister to champion Cherry On The Top (herself dam of high class filly Blossom), the family of top class fillies Royal Aproval and Royal Fantasy
Lot 86 – this colt is out of a Gr2 winning daughter of multiple champion sire Silvano
Lot 96 – a ½ to 2 useful winners, this colt is out of the Montjeu sired Gr2 Gold Bowl winner Gorongosa
Lot 101 – a half-brother to the smart Protea Paradise, this colt is out of Gr2 Camellia Stakes winner Honorine, a daughter of the late, great sire Redoute's Choice, the family of French Derby winners Darsi and Almanzor as well as French classic winning filly Darjina
Lot 109 – this colt is out of a winning Western Winter ½ to dual Guineas winner and sire Noordhoek Flyer, the family of Gr1 winners Mukhadram, Mastery, Kirklees and Cherokee Rose as well as outstanding sire Volksraad and Dubai World Cup winner African Story
Lot 125 – this colt (bred on a similar cross to champion National Currency) is out of a full-sister to multiple Gr1 winner and King George runner up Hard Buck, from the family of champion Youth
Lot 134 – this colt is out of a Silvano sired stakes placed winner of seven
Lot 205 – this colt is out of a winning half-sister to Argentinian Gr1 winner King Of Sale, from the family of international stars Snow Bride, Lammtarra, Pour Moi and Awaasif
Lot 213 – this filly is out of a winning Fort Wood half-sister to Gr1 Paddock Stakes winner Badger's Gift
Lot 227 – a ½ to 2 winners, this colt is out of the Fort Wood sired Oaks winner Sweetie Pie
Lot 230 – this colt, a ½ to the stakes placed Souk, is out of a full-sister to SA Derby winner Bouquet – Garni, from the same female line as Northern Dancer, Danehill and Machiavellian, and the smart performers/sires Announce and Sarge (both sired, like Soft Falling Rain, by National Assembly)
Lot 233 – this colt is a ½ to 2 winners including Gr1 SA Fillies Classic winner Athina
Lot 270 – this filly is out of a Cape Cross half-sister to a pair of Gr2 winners and she is from the family of 2000 Guineas winner Refuse To Bend, Melbourne Cup winner Media Puzzle and Belmont Stakes victor Go And Go, her fourth dam is top racemare and matriarch Grenzen
Lot 281 – this colt, whose dam is a stakes placed Al Mufti half-sister to Gr3 winner Honour And Glory, is a half-brother to 6 winners notably high class Gr1 performer Noble Secret
Lot 315 – closely inbred to Danzig, this colt is out of a mare by champion Australian sire Fastnet Rock from the family of another Australian champion sire Last Tycoon, also the family of Cape Gr1 winning sire The United States and French classic winners Tie Black and Valentine Waltz
Lot 372 – this colt is out of a full-sister to Gr1 winner On Her Toes from a top family
Lot 387 – this colt is out of a High Chaparral half-sister to Gr3 winner Mega Boss
Lot 428 – this filly out of Gr3 Strelitzia Stakes second Lavish Gal is from the family of Gr1 winning champions Enchantress (dam of champion Laverna) and National Currency – both of whom, like Soft Falling Rain, were sired by National Assembly
Lot 508 – this colt, inbred to Storm Cat, is out of former Cape champion and Gr2 winner Rosier
Lot 515 – this filly is out of the Kahal sired Gr3 Starling Stakes winner Sarasota
TIME THIEF
Stakes winning Redoute's Choice ¾ brother to champion Laisserfaire, he made his mark in Australia as the sire of multiple Gr1 winner In Her Time and first local crop has yielded impressive debut winner Yessiricanboogie
Lot 547 – this colt is out of a four time winning daughter of Gr3 Champagne Stakes winner Waterwise, who is also the granddam of high class Gr3 winner Neptune's Rain, the great Party Time family
TOREADOR
Decased Gr1 performer by the great Danehill, left his mark as the sire of Gr1 winners Link Man and Bull Valley, millionaire Matador Man and graded winners Lazer Star, Jackodore and She's A Stunner, as well as British/German winner Misty Birnam
Lot 355 – a half-sister to 2 winners, this filly is out of Gr2 Ipi Tombe winner First Again
TRIPPI
The Gr1 winning champion sire is responsible for a long list of high class performers notably Gr1 winners R Heat Lightning, Inara, Lobo's Legend, Deo Juvente, For The Lads, Afrikaburn, and Real Princess, as well as Equus Champion Hammie's Hooker
Lot 78 – this filly, a ½ to 3 winners including the stakes placed Nima, is out of a full-sister to champion, and Gr1 winner and sire Kildonan, and she is closely inbred to US champion Forty Niner – as is the Trippi sired Gr1 winner R Heat Lightning
Lot 95 – a ½ to 2 winners, this filly is out of a winning half-sister to 4 black type performers notably multiple Gr1 winner and hot young sire Pomodor, second dam is Broodmare Of The Year and Fillies Guineas winner Golden Apple
Lot 119 – bred on the same cross as the sire's high class galloper Chimichuri Run, this colt is out of a Gr3 Magnolia Hcp winning own sister to Gr2 Camellia Stakes winner Eastern Greeting
Lot 159 – a ½ to a winner, this colt is a ¾ brother to stakes winner and Mercury Sprint second Night Trip and is from the top class family of Peintre Celebre (damsire of Trippi's Gr1 winner Afrikaburn), Protectionist, Stradivarius and Planteur
Lot 167 – this filly (bred on the same cross as Gr3 winner Tristful) is a half-sister to 3 winners notably exported Equus Champion and dual Gr1 winner Edict Of Nantes
Lot 171 – this filly is a ½ to 5 winners notably Gr3 winning filly Wheredowego
Lot 195 – this colt is out of a multiple stakes winning daughter of champion sire Jet Master
Lot 495 – this colt is out of a Fort Wood own sister to 2 stakes winners and half-sister to the exported multiple Gr1 winner Slumdogmillionaire, family of Aus Gr1 winner and sire Runyon
Lot 530 – from the family of Gr1 winner Gold Fever (damsire of Trippi's Gr1 winner R Heat Lightning), this colt is out of a Gr3 placed Var half-sister to Gr3 winner Dazzling Heights
Lot 565 – this filly is out of a stakes placed daughter of Gr3 winner Honour And Glory
TWICE OVER
European champion and four time Gr1 winner made a great start with his first crop producing multiple Gr1 winning champion Do It Again, triple graded stakes winner Doublemint and Gr1 Tsogo Sun Gold Medallion hero Sand And Sea
Lot 48 – a ½ to a winner, this colt is out of a winning ½ to New Zealand Gr3 winner Moozoon
Lot 68 – out of a winning Bernstein 3/4 to a stakes winner, this filly is from the same female line as world class fillies Pleascach, Spain, Sleepytime and Shuvee – to name but a few
Lot 137 – inbred to the great Nijinsky II, this colt, out of a stakes placed daughter of world leading broodmare sire Royal Academy, is from the same female line as international champions Generous, Treve, and Triptych – to name a few
Lot 142 – a half-brother to stakes winner Flying Myth and to the very promising filly Vandah's Spirit, this colt is out of a Gr3 winning Captain Al half-sister to champion sprinter Mythical Flight
Lot 239 – this filly is a half-sister to stakes performed fillies Beloved Country and War Path (dam of promising Fearless Warrior), and she is out of a stakes winning daughter of Rock Of Gibraltar
Lot 256 – this colt is out of a winning half-sister to Michael Roberts Hcp winner Wild Wicket
Lot 282 – a ½ to 2 winners, this filly is out of a winning ¾ sister to stakes winner Soul Master
Lot 286 – this colt is out of a winning Fastnet Rock daughter of Irish Oaks winner Vintage Tipple
Lot 330 – this colt is out of a winning own sister to the dam of stakes winning East Cape champion Widow's Lamp, from the family of champion National Bay
Lot 398 – out of a winning daughter of increasingly successful broodmare sire Jet Master, this colt's second dam is a winning own sister to Gr3 winner Cyber Case and half-sister to Equus Champion, globetrotting star and successful sire Jay Peg and the stakes winners Barrack Street and Epona
Lot 413 – a ½ to 2 winners, this colt is out of a Silvano half-sister to Gr2 performer Real Red
Lot 416 – this filly is a ½ sister to 2 winners notably Gr2 Post Merchants winner Varikate and her six time winning dam is a half-sister to the Gr1 placed stakes winner We Three
Lot 418 – this colt, out of a winning daughter of Gr2 winner Kiss Me Quick, from a top family
Lot 422 – bred on the same cross as the smart Second Request, this colt is a ½ to 3 winners including the smart Donny G, and is out of Ladies Mile runner up Ladonna
Lot 427 – a half-sister to 2 winners, including Langerman second Big Pleasure, this filly is out of a 3 time winning Captain Al mare from the family of multiple stakes winner Brigadier Parker
Lot 430 – out of a Gr3 placed daughter of Captain Al, this filly is directly descended in female line from Sex Appeal, dam of champions El Gran Senor and Try My Best, and former champion SA sire/broodmare sire Northern Guest (Sex Appeal is also ancestress of current international star Almond Eye)
Lot 441 – out of a Gr3 placed winner of four, this filly (a ½ to 2 multiple winners) this from the family of Gr1 3yo Marchingontogether, as well as international Gr1 winners Hernando, Palace Music and Johann Quatz
Lot 447 – this filly is out of a ½ sister to Gr2 winning millionaire filly Welwitschia
Lot 460 – this filly is out of a Galileo own sister to the dam of multiple Gr1 winner La Collina, the family of international Gr1 winners Oasis Dream, Kingman, Beat Hollow, Zenda and New Bay
VAR
Gr1 winning sprinter and dual champion sire of 2yos, his best includes champions Variety Club, Val De Ra, and Via Africa, and fellow Gr1 winners August Rush, Sommerlied, Normanz, Villandry and Contador
Lot 12 – this colt is out of a stakes winning daughter of six time Gr1 winning champion Dylan Thomas
Lot 17 – this filly is out of a winning half-sister to multiple Gr1 winning champion and top sprinter National Colour – dam of the Gr1 winning own brothers Rafeef and Mustaaqeem
Lot 32 – this filly, out of 10 time and Gr3 winner Azabu Park, is a half-sister to 3 black type performers including Gr3 winning filly Jet Set Go and the Gr1 filly Jet Trail
Lot 50 – this colt is out of a Galileo own sister to a Gr3 winner, and his Gr3 winning granddam is a Danehill own sister to champion and top class sire Holy Roman Emperor, the family of top class sires Encosta De Lago and Flying Spur as well as young Cape sire and dual Gr1 winner Erupt
Lot 66 – this colt is out of a ½ sister to champion Jeppe's Reef and dual Algoa Cup winner Disco Al and second dam is an Oaks winning daughter of champion sire Badger Land
Lot 71 – a full-sister to a R4-million yearling and multiple winner, this filly is also a half-sister to Gr3 Final Fling Stakes winner Cat And The Moon from the family of champion 2yo Kochka
Lot 94 – a three-parts sister to Var's Somerset 1200 winner Tar Heel, this filly is out of Gauteng Fillies Guineas winner Go Indigo, from the family of Gr1 winner and sire On Stage
Lot 99 – this filly is out of the closely inbred Gr2 SA Fillies Nursery winner Hidden Beauty
Lot 107 – a full-brother to a winner, this colt is a half-brother to Gr1 Computaform Sprint winner Attenborough, and his 4 time winning dam is a half-sister to Gr1 winner Give Me Five (dam of Gr3 winner Myfunnyvalentine)
Lot 113 – this colt is out of a winning Jet Master half-sister to Gr2 winning millionaire Blake
Lot 126 – an own brother to a multiple winner, this colt is out of a five time winning half-sister to Gr1 performer and Gr3 Victress Stakes winner Jet Aglow
Lot 127 – this filly, who is from the same female line as Via Africa, is out of a winning own sister to champion sprinter Mythical Flight and half-sister to speedy Gr3 winner Mana Mou (dam of stakes winner Flying Myth and the very promising Vandah's Spirit)
Lot 133 – a half-sister to 3 smart winners, including the stakes winner Twilight Trip, this filly is out of Gr1 Majorca Stakes dead – heater Love Is In The Air – an own sister to Gr3 winner Careful Landing, and she is bred on the same Var/Jet Master cross as smart performers Rivarine and Vardy
Lot 154 – a half-brother to 5 winners including a US stakes performer, this colt is out of an A P Indy half-sister to Kentucky Derby winner Monarchos, from the family of outstanding stallion Dynaformer
Lot 186 – a ½ to 4 winners including a stakes performer, this filly is out of champion Rat Burana
Lot 194 – a ½ to 2 winners, this filly is out of a Sadler's Wells daughter of Irish Gr1 winner Necklace and her dam is a ¾ sister to Sadler's Wells sired Gr1 winners Opera House and Kayf Tara
Lot 332 – a half-sister to promising 2yo Green Laser, this filly is out of a half-sister to triple Gr1 winning champion and promising sire Capetown Noir and Gr3 winning millionaire Across The Ice
Lot 408 – this filly, bred like Rivarine and Vardy, is out of Gr3 winner Jet Set Go – a daughter of multiple champion sire and top class broodmare sire Jet Master and Gr3 Jacaranda Handicap winner Azabu Park
Lot 446 – this colt's dam is a half-sister to 2 stakes winners including Gimcrack Stakes winner Blaine
Lot 455 – this colt is out of a stakes winning Jallad half-sister to Var's champion and multiple Gr1 winning daughter Val De Ra (dam of stakes winner Miss Frankel) and to 3 other stakes winners
Lot 462 – this colt, a ¾ brother to Gr2 performer Varumba and own brother to the useful Varbration, is a half-brother to 3 stakes horses notably Gr3 winner and Gr1 performer Mambo Mime and the dam of the smart Vontreo, second dam was a Gr3 winner in France
Lot 475 – this colt is out of a half-sister to 3 graded winners, notably multiple Gr1 winner Shadow Dancing (dam of Gr1 winner Thunder Dance) and Cape Guineas winning champion sire Captain Al
Lot 541 – this colt (bred like Gr1 performer Varallo) is out of a five time winning Western Winter sister to the dam of stakes winner Tambalang and Gr2 performer Split Decision
VERCINGETORIX
An Equus Champion, and winner of Dubai's Gr1 Jebel Hatta, he has made an excellent start with his first 2yo winners including Fearless Warrior, Hooves Of Troy, Viking Moon, Astrix, Padre Pio and African Warrior
Lot 27 – a ½ to a winner, this colt is out of a stakes placed half-sister to high class performers Jet Set Go and Jet Trail and second dam is Gr3 Jacaranda Handicap winner Azabu Park
Lot 92 – bred on a similar cross to the likes of Al Sahem, Bold Silvano and Kings Gambit, this colt is out of a ½ sister to Gr3 winner Golden Shina, who was sired by Vercingetorix's broodmare sire
Lot 138 – this filly is a half-sister to 3 stakes winners including Gr1 Summer Cup winner Liege and sire Lance and she is out of Gr1 Garden Province Stakes winner Lyrical Linda
Lot 143 – bred on a similar cross to Gr1 winner Do You Remember, this colt is out of the Gr1 placed Masked Lady and is from the same family as multiple Gr1 winner The Monk
Lot 168 – this filly is out of a winning half-sister to 2 stakes horses and to the dam of Gr3 winner Red Chesnut Road and second dam is Gr1 Empress Club Stakes winner Fading Light
Lot 206 – this colt is a ½ or ¾ brother to 9 winners notably Gr3 King's Cup winner Pirate's Gold
Lot 223 – this colt is a half-brother to 2 winners including Gr3 performer Celestina
Lot 371 – a ½ or ¾ brother to 5 winners, this colt is out of a ½ to Gr1 winner Gilded Minaret
Lot 404 – this colt is out of a winning half-sister to Gr1 Gold Cup winner Wavin' Flag, who shares his sire Silvano with Vercingetorix
Lot 484 – a ½ or ¾ sister to 6 winners, including the stakes placed Dancinginthedesert, this filly is out of multiple stakes winner Pay The Piper from the family of champions Kochka and Jay Peg
Lot 496 – this filly is out of a daughter of Fillies Guineas/Oaks winner Joshua's Princess
Lot 513 – this filly is out of a Gr3 placed Elusive Quality half-sister to Thukela Handicap winner Lehaaf
VISIONAIRE
Gr1 winner and Leading 1st and 2nd season sire, his best includes Gr1 winner Takingthepeace and fellow graded stakes winners Africa Rising, The Thinker, Heaps Of Fun and Royal Pleasure
Lot 36 – out of Badger Land's Gr3 winning daughter Bardot, this colt is a half-brother to 7 winners notably Gr1 winner Viva Maria, Camellia Stakes winner Bichette, Gr1 performer Warrior's Rest and the speedy stakes placed nine time winner Blizzard Belle
Lot 79 – this colt is out of a stakes placed own sister to the Gr3 placed dam of Equus Champion and Gr1 winner Lady In Black, and his dam is also a ½ sister to Gr1 winner Talahatchie
Lot 91 – this filly is out of the Al Mufti sired Gr1 Golden Slipper winner Gilded Minaret
Lot 197 – closely inbred to Gone West, this filly is a ½ to Aquanaut Hcp winner Tambalang
Lot 204 – a half-sister to 4 winners, including the stakes winner She's A Pippa, this filly is out of Jet Master's Gr2 Gerald Rosenberg Stakes winner She's On Fire, and her third dam won the July
Lot 253 – closely inbred to Gone West, this colt is out of a ½ sister to exported Gr1 winner Lobo's Legend and second dam is Ladies Mile winner Gone Wild
Lot 290 – another inbred to Gone West, this colt is out of a winning daughter of Gr1 winner Fair Maiden
Lot 544 – this filly is a half-sister to 6 winners including stakes winning filly Sammy Jo
WHAT A WINTER
Four time Gr1 winner and triple Equus Champion, the former Leading First Crop Sire has made a bright start with his early crops producing such as Gr1 winner Clouds Unfold and high class stakes winners Dutch Philip, Magical Wonderland, Fort Winter and Fabian
Lot 40 – this filly is out of a Dynasty stakes winning half-sister to 2yo stakes winner Cool Zone
Lot 53 – this colt is a ¾ brother to Gr3 performer Mr Roy, and is also very closely related to Gr1 winners Red Ray, Nania and Set Afire, all of whom, like What A Winter, were sired by Western Winter
Lot 82 – this colt is out of a stakes placed own sister to Gr3 performer Dame Kelly, and ½ sister to the graded stakes winners Olympic Owen and Speedy Suzy, granddam is a speedy Gr3 placed daughter of breed shaping sire Kingmambo and this is the family of champion US sire Exclusive Native
Lot 100 – this colt is out of a winning Silvano half-sister to Gr2 SA Fillies Nursery winner Hidden Beauty
Lot 164 – this colt is a half-brother to five winners including Selangor Cup winning sire Gold Standard and Allez France Stakes winner Gottalottaluv , second dam is champion racemare Olympic Duel the family of Western Winter sired graded winners Northern Heritage and Supreme Sunset
Lot 170 – this filly is a half-sister to 7 winners notably the July winning Equus Champion Heavy Metal and her winning dam is a ½ to the stakes winning dam of Gr1 winner For The Lads
Lot 172 – a half-sister to a useful multiple winner, this filly is out of a four time winning half-sister to Gr1 Champions Cup winner African Appeal and the stakes winning dam of exported Gr1 winner Brave Mary
Lot 173 – out of a stakes placed winner of three, this filly is from the family of high class graded stakes winners Bull Valley and Star Express, and Horse Of The Year Model Man
Lot 200 – a ½ to 2 winners, this colt is out of a Gr3 placed own sister to the dam of high class East Cape filly Madame Speaker and ½ sister to Gr1 Premier's Champion Stakes second Beacon Flare
Lot 225 – a ½ to 2 winners, notably Gr3 performer So Var, this colt is out of Gr2 Camellia Stakes winner Surabi – a half-sister to US and SA Gr1 winner Gypsy's Warning and millionaire Romany Prince
Lot 238 – out of a full-sister to the dam of promising Green Laser, this colt is out of a winning half-sister to triple Gr1 winning champion and promising sire Capetown Noir and the Gr3 winning millionaire Across The Ice – both of whom, like What A Winter, were sired by Western Winter
Lot 285 – out of a Fillies Guineas third (and ½ sister to stakes winner Firdoas) daughter of champion sire and top class broodmare sire Flying Spur, this colt's second dam is a ½ to SA and Dubai Gr2 winner Mujaarib
Lot 309 – this filly is out of a 3 time winning ½ to Gr2 Umkhomazi Stakes winner Silver Age
Lot 311 – this colt is an own brother to a multiple winner and ½ to the stakes placed Watsonia
Lot 320 – a ½ to 2 winners (one of whom won five), this filly is out of a winning ½ to Gr3 Cape Classic second Lostintranslation, granddam is an own sister to Met winner Angus
Lot 324 – a half-brother or full to 2 winners, this colt is out of a Gr3 placed half-sister to Gr2 winner Chant De Nuit
Lot 342 – a half or full sister to 3 winners, this filly's dam won four up to 1800m
Lot 360 – this filly is a full-sister to Listed Ibhayi Stakes winner Fabian, and is out of a winning own sister to champion and Gr1 winner Laverna and the Western Winter sired Gr3 winner Nevvay
Lot 368 – this filly is out of a 3 time winning half-sister to stakes winning filly Scripture
Lot 382 – this filly is out of a winning Jet Master mare who is very closely related to Jet Master's multiple Gr1 winning daughter, and promising broodmare, Ebony Flyer
Lot 388 – this filly is out of Gr3 Cape Fillies Nursery winner Hot Affair
Lot 439 – a half-brother to the very speedy stakes winner Queen Laurie, this colt is out of Gr3 Magnolia Handicap winner Maggie Kay and second dam is a half-sister to multiple Gr1 winner Ingleside
Lot 449 – a half-sister to a useful winner, this filly is out of a winning Jet Master half-sister to Gr2 winning sprinter Greek Warrior and is from the family of Cape Guineas winning filly Little Ballerina
Lot 457 – this colt is out of the remarkably tough and durable ten time winner Money Surger
Lot 465 – this colt is out of a winning half-sister to Gr2 winning millionaire Kangaroo Jack
Lot 518 – this filly, out of a speedy four time winning daughter of Jet Master, is a half-sister to 5 winners notably Gr2 performer and millionaire Captain And Master
Lot 537 – a half-sister to a stakes placed filly, this filly's dam (a daughter of dual Broodmare Of The Year Stormsvlei) is a half-sister to triple Horse Of The Year Pocket Power and the latter's Met winning own sister River Jetez (dam of Gr3 winner Rivarine}
Lot 543 – this filly is out of a ½ to 4 stakes horses, notably East Cape Derby winner St Tropez and Gr1 performers Sun Screen and Tan Can, the family of champion filly Ethereal Lady
Lot 555 – this filly is out of a winning Var half-sister to Gr1 winning sprinter Fly By Night and to Gr3 Diana Stakes runner up Come Fly With Me
WHERE'S THAT TIGER
Deceased son of Storm Cat whose small number of runners in South Africa included such high class performers as See You Tyger, Samurai Blade, Tiger's Touch, Tiger Quest and Supertube
Lot 476 – a ¾ brother to the useful Kamaishi, this colt is out of a full-sister to Gold Circle Derby winner Winter Weather and is from the same Party Time family as champions In The Fast Lane, Trademark and Let's Rock'N Roll
WILLOW MAGIC
Winner of both the Gr1 SA Nursery and Gr2 Dingaans, this millionaire, whose first crop are yearlings, is a son of outstanding stallion Dubawi whose over 30 Gr1 winners include the Gr1 sires Makfi and Poet's Voice
Lot 248 – a ½ to 4 winners, this filly is out of a seven time winning daughter of Jet Master who is bred on very similar lines to champion sprinter and multiple Gr1 winner Mythical Flight
Lot 341 – a half-brother to a smart winner, this colt is out of a ½ sister to two group winners in Australia and is from the family of Gr1 winners Danendri, Faint Perfume and Copperama
Lot 356 – a colt out of the Kahal sired Gauteng Fillies Guineas winner Fisani
Lot 374 – this colt is out of a winning half-sister to Fisani, and to Gr1 placed Catmandu and the stakes placed ten time winner Ecole Militaire, the female line of Epsom Derby winners Sir Percy and Teenoso
Lot 383 – this colt is a half-brother to 4 winners including Gr3 Flamboyant Stakes second Lala
Lot 426 – out of an own sister to Met winner Angus, this colt is a half-brother to six winners notably Euphoria – a stakes placed winner of seven
Lot 429 – out of Gr3 Magnolia Handicap winner Lee Danzig, this filly is a half-sister to five winners including Gauteng Guineas third place – getter Malak El Moolook
Lot 448 – this filly is out of a winning ¾ sister to Malak El Moolook and both her second and third dams are stakes winners
Lot 461 – a ½ to 3 winners, this filly's Galileo sired dam is a full-sister to the dam of Gr2 Ipi Tombe Challenge winner Intergalactic from the female line of Go For Gin and Pleasant Tap
Lot 487 – this filly is out of an own sister to the stakes placed Saucy Savannah and half – sister to Gr1 winner Pick Six, granddam is a half-sister to Thekwini Stakes winner Bridal Paths
Lot 488 – this colt is out of a four time winning half-sister to dual Gr1 winner North By Northwest
WYLIE HALL
By the late, great Redoute's Choice and from a red hot family, this multiple Gr1 winner made a cracking start with his early winners including Gr3 Protea Stakes winner Twilight Moon and debut winners De La Cruz and Wily Lass
Lot 6 – this filly is out of a four time winning half-sister to Gr3 winner My Choice, damsire Greys Inn is a son of Zabeel – who is damsire of the Redoute's Choice star Samantha Miss
Lot 278 – this colt is a half-brother to multiple stakes winner A Time To Dream
Lot 391 – a ½ to 2 winners, this filly is out of a winning own sister to the Gr3 winning dam of Gr2 Emerald Cup winner and millionaire Alimony, second dam is a ½ to champion Potomac
Lot 407 – a half-brother to the smart Dancing Queen (3rd in the Gr3 Sycamore Sprint), this colt is out of a winning own sister to graded stakes winner Thundering Jet from the family of hugely influential sire Grey Sovereign
Lot 473 – this colt is a half-brother to 4 winners notably KZN Guineas Trial winner Sir David Baird and his Gr1 placed stakes winning dam is a half-sister to Gr1 winners Argonaut and Finest View
Lot 481 – this filly is out of a full-sister to multiple Gr1 winning champion, and sire, Argonaut
‹ Previous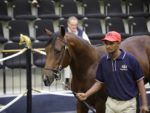 Currency Conquers