The Coastal Jockeys Association fully supports any initiative aimed at promoting a positive image of the sport of horseracing.
This was the response from a spokesman for the association after media reports of a potential controversy surrounding this weekend's 'no crop races' at Greyville and Turffontein.

An article carried originally on Tabnews – read here –  said a petition regarding Race 11 on Champions Day, the Hands 'n Heels MR80 Handicap, was handed to Gauteng chief stipendiary steward Lyle Anderson last Saturday. It had apparently been signed by fourteen of the jockeys riding at Turffontein that day.
The Coastal Jockeys Association has distanced itself from any suggestions of a boycott or a lack of discipline on the part of its members in relation to these races.
According to information flowing from the association, approaches were made to both the NHA and Gold Circle in advance of entries for the race scheduled for Greyville on Friday evening.
The purpose of the approach from the CJA was for more information and to lobby for permission to run the races with riders carrying their crops.
The spokesman said that members of the CJA were willing to participate in the 'no crop' races on the basis that crops were to be carried with both hands on the reins, and also with an option to switch crop hands if deemed necessary.
It is a general consensus of opinion that crops are an integral element of a jockey's equipment and facilitates proper control of the horse from mounting in the parade ring prior to the race, right through to the dismount after the race.
"Our members are independently employed jockeys who have a right to accept or reject riding engagements. We found that in the absence of more specific and detailed guidelines for the 'no-crop' races from both the operator and the racing regulator, that our members risked an infringement of the rules without full capacity to understand the parameters. In the circumstances we chose, as professionals and in our own and the public interest, to rather encourage further consultation and engagement on the part of all stakeholders to clarify any issues and to broaden the scope of the discussions to consider the inclusion of the crop on the basis suggested."
The spokesman for the Coastal Jockeys Association said that they had no comment to make on the petition related to the 'no crops' race carded for Turffontein on Saturday.
‹ Previous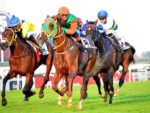 SA Derby Winner Shock