The Grand National won in style by the 9yo Tiger Roll on Saturday is an historic spectacle of a race that some love and others hate.
On Saturday one horse was sadly lost.
Following a fall at the first fence, Up For Review was immediately attended by veterinary professionals. Sadly, he had sustained a fatal injury.
Dickon White, who runs Aintree Racecourse as North West Regional Director for Jockey Club Racecourses, said:
"As a sport of animal lovers, we wanted every horse to come home and sadly that's not been the case with Up For Review.
"All of us at Aintree extend our sympathies to Andrea and Graham Wylie and the team behind the horse. You have to go back to 2012 since we lost a horse in the Grand National, thanks in part to the huge amount of effort and investment we put into horse welfare. However, while you cannot remove all risk from our sport, we will analyse what happened and leave no stone in doing so."
 Some stats worth considering:
99.47% of runners in British racing complete their race without incurring any long-term injury. Moreover, the fatal injury rate has fallen by one third in the last 20 years to just 0.2%
Faller rates during jump races have decreased to an all-time low of 2.53%. That is a decrease of 30% in the last 20 years as a result of initiatives to make racecourses and jump racing safer
There had been no fatal injury in the Grand National since 2012, after which £1.5 million worth of changes were made to the Grand National Course including swapping the wooden cores of fences to an EasyFix plastic or natural birch
Sport horses are at no greater risk of injury when running and jumping on a race course, than when turned out in the field – a study by Liverpool University found that 62% of traumatic injuries in sport horses occurred in the field, compared to 13% while being ridden.
‹ Previous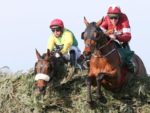 Tiger On A Winning Roll