Richard Fourie's ride on Green Jacket at Durbanville on 16 March 2019 caught the attention of the Stipes.
He rode Green Jacket (7-1) in the  MR 72 Handicap and finished a 3,55 length fourth to Red Rascal.
Green Jacket subsequently won at 9-2 on Saturday at the same venue.
A summary of the Board's review regarding Jockey R Fourie's riding of GREEN JACKET is, inter alia, as follows:
The scope of our review was limited to a distance of about 100m (450-350m) and whether his perceived lack of vigour was reasonable given the circumstances of this race
GREEN JACKET, which was dropped out from a wide draw, was last on the rail approx. 15 lengths behind the leader on the last part of the bend with the race run at a fast early pace.
Shortly after turning into the straight (500m) KING OF ACES, which was racing ahead of and to the outside of GREEN JACKET, shifted inwards and crossed GREEN JACKET.
GREEN JACKET was forced to ease momentarily losing some momentum and ground to the field.
Between the 450 and 350m which was our concern regarding this ride, Jockey R Fourie appeared to be not as vigorous as expected at first glance.
However, on the review it appeared that Jockey Fourie had no obvious and apparent clear run ahead.
The video evidence of this portion of the race showed he had decided to switch to the outside of the field for the only obvious run.
DAYONAUT, which raced ahead of and some two horse widths to the outside of GREEN JACKET was hanging in and began to shift inwards despite not improving due the gelding choking up in running and when examined post race was found to be making an abnormal respiratory noise by the Vet.
Jockey Fourie was therefore compromised and had to restrict his ride until DAYONAUT was sufficiently clear in order to cross behind DAYONAUT and found clear running.
Once he was able to move out his ride was vigorous and acceptable.
‹ Previous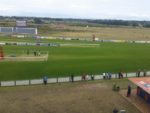 Back To Kenilworth Today