Justin Snaith confirmed this week that Do It Again's SA Champions Season priority would be the defence of his Vodacom Durban July crown.
He is also looking forward to reigning Equus Horse Of The Year Oh Susanna's raid of Turffontein on Saturday for the Grade 1 HSH Princess Charlene Empress Club Stakes over 1600m.
Do It Again was magnificent as a three-year-old and has developed into a monster of a horse this season. The Twice Over gelding is likely to have a titanic clash with his arch rival Rainbow Bridge in the July and the outcome will almost certainly decide this season's Horse Of The Year title. Rainbow Bridge's chief Champions Season target became a forgone conclusion when purchased in training by owning and breeding doyen Mike Rattray, whose lifelong dream has been to win South Africa's greatest race.
Snaith's only uncertainty at present is whether Do It Again will have a pipe opening run in the Drill Hall Stakes on Champions Season opening night, Friday May 4. His definite targets are the Grade 1 wfa Rising Sun Gold Challenge and the July.
There will also be an Equus Award-deciding clash of the titans in the Rising Sun between Do It Again and Soqrat.
Do It Again is in pole position to be named Equus Champion Miler, being the winner of the Grade 1 L'Ormarins Queen's Plate and the Grade 2 Green Point Stakes.
However, Soqrat was a narrow runner up in the Queen's Plate and has won two Grade 1 miles, the Cape Guineas and the wfa HF Oppenheimer Horse Chestnut Stakes. Their Rising Sun clash on June 8 will likely decide the Miler award.
Snaith said Do It again had been doing very well since arriving at Summerveld.
He also has high hopes for his other two July candidates, Doublemint and Magnificent Seven, and was particularly bullish about the latter.
He said, "They are both well weighted and I intend keeping them well weighted. Doublemint is doing well and will likely run in the WSB 1900. Magnificent Seven has an 80% chance of going in that race but I might try and find something a bit further, as he is better over more ground. He is an all rounder and is doing really well. He has taken to Durban like a duck to water. They are two dark horses, but won't be dark horses come race time. Magnificent Seven's current July price is particularly ridiculous."
Magnificent Seven won the Grade 2 New Turf Carriers Stayers over 2850m on Sun Met day. However, Snaith said the winner of this race was always severely punished, so he was viewing the Gold Cup as a bonus race to be considered later. Magnificent Seven received eight points for that win and went to 104, the same rating as Doublemint.
Snaith said a stayer to watch out for though would be Strathdon, "He is going to be a big runner in the Champions Season staying races."
He said raiding Johannesburg with Oh Susanna would be possible from Summerveld. However, he wondered whether she had been at Summerveld for long enough to be able to deal with the altitude factor.
Summerveld is approximately a third of the altitude of Jo'burg, but she has only been there since March 23. He said, "Her work has been phenomenal, although there has been a lot of rain, so she did miss two days work. Her run in the Met can be ignored as she was carved up and returned lame with slices on her back legs." He was not concerned about the over-racing antics she has displayed in recent starts. He pointed out the pace of races in Johannesburg was generally fast enough.
Oh Susanna's program after Saturday is still in the air.
Kasimir will start fast work next week at Summerveld and Snaith might look for a warm up race before running him in the Grade 1 Mercury Sprint on July 27.
He said Silver Maple was nicely handicapped. He said if he ran well in his opening race the Tsogo Sun Sprint would then be targeted. He said, "I saved him for the Durban season."
He continued, "Juniper Spring is a very nice three-year-old sprinter who will get a three-year-old allowance in the Poinsettia and this will be a very nice race for her. If all goes well there she will go for the SA Fillies Sprint."
He said, "Snowdance will also go for the SA Fillies Sprint. The Queen's Plate took a lot out of her so I rested her after the Majorca and now have her the best I have had her since her three-year-old season. She has been unlucky and is not done yet."
Snaith then spoke about his three-year-olds, "Bunker Hunt will only come into his own over 2000m, so he will need the outing in the KRA Guineas and then be ready for the Daily News where he could be competitive.
Madonna will run in the East Cape Oaks and if she runs well she will go for the Woolavington 2000.
Silvano's Pride ran a good race in the Umzimkhulu as she is not a 1400m horse. She had it all to do and was on the wrong leg the whole way in her first try at a right hand track so under the circumstances it was a good effort to finish a close third. She can't carry on doing it the hard way from the front though, so I want to try and teach her to settle."
Snaith said he had his best ever two-year-old crop and had brought some of them to KZN. He said the best of them would avoid the Scottsville Festival Of Speed meeting and go for the big Greyville two-year-old features.
www.goldcircle.co.za
‹ Previous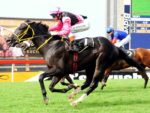 De Kock's Bunch Of Five Today