Some of the country's top horses, including Sun Met winner Rainbow Bridge and Vodacom Durban July and L'Ormarins Queen's Plate winner Do It Again, could celebrate the opening meeting of Champions Season 2019 at Greyville in Durban on Friday, May 3.
The two equine stars are among the 25 entries for the R500 000, Grade 2 Independent On Saturday Drill Hall Stakes which, together with the R600 000, Grade 2 KRA Guineas and R500 000, Grade 2 KRA Fillies Guineas, raise the curtain on the three-month festival of racing operated by Gold Circle from May to July that incorporates the world-acknowledged R4.25-million, Grade 1 Vodacom Durban July.
R500 000 1400m (Turf)
DRILL HALL STAKES (Grade 2)
11
Africa Rising
Sean Tarry
107
23
Basilius
Tobie Spies
96
9
Captain And Master
Sean Tarry
100
4
Cirillo
Sean Tarry
114
20
Do It Again
Justin Snaith
125
25
Eyes Wide Open
Glen Kotzen
111
8
Infamous Fox (AUS)
Candice Dawson
103
2
Lady In Black
Dennis Drier
117
18
Matador Man
Sean Tarry
111
6
Naafer (AUS)
Mike de Kock
96
5
Nafaayes (AUS)
Mike de Kock
106
16
National Park
Yvette Bremner
117
22
New Caledonia
Geoff Woodruff
101
17
Rainbow Bridge
Eric Sands
124
1
Red Chesnut Road
R A Hill/S R Hill
101
24
Roy Had Enough (AUS)
Frank Robinson
109
13
Sand And Sea
Dennis Drier
105
7
Sniper Shot
Paul Lafferty
106
12
Social Order
Sean Tarry
101
15
Socrates
Shane Humby
94
21
Tribal Fusion
Shane Humby
106
3
Undercover Agent
Brett Crawford
120
10
Will Pays
M G Azzie/A A Azzie
112
19
Wynkelder
Tony Rivalland
100
14
Zouaves
Geoff Woodruff
109
(25)
Rainbow Bridge, from the stable of Eric Sands and the Justin Snaith-trained Do It Again will be making their first track appearances since filling the first two places in the Sun Met and are both aimed at the country's premier race on the first Saturday in July.
If confirming their participation, they could be joined by the fourth-placed Sun Met finisher Undercover Agent as well as Gauteng Guineas winner National Park and Cirillo, the runner-up to the star Mike de Kock winner of the Horse Chestnut Stakes, Soqrat. The Pomodoro colt Cirillo from the Sean Tarry stable has also been nominated for the KRA Guineas.
The two three-year-old classic races have also drawn strong entries with the Australian-bred colt Soqrat, that heads the current "status log" among the colts, being a major draw card having also run second in the L'Ormarins Queen's Plate and third in the Hawaii Stakes.
R600 000 1600m (Turf)
KRA GUINEAS (Grade 2)
14
Alyaasaat (AUS)
Mike de Kock
105
4
Approach Control
Candice Dawson
92
13
Basilius
Tobie Spies
96
3
Bunker Hunt
Justin Snaith
100
8
Charles
Brett Crawford
104
6
Chijmes
Gary Alexander
97
15
Cirillo
Sean Tarry
114
18
Hudoo Magic (AUS)
Brett Crawford
92
10
National Park
Yvette Bremner
117
11
Protea Paradise
Mike de Kock
92
7
Samurai Warrior
Weiho Marwing
105
12
Solid Gold
Michael Roberts
90
17
Soqrat (AUS)
Mike de Kock
124
2
Thanksgiving
Duncan Howells
97
16
Triple Fate Line
R A Hill/S R Hill
87
5
Tristful
Tony Rivalland
94
1
Twist Of Fate
Joey Ramsden
115
9
Vikram
Andre Nel
82
(18)
Among the 18 entries there is also the winner of the SA Derby Samurai Warrior as well as runner-up to Atyaab in the Investec Cape Derby, Charles, and Politian Stakes winner Twist Of Fate.
Among the 21 entries for the KRA Fillies Guineas is the runner-up to Return Flight in the SA Oaks, Blossom, and the exciting De Kock-trained Australian-bred filly Nafaayes that won the Gauteng Guineas, finished second to Return Flight in the SA Fillies Classic and third to Camphoratus, surprise winner of the Grade 1 Princess Charlene Empress Club Stakes at Turffontein last weekend.
R500 000 1600m (Turf)
KRA FILLIES GUINEAS (Grade 2)
16
Arianos Shadow
Frank Robinson
93
19
Beat It
Duncan Howells
84
1
Bize
Alec Laird
97
5
Blossom
Ormond Ferraris
103
12
Celtic Sea
Sean Tarry
106
8
Chitengo
Alec Laird
95
21
Front And Centre
Brett Crawford
112
15
Generous Lady
Paul Lafferty
93
2
Lana Belle
Adam Marcus
79
3
Mazari
Tobie Spies
76
11
Moon In June
R A Hill/S R Hill
77
4
Nafaayes (AUS)
Mike de Kock
106
6
Petra
R A Hill/S R Hill
83
20
Princess Irene
Brett Crawford
95
7
Railtrip
Chesney van Zyl
91
14
Running Brave
Paul Matchett
104
17
Santa Clara
Candice Bass-Robinson
103
18
Silvano's Pride
Justin Snaith
106
13
Strawberry Wine
Glen Kotzen
82
10
Temple Grafin
Glen Kotzen
107
9
Waiting For Change
R A Hill/S R Hill
78
(21)
In that race just ahead of Nafaayes was the Gauteng Fillies Guineas runner-up Running Brave while the Cape entries include the winner of the Jamaica Handicap at Kenilworth in January, Princess Irene from the Brett Crawford stable that has also nominated their Cape Fillies Guineas winner Front And Centre that followed that up with a third place behind Clouds Unfold in the Grade 1 Majorca Stakes.
Supp Entries Closes : 11:00 Tuesday 23 April 2019
Declarations Close: 11:00 Wednesday 24 April 2019
‹ Previous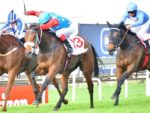 Camphoratus Goes To 105