Following the legislation passed on 1 November 2018 [Regulation (EU) 2016/1012 [Article 34], the General Stud Book of Southern Africa applied for recognition in January 2019 and the application was approved on 26 February 2019.
On 3 April 2019 South Africa was included on the list of breeding bodies published under Articles 34(1) and 64(4) of Regulation (EU) 2016/1012 [Article 34].
The implication of this is that horses from non-listed countries are not allowed to enter any EU-country or to be registered in that country.
For example, a Thoroughbred exported from South Africa to France would not be allowed to enter France as a Thoroughbred from South Africa if South Africa were not listed.
Thhis horse would also not be permitted to be registered in the French Thoroughbred Stud Book.
Press Release issued by National Horseracing Authority of South Africa on 11 April 2019
‹ Previous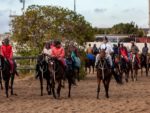 Milnerton Security – Action Implemented