Vaal trainer Stanley Ferreira has passed away at the age of 66.
A man who started in the racing game at the age of 22 and left the sport twice for short intervals, he told the Sporting Post years ago that 'once in your blood, the game of horse racing never leaves you.'
Stanley started in racing in 1974 after his military service and a brief career at Barclays Bank.
He was a friend of Butch Roberts, the late Michael Roberts' brother, and told him about his dream of becoming a trainer.
In 1974 Butch talked his brother into employing his friend as an assistant.
Stanley remained with Roberts until 1978 when he decided to apply for his own licence. The Jockey Club put a spoke in the wheel, though, saying he needed to remain an assistant for at least another six months.
"I'd already taken over old man Lennie Howe's yard at Roseacre, about 7km from Turffontein. We'd walk the horses down the main street to the track in those days Lennie was in his early 80s and wanted to retire, but we made a deal that I'd carry on under his name. So my first winner – Steel Whistle, with Stephen Jupp aboard, for Robert Garner's mother Peggy – was under the lap!"
Stanley took a break in 1989 and returned two years later. He again took a sabbatical in 1995 and returned to 'where'I am happiest', as he described horseracing, in 2009.
His most successful season was in 1994/5 when he had 167 horses and enjoyed the most winners in South Africa.
He achieved great success with his main patron and long-time friend Roland Bouwer.
We extend our sincere condolences to his family and friends.
‹ Previous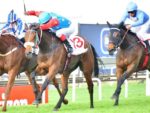 A Right Royal Shock