The NHA Handicappers have published their report after finalising adjusted merit ratings today following the weekend's feature races.
Colorado King Stakes (Grade 2)
After thorough discussion between the NHA Handicappers, DIVINE ODYSSEY was given a new merit rating of 105 following his very easy win in the Grade 2 Colorado King Stakes at Turffontein on Saturday 6th April.
The Handicappers agreed that 4th placed CASH TIME was the correct line horse to use to rate the race, especially as he had been beaten by virtually the identical margin by DIVINE ODYSSEY when finishing fourth behind the Colorado King winner in the Drum Star Handicap in March.  DIVINE ODYSSEY has clearly come to form, winning two successive Pattern Races, beating many of the same horses at worse weight terms on this occasion.  His superiority over these horses can no longer be in doubt and as such he is fully worthy of the 10 pound adjustment from a rating of 95 to 105.
Runner-up THE DAZZLER goes up from 94 to 99, while third placed DAWN ASSAULT remains unchanged.  The only other changes are that SECRET POTION has dropped from 107 to 102, and SOCIAL ORDER has been trimmed from 103 to 101.
Sycamore Sprint (Grade 3)
SAN FERMIN was given a three pound increase from 93 to 96 following her success in the Grade 3 Sycamore Sprint (handicap) over 1160m.  It was noted that SAN FERMIN had some difficulty in securing a clear run before flashing up late to win, and it is believed that in other circumstances the winning margin may well have been a little more than the official 0.30 lengths.  As such, SAN FERMIN was given a three pound rise instead of the minimum two pound increase that is mandatory for any handicap race win.

Runner-up SCHIPPERS has been highly consistent in races of this type and was considered to make for an ideal line horse.  Third placed DANCING QUEEN remains unchanged on 93, while fourth placed DESERT RHYTHM was another of those horses who was baulked for a run for some considerable distance.  As such, it is believed that she may well have otherwise finished closer and her rating remains unchanged.
Other changes made after this race were that COVERED IN SNOW drops from 94 to 93,  LAWDY MISS CLAWDY goes down from 90 to 89, and PRETTY PENNY has been dropped from 92 to 90.
Umzimkhulu Stakes (Grade 3)
TEMPLE GRAFIN saw her rating increase from 101 to 107 after she defied joint top weight to win the Grade 3 Umzimkhulu Stakes over 1400m at Greyville (turf) on Sunday 7th April.  This was considered to be an impressive performance against some smart opponents, of whom the runner-up SANTA CLARA was used as the line horse.  This way, TEMPLE GRAFIN emerges from the race rated higher than 3rd placed MARY'S PRIDE, who received 1.5 kgs from the winner and whose rating remains unchanged on 106.
Fourth placed PARENTAL CONTROL has clearly relished racing beyond sprint distances and had rating upped from 86 to 91, so that she would meet 5th placed ANNEKA (unchanged on 88) on the correct weight terms if they were to meet in a handicap.  In similar vein, 7th placed SILENT CRUSADE goes from 83 to 87 and would meet 9th finisher STRAWBERRY WINE (who goes up from 80 to 82) on the correct weight terms in a handicap.
The only other change was ARIANOS SHADOW, who was dropped from 95 to 93.
TRISTFUL has seen his rating increased from 86 to 94 after he comfortably won the Grade 3 Byerley Turk, also over 1400m on the Greyville turf.  The Handicappers felt that in readily winning a Grade 3 race TRISTFUL would not have run worse than the 94 he actually achieved when winning a progress plate over the same course-and-distance on 17th March and accordingly used that achieved mark to rate the Byerley Turk.
Runner-up and long-time leader SOLID GOLD goes up from 83 to 90 and third placed TRIPLE FATE LINE was upped from 80 to 87, which would ensure that these two horses would meet on the correct weight terms if they were to take each other on in a handicap race.   In other changes, GENEROUS LADY drops to 93 from 95, DESOLATE ROAD was cut from 96 to 93 and is accordingly now rated lower than his winning stable companion TRISTFUL, and STREAM AHEAD drops to 82 from 85.
The Handicappers are well aware of the very large 13 pound difference between the rating of the filly TEMPLE GRAFIN and that of the gelding TRISTFUL.
However, in the Umzimkhulu Stakes there were more runners with established Graded race form than in the Byerley Turk.  Furthermore, TEMPLE GRAFIN won with joint top weight of 60kgs as opposed to the Byerley Turk, where all the male runners met at level weights.  Finally, it must be borne in mind that the first three finishers in the Byerley Turk were amongst the lower rated horses in the race, which is in total contrast to the Umzimkhulu Stakes.
‹ Previous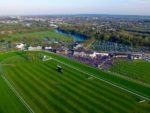 UK Racing Today