The National Horseracing Authority confirms that at an Inquiry held in Cape Town on 23 May 2019, Apprentice Sandile Mbhele was charged with a contravention of Rule 77.1.1 read with Rule 77.2.11.
This arose in that as a Licenced Apprentice, a urine sample submitted by him at the Durbanville Race Meeting on 23 March 2019, disclosed upon analysis the presence of a banned substance, namely Furosemide.
Apprentice S Mbhele, assisted by Riding Master T Welch, pleaded guilty to the charge.
The Inquiry Board accepted his plea and found Apprentice Mbhele guilty as charged.  After considering all evidence led at this Inquiry, both aggravating and mitigating, his clean record with regard to banned substances and precedent penalties for this particular banned substance, the Inquiry Board imposed a penalty of a suspension from riding in races for a period of 14 days.
Apprentice S Mbhele was given the Right of Appeal against the penalty imposed.
Ed – Furosemide is a water pill (diuretic)
‹ Previous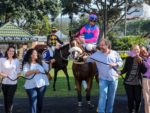 Mark Khan – Our Ol' Man River