A service to Maine Chance Farms' increasingly successful Oasis Dream sire Querari proved the star attraction at Monday night's Cape Breeders' Stallion Service Auction, which was held at the Pearl Valley Golf Estate just outside Paarl.
The Querari service was knocked down to Newbury Racing's Dennis Evans for R115 000, with Querari's stable mate Vercingetorix also proving popular at Monday night's auction. A service to that Equus Champion, and current Leading First Crop Sire, was sold to Form Bloodstock's Jehan Malherbe for R100 000.
In-form stallions Gimmethegreenlight and What A Winter (both former Champion First Crop Sires) also proved popular on Monday, with a service to Varsfontein's Gimmethegreenlight making R85 000 to the bid of Dennis Evans, and a service to Drakenstein's What A Winter sold to Witzenburg properties for R75 000.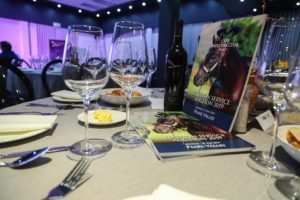 In total, the auction grossed a total of R914 000, with thanks going out to all the stud farms who participated in this year's sale, as well as to all the breeders who purchased the services.
The evening also saw R20 000 raised for the families of the Moutonshoek grooms who tragically lost their lives in a recent bus accident.
This was from the auction of a superb wine hamper donated by The Goose Wines, generously purchased by Maine Chance Farms. A big thank you goes out to them and to the various under-bidders.
‹ Previous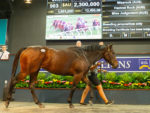 R23,5 Million For UK-Bound Mare