In response to the recent article reporting the wrong horse being presented at Kimberley last Monday (6 May 2019), trainer Corrie Lensley contacted the Sporting Post to explain the matter was an honest case of mistaken identity.
Corrie explains that the incident arose back at the stable yard.  "The filly in question, Arctic Party, is stabled next door to a gelding named Censorious that has very similar markings.  All our horses have their names on the doors, but when the grooms brought the horses back from morning work, it seems the two were swapped."
On race day, Corrie had saddled a winner in race 2 and with the owner on course, was anxious to join them for the interviews and post race debrief and was therefore detained a little longer than usual due to the post race formalities.
With Corrie running a little behind schedule and 5 runners to saddle for race 3, his staff started saddling his runners.  Corrie explains that he was on his way to the saddling enclosure to supervise, when he was intercepted by the horse identifier telling him the incorrect horse had been presented.
"I couldn't believe it.  When they brought the horse, the first thing I saw was the sheath and I realised they'd brought the gelding instead of the filly," he says regretfully.  "The two horses do have very similar markings, although the filly has a wider blaze, but it was an honest mistake that originated due to a muddle up back at the yard.  If I was trying to substitute a ringer, I'd be pretty stupid to present a gelding instead of a filly," he chuckles.
"Horses do get mixed up from time to time.  It doesn't happen often, thank God, but we wanted to explain how it happened on this occasion.  It was an honest mistake and we are grateful that the identifier picked it up, but we would like to apologise for the incident."
‹ Previous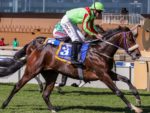 Unlucky Number 13!