Doug Campbell assisted the election efforts by going the extra mile to help a fellow voter at the Baynesfield polling station on Wednesday, 8 May 2019.
Doug and his wife Di had cast their votes and were making their way back to their car when they saw Mr Dlamini ride into the car park on his horse.
With no facilities to cater for four-legged conveyances, Mr Dlamini was faced with having to tie his mount to a nearby barbed wire fence and leave him unattended while he cast his vote.
Gallantly stepping into the breach, Doug offered to hold the little horse instead and reports he was as good as gold until a beaming Mr Dlamini returned a few minutes later having dispensed his duties.
Well done to Doug for making his mark in more ways than one and thanks to Di for sharing the pics.
‹ Previous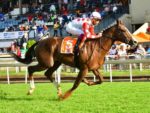 Lerena's Five Winning Votes!