The cancellation of Wednesday's scheduled Election Day meeting a Durbanville has evoked plenty of reaction from the public and stakeholders.
Kenilworth Racing Chairman Robert Bloomberg has issued a statement in order to clarify the situation.
He writes:
Due to all sorts of innuendos and falsities flying around, it is incumbent upon me to set the record straight.
Following the protest action at Turffontein on Saturday, I wrote to management expressing for a variety of reasons my concerns about the scheduled meeting at Durbanville on Wednesday in the main pertaining to possible accusations of "white elitism" and "racism" being levied at us, particularly as there is a DA administered government in the WC.
Whilst this was a personal viewpoint given in my capacity as co-chair of KR and whilst others had previously raised concerns weeks ago about racing, I must emphasize that this was not a KR decision, nor did KR or I, cancel the meeting.
That decision was taken by Patrick Davis, who I did not personally discuss the matter with, in his capacity as Racing Executive Director of Phumelela who manage WC racing.
I will also add, that following my mail and unsolicited, I received a mail the following day from the Minister of Economic Opportunities in the WC government, requesting that the meeting be cancelled which vindicated my concerns echoed.
Whilst I fully understand the anger from local owners and trainers alike which I will take on the chin, I have always only attempted to assist WC racing and have always gone the extra mile and beyond. However, the bigger picture here was of paramount importance to me.
We may not have had issues racing at past elections, but that was pre-Markus Jooste/Steinhoff happenings and the EFF have been very vocal in their condemnation of racing. It must not be lost sight of that we are presently in discussions here with WCGRB and government seeking assistance for a company in a parlous financial predicament.
Right now, and particularly in the light of recent Public Protector reports, we are treading on very thin ice with government as it is.
Had it been up to me, I would have postponed the Durbanville meeting to Saturday when we aren't racing. But as Patrick has explained, due to the Turffontein meeting being substituted for the Durbanville meeting, this would necessitate an extra meeting being put on which makes no economic sense bearing in mind KR's dire financial position and the challenges that PGL faces.
The 8 'lost' races will however, he added back at future WC meetings.
‹ Previous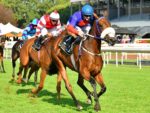 Pomodoro's Flight Of Fire