Top-class Gauteng apprentice Denis Schwarz, who was crowned Highveld Feature Season Champion on Saturday evening, will take up much of the injured Muzi Yeni's rides at Flamingo Park today.
Yeni was injured during the running of the Gr2 WSB 1900 on Saturday but is expected back in action later this week.
The eight races on today's card are headed by the R110 000 Kimberley Classic, where Prince Josh may deserve another chance after blotting his consistency copybook last time. He is reported by trainer Corrie Lensley to be working very well.
The first race, also the Bipot opener, is off at 12h50.
The weather is expected to be fine.
The track condition is standard.
First-timer / rested horses comments:
1 12:50 – ITSARUSH.CO.ZA WELCOMES YOU MAIDEN JUVENILE PLATE
2 CAPEZIO C J Lensley: Will need the run
2 13:20 – ALL TO COME MAIDEN PLATE
9 MARCHER LORD L J Human: Not showing much
11 ALFALFA C J Lensley: Very nice horse and will have a Quartet chance
13 PEGALEA D Cason: Working well, expecting a good race
3 13:50 – INTERBET.CO.ZA 0861 150 160 MAIDEN PLATE (F & M)
3 U FOR ME S Miller: Small chance
5 14:55 – SUPABETS – 0861 76 22 37 MR 72 HANDICAP
9 DOMITIAN S Miller: Will need the run
6 15:30 – KIMBERLEY CLASSIC (Non-Black-Type)
8 PRINCE JOSH C J Lensley: Working very well
8 16:30 – NEXT FLAMINGO PARK RACEMEETING MONDAY 3 JUNE MR 62 HANDICAP
6 FLEXIBLE FUGITIVE (AUS) D Cason: No comment given
Thanks to Phumelela Publishing
‹ Previous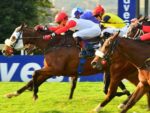 A Fabulous Change Of Tactics