If the National Horse Racing Authority is anything, it is an organisation of Rules. It even uses the word "Authority" in its name, writes Tony Mincione.
I used to enjoy Mr Vee Moodley, he wears his heart on his sleeve. He is passionate about handicapping, no doubt. He's taken the driving seat in the handicapper's office and we see that it's okay that everyone else has to live by the rules, but not them.
Ever since Merit Ratings replaced Race Figures in the late 1990's there has been a tension between owners & trainers vs. the Handicapper. Trainers try to keep their horses competitive while the handicapper applies NHA Rule 47.4.2 :
"A Handicap, which shall be a race in which the weights to be carried by the horses are allocated by the handicapper for the purpose of equalizing their chances of winning".
The tension resulted in compromises to Rule 47.4.2, and the NHRA published ongoing guidelines with amendments such as:
Maiden Plate Winners
A four-year-old or older winner will not be rated higher than a net 70.
A three-year-old Maiden winner will not be rated higher than a net 78. This does not apply to a Graded Placed horse.
The winner of a maiden plate in Kimberley will not be rated higher than a net 60 and Zimbabwe a net 58
Minor Race Plate Rule
The winner of a plate race will not be adjusted more than 6 merit rating points.
Now although these are called "Guidelines", a title that could imply that it's a guide rather than a rule. When you read the "will" in "1. A four-year-old or older winner will not be rated higher than a net 70.", you realize it really is a rule that qualifies an earlier rule. The "Guidelines" are exactly that, amendments and additions to existing rules.
Recently the handicappers have taken it upon themselves to ignore the rules with freely applied merit ratings regardless of the caps promised at nominations. After some push back we got to read (in the press and not by decree): NHA CEO Vee Moodley emphasised that the handicapping guidelines are "guidelines not rules".
To be honest, this is what you might expect someone else to say and that the NHRA would reply, crack the whip, and say: "No! That's not how we do things". It is a body that has to enforce rules on people who are licenced or colour-holders all the time, sometimes with severe consequences and therefore we rely on them to be clear and straight down the guideline.
So after a few occasions of the Handicapper playing fast and loose with the ratings, on Saturday we had the Winter Guineas (Gr3) at Kenilworth where Majestic Mozart(90) was sent out to take on One World(117), Herodotus(101) and Vardy(100) in a field of only seven runners. Fourth in the ratings and the 4th in the betting, Majestic Mozart had been beaten twice by Vardy and a few times by One World, who in turn held the field including the 2kgs extra he carried.
One can ask why would the connections run a horse rated 90 in a field of 7 runners when a close 3rd was possible? Would that not be playing with rating fire, after all anywhere close to One World and they could be looking at anything up to 23 points penalty (11.5kgs)? This question had been considered by the industry, and to encourage larger fields and connections worried about being penalised for playing, a further amendment was added in April 2016
The NHRA notified the industry and published that it had been decided that:
9. The winner and placed horses in a Grade 2 or Grade 3 race is capped at a 10 point penalty for the winner, 5 points for 2nd place and 3 points for 3rd place.
These protections guaranteed that Vardy could expect to be capped by 5 points (100-105) and Majestic Mozart by 3 (90-93). The actual penalties given were, in fact, 4.5kgs and 6kgs respectively.
You have to argue that the rule is a deal with the industry. We cannot bait them to run with caps, and then switch when it doesn't suit in the name of the original rule, that's a classic con. I have no idea how they can sit in judgement later with a rule book when they are the first to disregard our rules.
Ultimately the question is why don't they change the rules first, rather than just break them. I suspect it's because the Guidelines were created to correct and supercede the unintended consequence of rule 47.4.2. and the Handicapper knows that the blind justice of rule 47.4.2 is too much for people to trust them and leave without safeguards (or caps as we call it) in place.
They ignored the safety deal and applied, in the case of the Winter Guineas, a 12 point penalty for a R25k return after a promise of 3 points max, on the basis that it's easier to ask for forgiveness than for permission, and are bluffing their way forward.
One can only hope that the connections appeal, and if the Handicappers insist on having their thumb on the scale, that the subsequent board read the rules as intended. It is an agreement between all the players of the game.
Clearly what we don't have is the steadying hand of a CEO on the Handicappers. So what do we have?
‹ Previous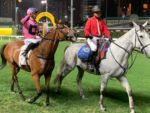 Domeyer's Dream Debut Double