Approaching the age where many of us have to think twice about getting out of bed in the mornings, five-times SA champion jockey Mark Khan made something of a miracle recovery from injury to ride a winner at Greyville on Saturday.
A week later, he returns to Scottsville – one of his many happy hunting grounds.
The 50 year old dislocated a hip in a heavy fall from Noble Beat just after the pull-up after running third in the Greyville opener on 10 April .
On Saturday he rode the same horse in the opener again at the same venue – and a half hour later he was seen at his brilliant best on the first-timer Mary O for Lezeanne Forbes.
He labels his recovery a 'miracle' and a testimony to his personal faith and fitness levels.
"I was rushed to St Augustines and the doctors spent a few hours trying to push the hip back. I was eventually taken into theatre for an op. It was classed as a  Gr1 plus injury – so slightly less complicated. They said I'd probably need eight weeks off. There was tearing of the fibres around the ball and socket. A few days later I was referred to the Umhlanga-based Sports Physiotherapist Eddie Bodha. He worked miracles with his scientific approach  – radioactive therapy, impulse treatment and dry needles, which repaired the damaged tissue."
In what was a great recovery for his half century old body, Mark was back on a horse nineteen days after lying in agony on the Greyville turf.
Chatting to him in advance of the Scottsville Speed Festival on Saturday, we asked what the essential differences were between the flamboyant and aggressively powerful young gun Mark Khan, who rode those big finishes for the Mark Watters yard thirty years ago, and the man who does most of his riding in KZN today.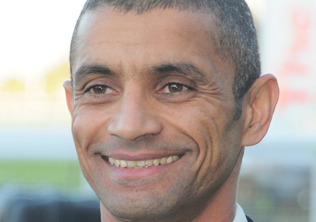 "Age and experience have their advantages, you know! I have a more balanced perspective on life and I regard myself a more polished rider today. By the way, I have no interest in social media and the popular cyber platforms that seem to take up so much time today. I have never enjoyed the spotlight either. "
A five-times SA champion rider, he was also the Mauritius champion jockey in 2000, and rode in such diverse destinations as Malaysia, Singapore, Germany, Australia and Macau.
Mark was associated with top-class horses over the years here – names like Igreja, El Picha, Faralmond, Nhlavini, Timber Trader, Monet, Shepherds Moon, Hawaiian Wahoo and Stormy Appeal,  Aquanaut and the Argentinian-bred Resfa, come to mind.
He announced his retirement from the saddle in 2010 after sustaining injuries in a fall the previous season. But he stayed close to the game and returned to the saddle in 2017 – booting home his first Gr1 ride in over 7 years when Hero's Honour won the Gr1 SA Derby in May 2018 – a few weeks later he won the Gr1 Allan Robertson Championship.
Pressed for his thoughts on the sport today, Mark says that having ridden in different provinces, he feels Gold Circle deserve plenty of credit for their passion for the game.
"I'm not knocking Phumelela. But for a jockey, there is nothing better than riding in an environment with a buzz and atmosphere. The Gold Cup day and July day meetings are just two examples. Gold Circle deserve more credit than they probably get. They are focussed on the sport and their marketing initiatives should be applauded and supported."
He says that when he spent time away from the sport of kings in a corporate environment, he learnt to value the investor's role in any  discipline.
"Professional sports people in any pursuit need to be thankful and appreciative of the fact that we are able to perform our skills and be paid for it. Things are tough everywhere. And owners and punters need to be valued and appreciated. If they don't spend, we don't have a sport or a job," he observes.
On the great crop twelve-strike debate, Mark says that be believed that it would ultimately settle down and he urged his colleagues and the public to support what is an international trend towards a better public friendly package.
"At Greyville on Wednesday, I was called in. I rode a second and a fourth for Kom Naidoo. Neither horse would probably have found a place – in fact on the one I was the first beaten at the top of the straight. When a jockey has urged, pushed, changed hands, and waved the crop, it's only because we want to get the best finishing position for our mount. That's what we are there for and there is 'ínvestor' money riding on every race! No professional jockey doesn't want to abide by the rules and comply. Why would we not?"
He adds that he has also never met a jockey who would want to purposely inflict harm to a horse via a crop.
"We love our horses. And the crop is really just a persuader and communication tool between horse and rider."
Mark is looking forward to Saturday at Scottsville where he has four rides.
He has enjoyed prolific success at this meeting dating back and beyond to the likes of Geoff Woodruff's Candidato Roy (2004) and Cataloochee (2005), right up to Mighty High's victory in the Gr1 Allan Robertson last year.
His advice to punters on a tricky day?
"Take the trouble to watch them all go down. Include me in trifectas and quartets. I'm always trying my hardest – and I'm focussed on getting my mounts into the money. It should be a terrific day with a good vibe, nice crowd and top-class horses."
‹ Previous
Teofilo Daughter Tops Day 2