It's been just a week since that amazing Wednesday at the National Yearling Sale that saw a dazzling new South African record sales mark set.
The TBA complex was buzzing with excitement coupled with a sense of disbelief when Mark Richards of the Hong Kong Jockey Club and South Africa's Mike de Kock took each other on like two heavyweight boxers and fought tooth and nail ringside to secure Lot 184, Masaki, a colt by champion stallion Silvano from Quickwood (Fort Wood).
Tony Millard and John Freeman, involved in the early scuffle, left the ring in the R5-million range as the final bidding pair went toe-to-toe and both refused to give in.  With gasps going up around the arena, De Kock eventually claimed the shot of the auctioneer's hammer at R9-million, which surpassed the previous highest price paid for a yearling at a South African thoroughbred sale by R3-million (R6-million CTS, 2016) and the BSA record of R5,2-million (2018).
De Kock said of Masaki, who was raised by Mary Slack's Wilgerbosdrift Stud and bought for Sheikh Hamdan bin Rashid Al Maktoum of Dubai:
"He was our pick of the sale, the one we wanted, a late foal with huge scope from a family I've had a lot of success with, one I am very fond of."
"I spoke to Sheikh Hamdan and he agreed that we could spend the money to get this horse. He said, 'good horses are expensive' and gave us his blessing to get this one for whatever it took. Nine-million is a lot of money, but it's still less than we pay, at times, for lesser pedigrees in Australia. We're trying to make stallions for the future, " he said on his website, www.mikedekockracing.com.
De Kock added:
"Sheikh Hamdan and his family, along with his racing manager Angus Gold, as well as Sheikh Mohammed bin Khalifa Al Maktoum have invested huge amounts in South African racing over many years. We, South African racing, are indebted to the Maktoum family, their support has made a massive difference to our industry. It has kept us going through trying times and will lead us into the future when the export protocols are lifted."
"I trust the South African government will take note of what has happened here today, I have said before and I will say again – when we get our export issues resolved and we can fly horses directly out, more of the world's top buyers will come to our sales and our industry will turn around to everyone's benefit. What we saw today can be the norm going forward, but we need a little help from government to get us over the line, we're close!"
‹ Previous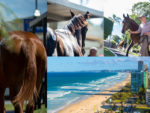 Magic Millions Gold Coast Catalogue