The 87-year old former dual SA Champion Trainer Ormond Ferraris, upset and severely stressed by the grooms' actions at Turffontein on Saturday, had to be taken to hospital for a check-up and observation when his staff decided to desert the yard around 4am in the morning.
Turf Talk reports that a legend of the training ranks, Ferraris, who has served the horseracing industry with great distinction for 70 years, said that trainers at Turffontein were aware of the pending strike on Friday. "I arranged with my 20 grooms to come to work Saturday at 3am, an hour earlier, so they could attend their meeting which was scheduled for 5am.
"All I wanted them to do was the bedding, and to feed and water the horses. Just a few came along at three but soon disappeared leaving me and my Head Lad of 40 years, John Sibeko, to get by on our own. I was distressed, they had to take me to the Union Clinic but I am feeling better now. This is it, this is the third protest action of this nature we've had to endure recently and I am not prepared to put up with this any longer. I am out."
Ferraris said that there were "troublemakers" in the grooms' ranks who have stirred up the rest with a variety of demands, including higher wages and for an office to be allocated to one of their faction officials at Turffontein.
"I would love to pay the grooms what they want, big salaries, but it is simply not possible. The sport of racing cannot contain this. The costs of feeding and training horses today are astronomical and stakes haven't increased in proportion to the high expenses. The few millionaires in racing can afford it, but I fear for the middle man, the smaller owner. This kind of pressure is going to hit them and the smaller stables the hardest. They are battling to feed themselves, let alone their horses. There is just no way they can survive!" he told Turf Talk.
His son David Ferraris, a trainer in Hong Kong added: "I am horrified by what is going on. I spent R25-million at the SA Sales the last two years and to see how people are trying to bring the industry to its knees is disturbing. I hope these matters are addressed fast."
Mike De Kock agreed, saying: "There are agitators among the grooms who do not realise the damage they are doing. Soon, 20 of their colleagues will be unemployed and then unemployable in current circumstances. They'll be a burden to society.
"There are transformation issues to be addressed, but we've already dug deep and made significant progress. The agitators don't realise that racehorse owners lose R600-million per year in racing. They race for pleasure, achievements and the dream of owning a champion horse. They accept their losses while the industry employs tens of thousands of people on the back of their investments.
"If this type of unrest continues, we are going to have serious problems in SA racing. Owners are going to stop and say, 'We don't need this, we want to race and watch our horses in peace and we want our investments protected.' If the big owners call it a day, we'll see a major collapse."
De Kock feels that security is a "soft spot" for agitators and that the matter should be given urgent attention.
"Whenever a situation like this arises, the security officers are the first to run away. They are not sighted. There is expensive horseflesh stabled at the training centres and courses and we need to take preventative measures before the horses are hurt. There were several intoxicated and unruly elements among the strikers on Saturday, there always are. They should be stopped before they can cause injury to others or hurt horses."
Phumelela's Racing Executive, Patrick Davis, said that Saturday's strike had nothing to do with the racing operator. "We are not going to comment on the matter at this stage, it happened as a result of friction between grooms' factions. We will, however, be issuing a statement in the course of next week."
Vee Moodley, CEO of the National Horseracing Authority, said that he, too, preferred not to comment at this point.
‹ Previous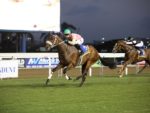 Rivalland And Veale Open The Festival