The Western Cape Stipendiary Board has opened an investigation into the apparent late scratching at 12h15 of TRIP TO THE SKY in the fifth race at Durbanville on Sunday..
The reason was given as Clerk of Scales.
The Board has requested an audit trail from the NRB, to ascertain how this horse was incorrectly displayed as a scratching.
An investigation carried out at Durbanville established that the Clerk of Scales on duty had not scratched this horse and in the presence of the Chief Stipendiary Steward, Mr E Rodrigues, the error was corrected at 12h35.
‹ Previous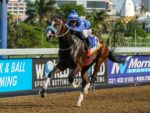 Orpheus – Inquiry Concluded