Another busy weekend of racing is behind us with the action at Scottsville and Kenilworth providing plenty of entertainment. The NHA Handicappers have provided an analysis of how they rated the various features.


Please note that the two-year-old Features from Scottsville on Saturday (the Gr1 Allan Robertson Championship and the Gr1 Tsogo Sun Gold Medallion) have been assessed by the Handicappers.
However, two-year-old ratings are generally not disclosed as they are essentially provisional and are regularly subject to retrospective handicapping (a practice which is not permitted with older horses) until the crop turns three years of age.
Tsogo Sun Sprint (Grade 1)
CHIMICHURI RUN has had his rating upped from 112 to 115 after he led home a "trifecta" of Sean Tarry trained horses to win South Africa's only Grade 1 Handicap Sprint, the Tsogo Sun Sprint over 1200m at Scottsville on Saturday.  This returns him to a rating of within one pound of the 116 he was awarded after he won a Gr 3 event over 1200m at Turffontein last September and seems to underline to fact that 1200m is probably the three-year-old's optimum distance.  His win here also underscores again that the current crop of three-year-olds is a strong one.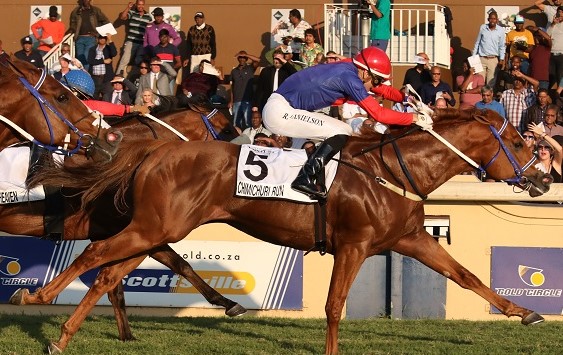 In assessing the race, the Handicappers agreed that runner-up TRIP TO HEAVEN, third placed AFRICA RISING and fourth placed UNDERCOVER AGENT all make for more than satisfactory line horses after finishing within 0.30 lengths of one another and as such the ratings of all of this trio remain unchanged.
In other changes, last year's Tsogo Sun Sprint winner BOLD RESPECT was dropped from 113 to 112, PALACE CHAPEL was trimmed from 108 to 107, SEARCH PARTY drops from 110 to 108, ATTENBOROUGH goes from 106 to 104, DUTCH PHILIP drops from 104 to 102, and SNIPER SHOT was cut from 106 to 104.
South African Fillies Sprint (Grade 1)
CELTIC SEA's rating was upped from 103 to 114 after she quickened up well and comfortably won the South African Fillies Sprint over 1200m at Scottsville.  In the process, she struck another blow for the current three-year-old crop.  In assessing the race, the Handicappers agreed to use runner-up SNOWDANCE to her current season's best achieved rating of 110 and have accordingly dropped her from 112 to 110.  Although SNOWDANCE had not raced over a distance shorter than 1400m since she won on debut over 1100m in February 2017, she showed plenty of pace throughout and finished 2.10 lengths clear of the third horse, so there is absolutely no reason to believe that she is less effective in sprints than she is over 1400/1600m.


Third placed VISION TO KILL was raised from 95 to 105, but fourth placed NEPTUNE'S RAIN was dropped from 105 to 102.  In contrast, fifth placed JUNIPER SPRING goes up from 91 to 98.  GREEN PLAINS was dropped from 105 to 103, ROSE IN BLOOM was dropped from 107 to 105, MIGHTY HIGH gets the same drop from 107 to 105, NAFAAYES goes from 104 to 103, EXQUISITE TOUCH was cut from 96 to 94, ANIME drops from 98 to 96, and ELUSIVE HEART drops from 102 to 100.
VARDY has seen his rating upped from 109 to 118 after he put up a career-best performance to beat a small but classy field in the Grade 3 Winter Classic over 1800m at Kenilworth on Saturday, 25 May.   The gelding has shown continuous improvement since making his debut last November and his performance here fully earns him a place amongst the leading members of the three-year-old crop.
In assessing the race, the Handicappers had no hesitation in using runner-up ONE WORLD as the line horse.  Any notion that ONE WORLD didn't stay the distance of 1800m was considered to be groundless given that he finished more than six lengths in front of the third placed runner MAJESTIC MOZART – a considerable increase on the 2.85 lengths by which ONE WORLD beat him in the Grade 3 Winter Guineas on 27 April.
Other than VARDY, no changes were made to any of the remaining four runners after MAJESTIC MOZART, HERODOTUS and CLOUDED HILL finished 3rd, 4th, and 5th respectively – exactly as they had also done in the Winter Guineas.
 Olympic Duel Stakes (Listed)
Unbeaten three-year-old RUN FOX RUN has had her rating increased from 91 to 104 after she soundly beat her rivals in the Olympic Duel Stakes, a Listed handicap for fillies and mares over 1200m at Kenilworth on Saturday.  The Handicappers have little doubt that she is well worthy of her new rating after four impressive wins from as many starts.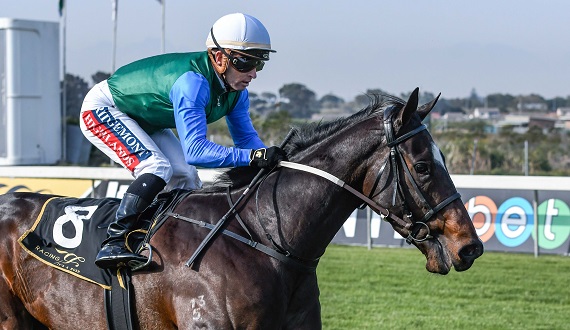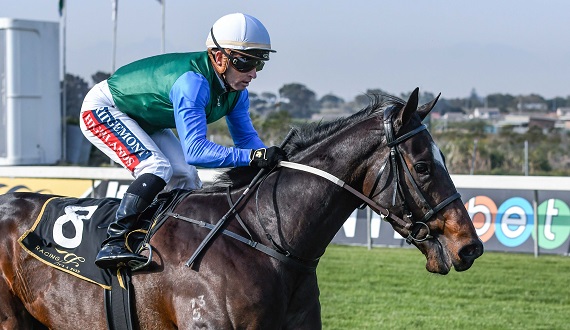 Runner-up RUSH HOUR GIRL has been a model of consistency recently and was used as the line horse, so accordingly her rating remains unchanged.  Third placed PLATINUM CLASS remains unchanged after the veterinary surgeon reported that she suffered from post race distress, while fourth placed DYNAMIC DIANA was also left unchanged.
The only drops were to LESEDI LA RONA, who goes from 92 to 86, and to MISS KATALIN, who drops from 98 to 94.
HELEN'S IDEAL was left unchanged on 99 after her narrow success in the Listed Stormsvlei Mile for three-year-old fillies over 1600m at Kenilworth on Saturday.  The Handicappers felt it was unlikely that HELEN'S IDEAL would have run worse than the 96 she achieved when she beat many of the same rivals in a similar Listed race over 1400m four weeks earlier and used that level to rate the Stormsvlei, but given that she has won two Listed events in less than a month it was decided not to drop her rating from her current mark of 99.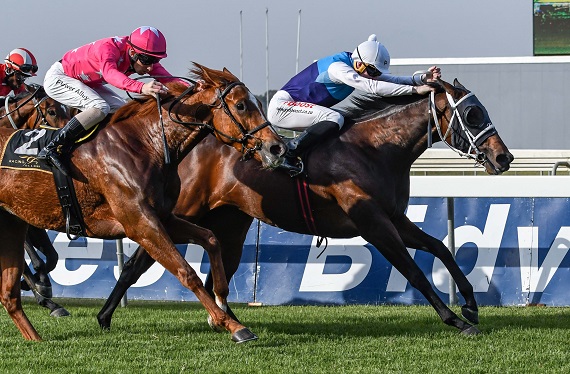 Runner-up STAR FIGHTER was raised from 92 to 95, while third placed DUCHESS OF BOURBON was raised from 84 to 91 and is now rated equal to fourth placed SHAMROCK WIND, who was dropped to 91 from 94.  The only other change was to CORAL BAY, who drops from 90 to 86.
Press release published by the NHA on Tuesday 28 May 2019
‹ Previous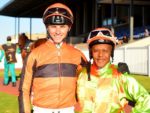 Chalk 'n Cheese…