The National Horseracing Authority have issued a report on the weekend's racing.
World Sports Betting East Cape Derby (Listed)
ST VLADIMIR remains unchanged on 92 after he comfortably won the World Sports Betting East Cape Derby over 2400m at Fairview on Saturday, 11 May 2019.  In fact, the Handicappers agreed to use ST VLADIMIR, which was joint top rated, as one of the line horses to rate the race, because in this way 3rd placed JUST CHAOS and 7th placed SAILING LIZARD also run to their marks.  As such, these two also remain unchanged.
Second placed DROP KICK was raised from 83 to 88, while fourth finisher SWIFT SURPRISE was raised to 82 from 75 in the belief that his rating should be higher than that of SAILING LIZARD.   Similarly, sixth placed JAY'S HAWK was raised from 67 to 70 in order to keep him higher than local rival TOM 'N JERRY (66) placed ninth, who was also beaten by JAY'S HAWK in the Derby Plate over 2000m on 19 April 2019.
No other changes were made in this race.
Castle Tankard (Zimbabwe Grade 1)
PEGGSON's rating was upped from 88 to 93 after he won Zimbabwe's well established premier handicap, the Castle Tankard over 2000m at Borrowdale Park on Saturday, 11 May 2019.   The handicappers were of the view that 3rd placed FAREEQ would not have run worse here than when he finished fourth in a much smaller field in the Independence Trophy at his last start and used him to the actual 81 he achieved there to rate the Castle Tankard.
Runner-up LEVEN POINT came into the race 5 pounds under sufferance and has accordingly been raised from 72 to 80, while FAREEQ was given a small drop from 86 to 84.  Fourth placed ARTE was dropped from 78 to 77 on her Zimbabwe debut, while fifth placed HEIR LINE dropped one pound from 92 to 91.  SIMONA also dropped slightly from 93 to 92, while MASTER 'N COMMANDER comes down from 82 to 75.  In other drops, BUSH PILOT went from 81 to 78, and SOLINSKI was trimmed from 75 to 74.
Report on Handicappers Roadshow
The 2nd Leg of the Handicappers Roadshow was held at Fairview Racecourse on the 10 May 2019 after the running of the last race.  The implications of the Eastern Cape 'creep' factor was discussed at length.
The 'creep' factor is the inevitable rise in the ratings of a local group of horses that regularly race against each other thereby potentially flattering such horse's ratings in the national pecking order.  The Handicappers addressed the above to the satisfaction of those that attended.
The Handicappers would like to thank all who took the time to attend the Roadshows held thus far and that have entered the discourse by raising questions which were addressed by the Handicappers and providing valuable input.
The next roadshow is scheduled to take place on 1 June 2019 at Greyville Racecourse after the last race.
‹ Previous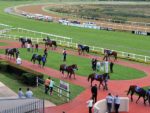 Fairview Start – Action To Be Taken