Jockey Marco van Rensburg and the Azzie-trained Orpheus will step out in the Gr2 WSB 1900 this Saturday to attempt their runaway end-to-end and course record setting victory of the Listed Sledgehammer on 28 April 2019.
An inquiry was held into the Sledgehammer and various of the jockeys involved were questioned.
The NHA have reported as follows:
Following the running of the above race the Stipendiary Board reviewed this race and questioned the riders leading the field regarding the instructions for and the tactics adopted for the said race.
This was in reference to the winner ORPHEUS establishing a big lead in the early stages and maintaining it throughout to win by 6 ¾ lengths which was way under course record time.
Jockey A Marcus (EYES WIDE OPEN) (placed 4th) explained that after getting in to a position leading the main group he was happy with the decent even pace set.
This was due to the fact that his mount was carrying top weight of 61.5kgs. Jockey Marcus was further of the view that the pace set by Jockey van Rensburg on ORPHEUS was too fast and was not sustainable. With that in mind he was of the view that he was travelling as well as his mount was able to and to have chased his mount would have been detrimental to its chances. His mount was one paced in the latter stages and had tired slightly to finish 4th.
Jockey G Lerena (DOOSRA) (placed 5th) explained that he was comfortable with the early pace and the fact that he had raced alongside the favourite whom he considered to be the danger. DOOSRA was attempting the 1800 metres for the first time and was a horse that had to be held together for as long as possible. He was of the view that to have chased the leader with this type of horse would have been detrimental to his chances.
The Board was satisfied that 2nd placed ROY'S HAD ENOUGH racing midfield along the inside running rail had no chance to improve his position on the bend.
OUR COYS (AUS) placed 3rd improved around the field on the latter part of the bend.
The Board having considered the evidence given by the riders, the winning distance as well as that the 2nd placed runner (beaten 6 ¾ lengths) was only marginally outside course record time, accepted the explanations of the riders.
‹ Previous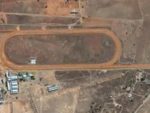 Flamingo Park's Ten Races Today