'That was slower than slow!'
Milnerton trainer Greg Ennion told the Sporting Post on Sunday morning that the Cape Crawl had followed him all the way up the Garden Route to Fairview where his East Cape Derby favourite Cedar Man, a genuine staying type, had to contend with a '600m dash'.
A disappointed Ennion said that his charge, who had travelled well and was fit enough to win the race, may as well have stayed at home in his box.
"Most horses go as fast or slow as they are instructed by the rider. The blame for the dawdle lies squarely with the jockeys. Down south we call it the Cape Crawl. Maybe the racing public must suggest a name for the Fairview equivalent."
He said that plan B was, in the event of no pace, was to go to the front and let Cedar Man bowl along there.
"He stays well. He could have outstayed the majority of the field had it been a true test. But this Derby was a sprint. Our jockey unfortunately didn't go to the front and take the initiative."
Cedar Man ran a 6,05 length fifth.
St Vladimir won in a time of 151,88 secs on Saturday.
His stablemate American Landing won unextended in 2018 in a time of 150,61 secs.
Dorset Noble won in a time of 151,19 secs in 2017.
Ennion confirmed that Gold Cup plans were still on track and that Cedar Man would travel to Durban on Monday.
"This race taught us nothing. But he pulled up well. So we will continue with the plan. Well done to the winning connections and thanks to the Fairview guys for the hospitality."
‹ Previous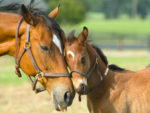 Mother's Day At Durbanville Today