The only handicap on the annual festival of speed Gr1 programme, the Tsogo Sun Sprint is a battle down the 1200m straight that has often produced its fair share of fairytales and hard-luck stories.
Years ago, the track's draw bias was a hot topic with the racing operator making comparisons to Royal Ascot and Turffontein, and suggesting that we wouldn't find a straight track in the world  that didn't show some form of bias. That's probably a fair assessment – so who knows who gets lucky from which gate on Saturday?
In 2018, the day's Gr1 winners were carded in order of race at 14,15, 4 and 11.
"I feel that the historical bias has largely been eradicated, and if anything the middle to inside may offer the slightly better path. But it's not a pronounced bias anymore and effectively this gives everybody just about a fair chance – which obviously makes for better racing," says Summerveld trainer Garth Puller, who won the 1986 Gr1 Gold Medallion – or Smirnoff Plate – on the champion Bush Telegraph, beating Main Man on an  objection – see the pic below (courtesy:South African Racing Crowd)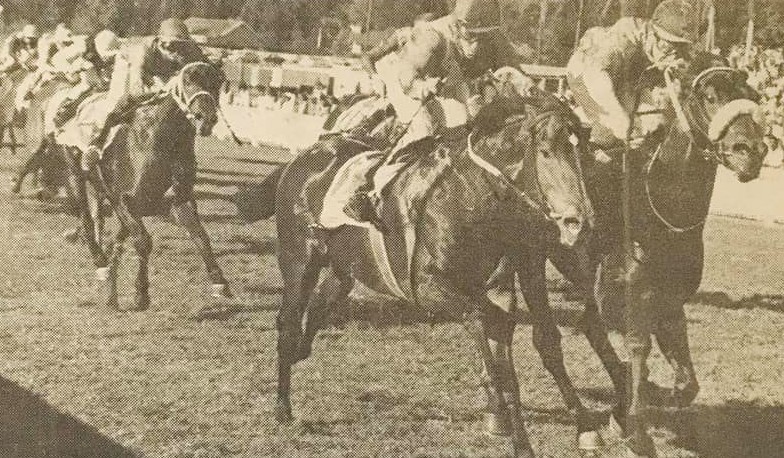 A champion jockey of his time, Puller is the only man to have bred and ridden the winner of the Gr1 SA Fillies Sprint.
He bred the very smart nine-time winner Home Streaker, a daughter of Home And Dry (Joy 11), who he rode to victory for the late Colin Burroughs in the 1983 R40 000 SA Fillies Sprint. Piet Steyn, who is a lot greyer these days and still churning out winners from his Milnerton base, brought the filly up from Cape Town for her only outing in KZN that season.
Garth saddles Travelling Light for the Hollywood Syndicate in the Gr1 Allan Robertson Championship on Saturday.
‹ Previous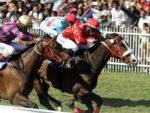 Striker's Working Like A Dog!