The whip – or some euphemise it to the use of the more public friendly 'crop' – has been a lively subject of debate this year.
We have whipless races, hands 'n heels races and, in between, we have now made the monitoring of the use of the stick more complicated.
If we can't get seven stall-gates correct in a low pressure maiden plate, are we pushing the envelope trying to count seven jockeys' crop strikes?
As of last Friday at Fairview, Guideline M relating to the use of the crop was amended to disallow hitting a horse more than 12 times in the race.

The NHA advises that the general use of the stick will be monitored until 31 May.
Until this date, the limit of 12 crop strikes will apply.
However, the definition of the strike during this period is that when the crop makes contact with the horse and the rider's hands are not on the reins – that is, a slap, smack or tap on the shoulder will not count as a strike.
The Paulick Report says that in the hubbub of the Kentucky Derby disqualification drama, replays and still images have been analyzed and watched thousands of times as viewers try to get a handle on Maximum Security's path of travel and the resulting domino effect.
One thing people probably weren't looking at closely, however, was the whips the jockeys were carrying.
All riders in this year's Kentucky Oaks and Kentucky Derby went to the post with the new 360 Gentle Touch (360 GT) riding crop, engineered by retired Eclipse Award-winning jockey Ramon Dominguez. Riders at Laurel Park adopted the crop's use in April.
Until the DQ of Maximum Security took center stage, the use of the whip (often referred to as a "riding crop" in an attempt at rebranding) was one of the central debates in racing, prompted by The Stronach Group's suggestions earlier this year it would do away with the whip for any purpose other than safety or correction of a drifting horse. That declaration, which became a rule unanimously approved by the California Horse Racing Board, was met with displeasure by the Jockeys' Guild, which claims its members need the whip. Horseplayers weighed in to suggest they preferred riders to use them for encouragement. On the opposite side of the aisle, animal rights groups have long demonized use of the whip, adding it in a long list of perceived abuses in the sport.
‹ Previous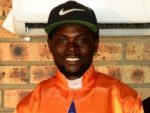 Gwingwizha Grabs Glory