At the request of Kenilworth Racing, the race meeting scheduled at Durbanville on Election Day this Wednesday 8 May has been cancelled and replaced by an eight-race fixture on the Turffontein inside track.

Nominations for the Turffontein race meeting will close at 10am Monday with final declarations two hours later at noon.
The programme of races is available from the National Racing Bureau.
Fields will be published in Racing Express in The Citizen and other newspapers and TAB sheets will be available in TAB stores.
Ed – Sporting Post will also have the fields available*
Phumelela Publishing will produce a free online Computaform for the meeting. This will be available at www.computaformonline.co.za
As late a start as possible for the meeting has been scheduled in order to allow maximum time for everybody to vote beforehand.
Starting times:
Race 1: 12:55
Race 2: 13:30
Race 3: 14:05
Race 4: 14:40
Race 5: 15:10
Race 6: 15:50
Race 7: 16:25
Race 8: 17:00
Press release by Phumelela Gaming & Leisure  on 5 May 2019
‹ Previous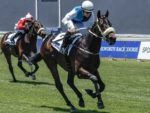 Fearless Warrior Can Win Today