A longstanding KZN owner feels that the principle of supplementary entries coming in 'through the back door' and possibly prejudicing provisional barrier draws of conventional first entries is manifestly unsporting and needs revisiting.
Terry Young approached the Sporting Post earlier this week after his Devon Air Stakes contender Mai Tai, a reserve runner in last month's Gr1 Allan Robertson, drew gate 5 in the field of ten for Saturday's feature.
The daughter of Vercingetorix had originally been allocated a provisional 4 gate at the time of first entries for the Devon Air Stakes, which closed on 27 May.
It appears that Lezeanne Forbes' supplementary entry Mary O (draw 3), brought in at a cost of R1380 by second deadline of 31 May, got slotted into the pack of first entries and the draws were then rehashed – resulting in Mai Tai landing up one gate outside of what was originally shown on the entry list.
"Black type is what every owner of a well-bred filly aims at and while this may only be a listed feature, I'd like to believe that my filly is given every chance to attain her best end position. Not that we weren't already aware of it, but Mike de Kock and Sean Tarry have also been quite vocal about the vital importance of barrier gates at Greyville this season. So while I am 'only' one gate wider out than I should have been at worst case initially, it's a matter of principle to me that a late entry can usurp the position of an entry that met the initial deadline."
LENASIA RISING SUN DEVON AIR STAKES (Listed)
For 2 year-olds
No Apprentice Allowance
1
5
Mai Tai
60
0
A
L Hewitson
Wayne Badenhorst
2
3
Mary O
60
0
A
M Khan
Lezeanne Forbes
3
4
What You Are
60
0
A
C Orffer
Tobie Spies
4
6
Cantata Choir
58
0
A
S Veale
Gavin van Zyl
5
9
Centre Stage
58
0
BA
S Moodley
Michael Miller
6
7
Dancing Feather
58
0
A
W Kennedy
Gavin van Zyl
7
8
Innogen
58
0
A
R Fourie
Justin Snaith
8
10
Royal Splurge
58
0
A
*A Arries
Michael Miller
9
1
Sapphire Rock
58
0
BA
S Randolph
Tobie Spies
10
2
Trip To Freedom
58
0
A
M Yeni
Duncan Howells
Same Trainer – Not Coupled on Tote
(3,9) (4,6) (5,8)
Mr Young went on to add that he wasn't satisfied with the explanation tendered by officialdom – 'that's unfortunately the way the system works' – or the suggestion that Tobie Spies' Sapphire Rock, who drew pole position, and ran third in a Flamingo Park maiden on Monday, 'could possibly not run'.
The Sporting Post was provided with the relevant racing operators condition by Gold Circle Racing Executive, Raf Sheik.
1.17.2
If, after the barrier draw has been effected;
1.17.2.1
a horse is omitted from the list of entries / declarations for any reason and is subsequently included;
1.17.2.2
entries are re-opened for a race and a horse is subsequently included;
1.17.2.3
a horse is subsequently included for any other reason;then a draw shall be randomly allocated in respect of the horse so included and all other horses drawn the same as and outside (higher than) the randomly allocated draw, shall be adjusted outwards (higher).
Is it fair? Please tell us what you think!
‹ Previous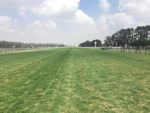 Vaal – Bad For Racing