A total of 49 entries were received on Monday for the Gr3 Track and Ball Derby and the Gr3 Track and Ball Oaks to be run at Scottsville on Saturday 22 June 2019.
The  unique 'open' R250 000 apiece KZN Derby and Oaks will be run at Scottsville at weight-for-age plus penalties.
Gold Circle made the bold move in 2014 to open these two contests to all ages on weight-for-age terms.
They leant on international precedent offered by similar amendments to the Irish St Leger and the Yorkshire Oaks.
The coastal racing operator's move, while innovative, was really just a local means to an end and addressed symptoms more than the core problems of the broader staying race picture.
It was based on the rationale that the chief focus of 3yo's during the SA Champions Season is the Guineas, the Daily News 2000, the Woolavington Stakes and the Vodacom Durban July.
Further justification for the move was seen in the fact that there are no weight-for-age races in South Africa over the distance and it was hoped that the overall programme for stayers would actually benefit from the change. Five years on, it was clearly just a drop in the ocean.
The recent R250 000 Gr3 Lonsdale Stirrup Cup, won by the out-of-sorts former Summer Cup winner Liege racing off a rating of 95, was the first of the SA Champion Season staying features.
The champions season staying division is rounded off by the R500 000 Gr3 Gold Vase run over 3000m on July Day and the R1,25 million Gr3 Gold Cup on Super Saturday. That's it.
South Africa's highest ranked staying race is the R400 000 Gr2 Reserve Stayers, run over 2800m on Met Day, and won earlier this year by Snaith's Magnificent Seven.
Our richest race over a trip is the 2450m R2 million Gr1 SA Derby, restricted to 3yo's, and which was won by longshot Samurai Warrior, who was the only horse to have actually run over ground in the field. He earned a rating of 105, but sadly died weeks later.
R250 000 TRACK AND BALL DERBY (Grade 3)
9
Ancestry
Joey Ramsden
81
3
Ballad Of The Sea (AUS)
Candice Bass-Robinson
79
23
Banjo On My Knee
Dean Kannemeyer
72
22
Cedar Man
Greg Ennion
92
7
Charles
Brett Crawford
104
18
Dawn Assault
St John Gray
106
20
Elusive Silva
Justin Snaith
103
15
Gimme One Night
Brett Crawford
92
6
Insignis
Geoff Woodruff
102
11
Liege
Sean Tarry
100
12
Major Return
M G Azzie/A A Azzie
80
2
Mangrove
Yvette Bremner
92
25
Mr Winsome
Dean Kannemeyer
84
17
Pacific Chestnut
Candice Bass-Robinson
91
8
Paths Of Victory
Gareth van Zyl
89
13
Roy Had Enough (AUS)
Frank Robinson
108
4
Seattle Force
Stuart Pettigrew
89
1
Secret Potion
Geoff Woodruff
102
24
Silva's Bullet
Dean Kannemeyer
91
21
Silver Rose
Andre Nel
97
19
Strathdon
Justin Snaith
101
16
The Sultans Bazaar
Dean Kannemeyer
90
10
Top Classman
Paul Lafferty
84
5
Walter Smoothie
Stuart Pettigrew
95
14
White Lightning
Paul Lafferty
80
(25)
R250 000 TRACK AND BALL OAKS (Grade 3)
4
Blossom
Mike de Kock
104
15
Bondiblu
Weiho Marwing
82
10
Chariot Of Gold
Sean Tarry
82
5
Dynasty's Blossom
Joey Ramsden
93
16
Expedite
Glen Kotzen
86
12
Factor Fifty
Louis Goosen
86
1
Flichity By Farr
Alyson Wright
93
7
Fresnaye
Joey Ramsden
104
20
Gottalottaluv
Stuart Pettigrew
81
17
Insignis
Geoff Woodruff
102
13
Just One More
Jeff Freedman
67
22
Miyabi Gold
Justin Snaith
105
21
Orient Express
Dean Kannemeyer
63
14
Parisienne Chic
St John Gray
78
18
Princess Irene
Brett Crawford
95
2
Pumpkin Queen
Dean Kannemeyer
79
6
Roy's Riviera (AUS)
Frank Robinson
97
8
Sabina's Dynasty
Brett Crawford
105
23
Secret Potion
Geoff Woodruff
102
19
Seville Orange
Lucky Houdalakis
102
3
Sister Soozie
Andre Nel
71
9
Snapscan
Glen Kotzen
89
24
Sunshine Silk
Geoff Woodruff
95
11
Woodstock Fairy
Candice Bass-Robinson
70
(24)
Supplementary entries by 11h00 on Friday 14 June 2019.
Declarations on Monday 17 June 2019.
‹ Previous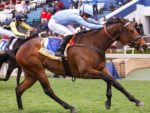 Barahin Upped To 112